May 26, 2022
View our Important Dates page for upcoming events and milestones.
May 31: Convention Registration Closes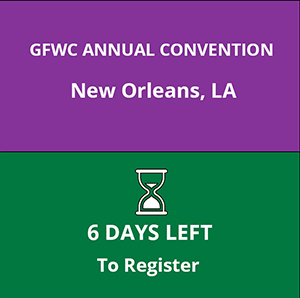 Have you registered for the 2022 GFWC Annual Convention yet? Time is running out with registration closing next Tuesday, May 31. The good times will roll in The Big Easy throughout Convention, June 25-28, and we hope you're able to join us to Catch the Volunteer Spirit!
Why Attend Convention?
Tours
Before Convention officially begins, enjoy some New Orleans sightseeing and cuisine on June 23 and/or June 24. GFWC is offering three tours that you can enjoy with old friends, while making some new ones: Oak Alley Plantation Plus Lunch, The National World War II Museum, and the Creole and Cajun Cooking Demo.
Keynote Speakers
The 2022 Convention has four world-class speakers! After listening to Carol Reese, Seconde Nimenya, and Katie Ray-Jones, you are sure to walk away with an appreciation for horticulture, best practices to build an inclusive culture, and ways you can help stop domestic and sexual violence. And New York Times bestselling author Karen White will speak at the ESO Breakfast, selling and signing books that morning.
Important GFWC Business 
Proposals to amend the Bylaws and Resolutions during the Convention Business Sessions should be deliberated by every GFWC member. The full text of the Bylaws and Resolutions are available to print, so that you can prepare to participate at each Business Session.
Banquets
Eat, drink, and Let the Good Times Roll at the convention banquets: When the Saints Go Marching In! Celebration Banquet, Pennies from Heaven Junior Awards Banquet, All That Jazz Gala Banquet, and of course the dinner for your Region. Finally, celebrate the Installation of 2022-2024 International President Deb Strahanoski and celebrate the start of a new Administration at the Installation Banquet immediately following the Installation Reception.
Workshops
On Sunday, June 26, eight GFWC Workshops will be held to help make a difference at both the club and state level. Later the same day, eight GFWC Affiliate Organizations will also provide informative and engaging workshops.
Register now for Convention through the GFWC Member Portal. If you need assistance with your registration, please contact Events Manager Nishu Raina at NRaina@GFWC.org or 202-628-2478 by May 27 (since GFWC is closed for Memorial Day on May 30). Please also note that the Hilton New Orleans Riverside room block closes June 1 at 11:59 p.m.
Hope to see you in New Orleans!
YES, You Really Got This!
By Beth Smith, Health and Wellness Community Service Program Chairman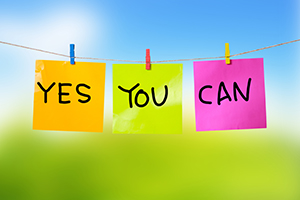 Our last letter in the "YES!" mental health series is S for socialize. The word social is mentioned everywhere today in the form of "social media." But is that really social? If we learned anything over the past two years of isolation, humans are social creatures and crave face-to-face interactions. I missed attending club meetings and recently enjoyed an in-person state convention.
While social media has its place in our lives and can be a great tool for checking in with family and friends who live away, it's important to remember that it is a virtual platform—or we may forget that somebody's "image" online doesn't always reflect real life. Lots of people only post the good things, so we believe their lives are perfect, and we spend a lot of time trying to achieve unrealistic standards.
How can we help ourselves, our children, and grandchildren improve their self-esteem when using social media? Here are some tips:
Unfollow. If an account makes you feel bad about yourself, then unfollow/unlike. Fill your feed with people and things that make you feel good about yourself.
Take a break or reduce time on social media. You don't have to switch off altogether but taking a little break from comparing yourself to how others look, dress, or live their lives will help.
Distraction. Doing other things will distract the mind from negative thoughts. Read a book, take the dog for a walk, hang out with friends, watch TV with family, etc.
Spend time with people in real life. Think about the people that make you feel positive and spend time with those people.
Talk to someone – a friend, family, teacher, counsellor, helpline, etc. Tell them how social media makes you feel.
Try something new. Doing things you enjoy and trying new activities can be really positive experiences and are great ways to build confidence and self-esteem.
* Self-esteem tips from Stephanie Hoffman, Head of Social Action, ProMo-Cymru
Volunteers in Action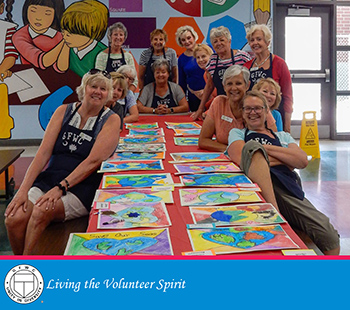 This week's GFWC Blog features GFWC Woman's League of the Lowcountry (South Carolina), GFWC North Central Junior Alumnae Club (West Virginia), and GFWC Woman's Club of Bridgeport (West Virginia). Read how clubwomen organized an after-school art project for local elementary students and donated clothes and other necessities to an area Veterans' Affairs medical center.
Have a success story to tell? Email PR@GFWC.org to have your club project considered for the GFWC Blog.
Happy Memorial Day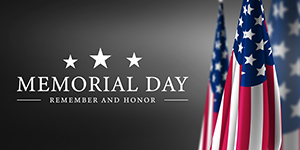 In observance of Memorial Day, GFWC offices will be closed on Monday, May 30. Please note that GFWC Marketplace orders placed on May 30 will not be shipped until the office reopens on May 31.
Each year, Memorial Day is an opportunity to remember those who have sacrificed their lives in service to the United States. Take time this month to join us in honoring and celebrating the men and women who have died while protecting our freedoms.
Enjoy President St.Clair's State Convention Speech
Whether or not you were able to attend your state convention this year, you have the opportunity to read and enjoy the speech given by International President Marian St.Clair at several of these exciting events. A copy of her insightful and engaging message is available for download and can be found in the "S" Resources folder of the Member Portal Digital Library.
From stories about President St.Clair's early days as a "joiner" and how she continued to connect with others throughout her life, to the many ways that collaboration builds amazing clubwomen and communities, this speech offers a heartwarming look at the power of GFWC.
Legislative Corner 
To encourage participation in the democratic process, this monthly column aims to inform members about current legislation and programs that are germane to the GFWC Resolutions. It also highlights important actions of the House, Senate, and White House, and provides follow-up information about GFWC Legislative Action Alerts.
Violence Against Women Act (VAWA)
GFWC joined the National Task Force to End Sexual and Domestic Violence (NTF) to urge Congress to fully fund VAWA and the Family Violence Prevention and Services Act programs and provide sustainable funding for Victims of Crime Act (VOCA) programs, including a tribal funding stream. House and Senate Appropriations Committees plan to markup the FY 2023 appropriations bills in June, ahead of the July 4 congressional recess. Read the letter.
COVID Recovery
Efforts failed in the Senate to provide more funds for restaurants, gyms, bus companies, venues, and other small businesses seeking additional government pandemic assistance. The House of Representatives passed legislation to allocate $48 billion more; the Senate failed to break the filibuster and move forward to debate the bill.
State Opioid Response
The Department of Health and Human Resources announced the release of nearly $1.5 billion to states and territories to help address the opioid addiction and overdose epidemic. The program provides formula funding for increased access to FDA-approved medications for opioid use disorder treatment, and for supporting prevention, harm reduction, treatment, and recovery support services.
Baby Formula Shortage
Congress is considering two measures to address the product shortage crisis. A $28 million supplemental emergency appropriations bill will make it easier for the Food and Drug Administration (FDA) to respond to the shortage. FDA is an independent agency, not controlled by the White House. Congress approved another measure giving the Agriculture Department more flexibility in carrying out the Special Supplemental Nutrition Program for Women, Infants, and Children (WIC), which purchases large quantities of the formula. The Biden Administration has deployed the Defense Production Act to speed domestic production and bypass normal airfreight routes to import product from plants overseas. At the heart of the crisis is the Abbott Nutrition plant in Michigan, which is poised to restart production soon. The plant was closed after four babies who had consumed formula produced there became ill and two died, prompting an investigation by FDA and company recall.
Ukraine Aid
Congress has approved a $40 billion Ukraine aid package, after delay in the Senate. The measure is larger than the $33 billion requested by President Biden and has strong bipartisan support. Funds will allow the U.S. to send more weapons and ammunition to Ukraine, replenish our own stockpile, and support our troops stationed in NATO territory.
Techie's Tips: Mastering Smartphone Photography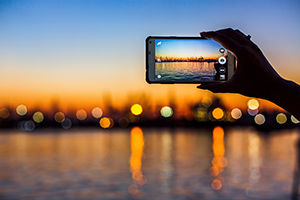 In an age where nearly everyone has access to a high-quality camera in their pocket, capturing beautiful and engaging photos has never been easier. However, there are many ways you can take your smartphone photography to the next level.

Here are a few tips to keep in mind when using your phone to take photos of your club's next project or event:
Use natural light where possible: Light is an important factor in any photo and can make a big difference in the quality of your image. If you are unable to use natural light in your photo, it is important to remember to have your subjects facing the light source you are using, so that they are not backlit. While using your phone's flash is an option, it is best to only use this feature when shooting outdoor portraits or when there is already adequate lighting coming from behind your subjects, otherwise, the flash can appear very harsh on your subject's face and may result in red eyes or an unnatural look.
Steady your smartphone: One area where smartphone photography can be difficult is keeping your phone steady so that the photo remains in focus. If you do not have access to a small tripod or stand for your phone, you can always support your hand with a wall, a friend's shoulder, or even your other arm. Keeping your shot steady will result in a clearer photo overall.
Edit images right on your phone: One of the best features of smartphone photography is the ability to edit photos on the go. Whether you need to rotate the photo, crop out empty space, lighten shadows, or adjust the contrast, the options are nearly endless at the touch of a few buttons. Although you can download many more advanced photo editing apps, you also have a vast number of options using your phone's own editing features. When you are viewing a photo, you can choose to "Edit" the photo, and from here you can apply various color filters; crop, straighten, or rotate the image; adjust highlights; and more. Keep in mind, though, that while editing tools can be useful, it's best not to over-edit your photo, as the less edits you make to a photo file, the better you can retain its quality.
Avoid zooming in: When you take a photo, you may find you want to zoom in to capture something specific, but when using a smartphone, this can result in a grainy, blurry, or pixelated photo. Instead, try to get closer to the focus of your photo before taking the shot.
Send high-quality photos: There are many options for sending photos from your smartphone, including email, Bluetooth, AirDrop, texting, and other file-sharing apps. With many of these options, you are given the choice to reduce the file size or keep the original size. To ensure you are sending the best quality photo possible, remember to select the option to keep the original file size. Depending on the number of photos you are sending, this may mean you have to send multiple messages, but the extra time will result in clearer photos.
While there are many ways to take your photos to the next level, these tips are a great way to get started in your journey of becoming an expert smartphone photographer.
GFWC Marketplace: Silicone Phone Wallet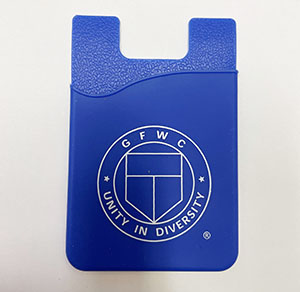 The GFWC silicone phone wallet will make carrying your important cards easier by conveniently attaching to the back of your phone. With space for carrying two cards, the wallet uses a patented 3M adhesive to help it stay on most phones and phone cases without demagnetizing your cards. The wallet is great for when you would rather not carry your full wallet or purse. Order yours today.
For information on mail service in your area, visit the USPS Service Alerts page. To speed up processing of your order, we request that you pay for your order at time of purchase in the Member Portal.
GFWC
www.GFWC.org