May 6, 2021
View our Important Dates page for upcoming events and milestones.

Act Now to Remove the Stigma of Mental Illness
By Beth Smith, Health and Wellness Community Service Chairman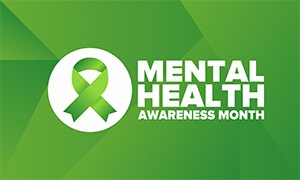 Mental health has finally come to the forefront of our conversations, either induced by the pandemic or by a world that is just plain stressful. It's about time that we can talk to each other about how we feel without being worried about other people's opinions of us. But are we fully there yet?
It was in May 1949, 72 years ago, that Mental Health Week was first declared by the National Mental Health Association. The conversation around mental health has since evolved, and the May observance became Mental Health Awareness Month in the late 1960's.
The goal of this nationally-recognized event is to increase public awareness and educate communities to expand the understanding of the effects that mental illness can have on all age groups. As an organization deeply rooted in our local communities, GFWC clubs can impact how mental illness is viewed and spread the word about assisting anyone in need—children and adults.
How can clubs engage the community in an open discussion on mental health?
Mental Health America has a toolkit called Tools 2 Thrive that you can use for project ideas, posters, images, and social media posts.
National Alliance on Mental Illness (NAMI) has communications tools—ideas, images, and posts—in its You Are Not Alone guide. You can also participate in NAMIWalks Your Way: A United Day of Hope on May 22.
Sometimes just starting a conversation about mental health can help someone. The green ribbon is the international symbol for mental health awareness. By wearing a green ribbon every day during May, you can show people you walk past that you care about their mental health, and possibly help someone who needs to talk. Clubs can make ribbons for their members and for community distribution at places like schools, businesses, and government centers.
Mental health awareness = increased conversations = improved mental health outcomes. I look forward to reading about your community service projects that raise awareness about the importance of mental health on the GFWC Blog. Submit your stories to PR@GFWC.org.
Why You Are Needed at Convention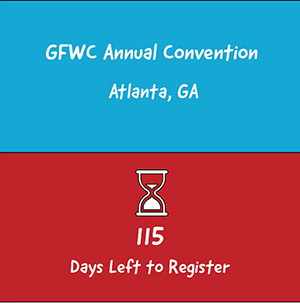 The 2021 GFWC Annual Convention will be the first opportunity for members to connect nationally in-person after more than two years, including a year that has been challenging on many levels. There are many conversations to revisit and many to begin August 27–30. The more Convention attendees we have, the more we can share and learn to have an impact in our communities around the world.
One way we can work together in Atlanta, GA, is to consider the proposed Bylaws and Resolutions (new, amended, and those to be rescinded) at the Business Sessions. If you've attended Convention before, you may already know how to prepare for the Business Sessions and what to expect during them.
What if you haven't attended a GFWC Annual Convention before? Read our first-time attendee FAQs for information about how to participate in Business Sessions and much more. There are FAQs about how the 2020-2022 GFWC Resolutions Committee has reorganized the resolutions to align with the current GFWC Strategic Plan. The FAQs also cover other topics that will help you make the most of attending the GFWC Annual Convention, from how to meet other attendees to personal development opportunities.
Register for Convention through the Member Portal by June 15 to secure the Early Bird rate. We need you to be part of conversations in Atlanta.
Volunteers in Action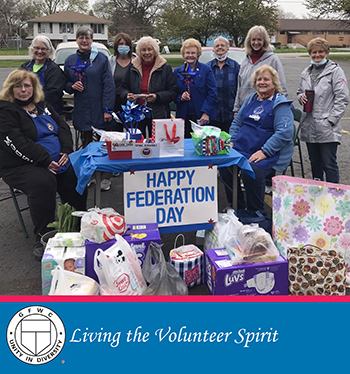 This week's GFWC Blog features GFWC Woman's Club of Aurora (Illinois), GFWC Woman's Club of Bismarck (Illinois), GFWC Woman's Club of Parsippany-Troy Hills (New Jersey), and GFWC Women's Club of Farmingdale (New York). Check out these inspiring stories about how clubwomen made donations to several local organizations, participated in Prevent Child Abuse America's Pinwheels for Prevention campaign, donated books to a local Little Free Library, helped pick up trash along a river, and made bags for the nonprofit organization Beads for Courage.
May is Mental Health Awareness Month. Share your stories about how you and your club are raising awareness about the importance of mental health. Email PR@GFWC.org to have your club projects considered for the weekly blog.
New Annual Program Statistics Report Released
The most recent data is available in the 2020 Annual Program Statistics Report, published within the News & Publications section of www.GFWC.org. Each  year, GFWC calculates the total amount of projects, volunteer hours, and both in-kind and dollars donated for the work of its clubs. In addition to the total calculations, the data is broken down among each of the GFWC Special and Community Service Programs and the Advancement Plans that were active in the 2020 calendar year. We are excited to share the hard work of clubwomen throughout the past year with you.
For questions about this data, email Programs@GFWC.org.
Shining a Spotlight on Our Club Presidents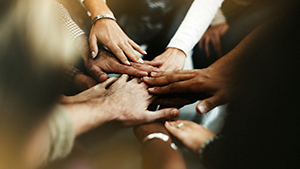 Do you know a club president who inspires you to make your community a better place through volunteerism and service every day? Help us shine a spotlight on the great work she does by nominating her to be featured on www.GFWC.org. Our new member profile features will begin by telling the stories of club presidents from all backgrounds. The club president profiles will then be posted as a "Featured Member" for everyone to read and enjoy.
To participate in this new project, club presidents will be interviewed over the phone or Zoom for approximately 30 minutes about their background with GFWC, why they enjoy volunteering, and what volunteerism means to them. We want these interviews to be a fun experience and opportunity for members to tell us what they enjoy about being part of this group of incredible women.
To discuss a member profile feature, contact Publications and Project Manager Taylor Fussman.
Celebrate Our Graduates and Plan for the Future 
By Trina Behbahani, GFWC Juniorette Chairman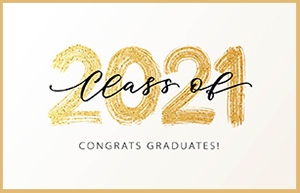 As the school year draws to a close, Juniorette members across the country are preparing for graduation and life after high school. As we celebrate our graduates, let's also do our part to ensure that the Federation remains a part of their future. This could mean connecting graduates with a new Junior or Woman's Club, or it could be something more. Consider serving as a mentor and help a graduating Juniorette member put her leadership skills to use by forming a new GFWC club. Resources for new club creation are available in the GFWC Member Portal.
Let's not forget about the Juniorette members who will carry the club forward after graduation. Are you building the ranks of your membership with young women? Do you focus on leadership development and succession planning? For every graduating senior in your club, invite a rising freshman to join. Identify opportunities for all members to lead an activity during the year, or have a new member shadow an officer to learn more about her responsibilities.
How is your club celebrating its Juniorettes graduating from high school and planning for their future of continued service? Share it on GFWC's Facebook page.
Johns Hopkins Webinar May 11
Johns Hopkins Medicine is offering a webinar at 7:00 p.m. EDT on Tuesday, May 11, about ways to reduce the risk of diabetes, heart disease, and cancer. Join host Selvi Rajagopal, M.D., M.P.H., as she discusses methods to implement a holistic approach to achieve health goals through sustainable weight loss and maintenance, and with elements of nutrition, exercise, mental health, and medication management. Visit the Johns Hopkins website to register for this event.
State President's Project: Debra A. Capuano, Rhode Island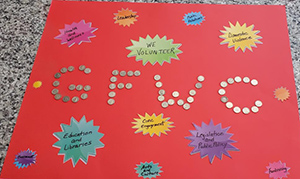 GFWC Rhode Island State President Debra A. Capuano is pleased and honored to share her theme for the 2020-2022 Administration: Partners our Future – Helping Children Locally and Globally.
Efforts are focused on working collaboratively with GFWC Affiliate Organizations March of Dimes, which helps mothers and babies in the U.S. and other countries, and Operation Smile, which works with children in developing countries globally. Clubwomen are encouraged to be creative as they engage in their work with March of Dimes, Operation Smile, and local agencies in Rhode Island.
Due to the COVID-19 pandemic, the Administration began with new options and opportunities. Clubwomen have learned to work socially distanced or remotely on behalf of different charities. Debra's vision is for all Rhode Island clubwomen to help children through GFWC Affiliate Organizations and local agencies.
Working on behalf of Operation Smile, clubwomen are educating members and collecting donations for the "Change A Life Forever" surgeries. The goal is to raise awareness about the ongoing issue of cleft lip and cleft palate in remote locations around the world. On behalf of March of Dimes, clubwomen have been busy knitting baby hats, making knitted or no-sew baby blankets, and gathering items for NICU mom care packages.
Clubs were challenged with a goal of five hats, five blankets, and five mommy bags per club. One of the smallest clubs has already made eight hats, seven blankets, seven mommy bags, and raised $300 in donations from club members.
GFWC Rhode Island clubwomen have been creative by making artwork with dimes and they are so excited about the projects.
All of the dimes used in art work and any monetary donations will be donated to the March of Dimes.
GFWC Marketplace: Folder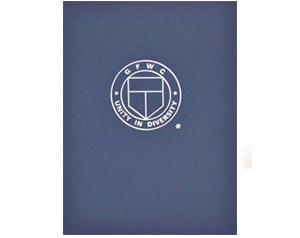 As you prepare to attend upcoming meetings or conventions, the best way to keep all of your paperwork and ideas organized is with a GFWC folder in classic red or navy. This beautifully crafted, foil-stamped, letter-size, two-pocket folder features a portrait orientation with the GFWC emblem on the front. The rounded corners, standard business card slot in the right pocket, and two inside pockets makes this the perfect folder for any busy clubwoman. Order yours today.
There have been reports of mail service delays in many communities throughout the United States. GFWC staff is processing Marketplace orders as quickly as possible, but Headquarters is still operating with limited staff onsite daily. In order to speed up processing of your order, we request that you pay for your order at time of purchase in the Member Portal. For details on mail service in your area, visit the USPS Service Alerts page.
GFWC
www.GFWC.org