November 4, 2021
View our Important Dates page for upcoming events and milestones.
Convention Workshop Webinars Registration Opens November 5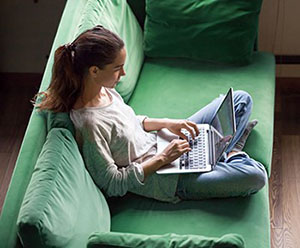 Mark your calendar to register for the GFWC Convention Workshop Webinars, a package of five popular 2021 Convention presentations that have been modified for viewing from the comfort of your home. Learn how to effectively advocate for issues in a nonpartisan way and how to educate youth about the early signs of an unhealthy relationship. Provide tools for developing club and state leaders, growing a positive club culture, and creating a brand and website that will make your club stand out in its community.
The following pre-recorded sessions, with handouts, are at your fingertips for just $25:
Communications and PR: Let's Talk About Branding…And Your Club Website!
Leadership: Tools for Developing and Encouraging Leaders
Legislation/Public Policy: Staying Nonpartisan in a Partisan Time
Membership: Mirror, Mirror on the Wall
Signature Program: Fifty Ways to Make a Difference
Register tomorrow so that you can have as much time as possible to watch all five webinars. After registering, you will receive an email with links to view each webinar until November 30. Registration and viewing for this five-webinar package closes November 30.
Inspire Students to Explore and Pursue Interests in STEM
By Tina Daniel, Education and Libraries Community Service Program Chairman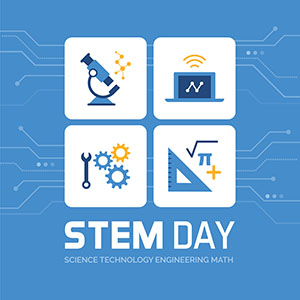 National STEM Day will be celebrated on November 8. This day is an opportunity for clubs to inspire children and those with disabilities to explore and pursue interests in science, technology, engineering, and mathematics (STEM). One of the best times to build this interest is during early education experiences.
Research has revealed a gender gap in STEM careers, making awareness even more important for girls. When educating students, research shows students remember 90% of what they do. So, let's encourage them to do!
STEM careers are increasingly growing and are the wave of the future. Help students catch the wave by celebrating STEM Day.
Promote project-based learning in the classroom. Hundreds of ideas are available for clubs on the internet. Try nasa.gov for their various suggestions. Examples include digging for fossils, exploring the stars, building a robot, and incorporating the scientific method.
Sponsor an extracurricular activity. Examples include a robotics club, mathematics league, or environmental club.
Partner with local scout programs to present STEM day.
Hold a STEM movie night. Examples include Hidden Figures, Apollo 13, The Martian, or October Sky.
Sponsor a field trip by visiting museums or host a virtual field trip.
Please submit stories about your successful STEM projects for the GFWC Blog. Project success stories and action-packed photos should be sent to PR@GFWC.org.
Volunteers in Action
This week's GFWC Blog features projects from the Oregon City Woman's Club (Oregon) and the North Myrtle Beach Woman's Club (South Carolina). Both of these clubs organized projects in recognition of October as Domestic Violence Awareness Month and worked hard to educate the members of their communities. Read how clubwomen donated purses filled with necessity items to women in need and hosted a Domestic Violence Awareness Walk to raise money and bring attention to the problem of domestic violence and abuse.
Have a success story to tell? Email PR@GFWC.org to have you club project considered for the GFWC Blog.
Every Day Should Be Veterans Day
By Nancy Greenberg, GFWC Civic Engagement and Outreach Community Service Program Chairman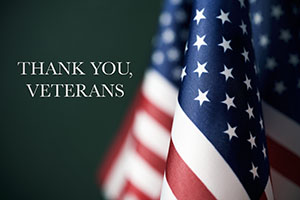 "America's veterans have demonstrated a selfless commitment to keeping our country safe, secure, and free, and we must ensure that our country is ever-worthy of their sacrifices. That includes making sure that they receive the support and services that they need and have earned." United States Senator Maggie Hassan, New Hampshire 9/29/21
Veterans Day, November 11, is a U.S. holiday for Americans to come together to demonstrate this support. Our GFWC clubs have steadfastly honored our veterans throughout our 131 years. The following are a few ways to show our veterans that they are not forgotten:
Reach out to a veterans' residence or the VA Medical Center to find out what the men and women may need in your community. Cards with warm handwritten messages of thanks brighten spirits. Care packages with items such as socks, books, word games appropriate to the veterans' abilities, calendars, and personal-care items are greatly appreciated.
Many U.S. veterans, whether living at home or living in a VA Medical Center, may be lonely. With respect to COVID-19 protocols, reach out and arrange a time to visit with veterans. Sit and listen; it would mean so much to these men and women. They have stories to tell!
Veterans living independently may have experienced financial concerns or lost their jobs due to the pandemic. Gift cards to grocery stores help fight food insecurity.
Is there a popular breakfast/lunch spot in your town? Arrange with restaurant management for an amount of money to be put aside to fund any veterans who enjoyed a meal. Print cards that say: "Your GFWC (club name) thanks you for your service. Your meal has been paid for!"
Check to see if any club members are veterans. If so, celebrate them. They are true heroines among us!
Every day should be Veterans Day! Share your project success stories that serve veterans with PR@GFWC.org to be considered for the GFWC Blog.
Celebrate the Giving Season at the 2021 GFWC Holiday Open House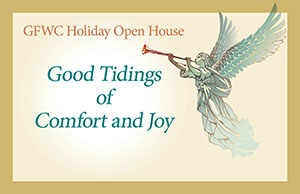 Register now to join your fellow clubwomen at the 2021 GFWC Holiday Open House, hosted by GFWC International President Marian St.Clair. This will be an exciting opportunity for you to celebrate the giving season and experience a bit of holiday magic. You can sign up to attend one of two scheduled receptions from 10:00 a.m. to 12:00 noon ET or from 1:30 p.m. to 3:30 p.m. ET on December 8. During each reception, attendees will be welcomed into the historic GFWC Headquarters at 1734 N St. NW, Washington D.C., to mingle with fellow clubwomen and enjoy this year's theme, Good Tidings of Comfort and Joy. Attendance will be limited at the receptions for safety and registration will close at 12:00 noon ET on December 1. Register today through the GFWC Member Portal.
Thankful for Lifelong Learning
By Shelli Fehr, GFWC Membership Committee Member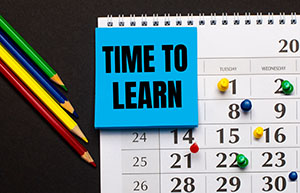 There is much for which to be thankful when considering one's membership in the General Federation of Women's Clubs. The friendships formed, networking prospects, volunteer possibilities, and leadership development are just a few of the motives. Members are also appreciative that GFWC membership provides opportunities for lifelong learning. When leaving a GFWC event, how many times have members said: "Well, I learned something new today!"
Every activity—at the club, state, Region, or international level—offers members a chance to acquire new skills and knowledge. Think about the GFWC Affiliate Organizations, local organizations and businesses, regional charities, art and craft ideas, interesting books, etc. Engagement and learning would have been less likely if not for GFWC- and club-sponsored programs, projects, webinars, workshops, and activities, plus the state conferences, conventions, and other events that members attend. Tis the season for showing appreciation and being thankful!
Reflect on the education GFWC has provided you as a member. Share your thoughts about the value of lifelong learning on GFWC's Facebook Page.
Save the Date: UNICEF's Remote Global Forum for Children and Youth
Join GFWC Affiliate Organization UNICEF USA for their inaugural Global Forum for Children and Youth this December. This remote event will be held from December 7-9, and will gather leaders from the United Nations, government, business, philanthropy, and civil society to meet alongside authors, artists, and others to focus the world's attention on the urgent needs of children and young people, commit to advancing child rights, and mobilize resources required to turn vision into reality. This opportunity to collaborate will offer various interactive workshops, networking opportunities, and meetings. The Global Forum for Children and Youth is also a chance to recognize UNICEF USA's 75th anniversary of being dedicated to serving and protecting children.
The years 2020 and 2021 have presented enormous challenges around the world. UNICEF USA is encouraging anyone with a stake in the future of childhood to join them at this critical moment in history to work together to make progress toward advancing child-rights goals, recommit to the promise the world made to children and young people 75 years ago, encourage others to join in that promise, and more. Additional information about participating in this remote event to support children around the world will be shared as it becomes available.
Johns Hopkins Webinar November 9
Johns Hopkins Medicine is offering a webinar at 7:00 p.m. ET on Tuesday, November 9, about what happens when our hands lose some of their dexterity, or even begin to cause us daily pain. Orthopedic surgeon Dawn LaPorte, M.D., will review the causes of numerous conditions such as arthritis, trigger finger, carpal tunnel syndrome, and tendonitis, as well as surgical and nonsurgical treatment options to relieve pain and regain maximum use of our hands. Visit the Johns Hopkins website to register for this event.
GFWC Marketplace: Living the Volunteer Spirit Sticky Notes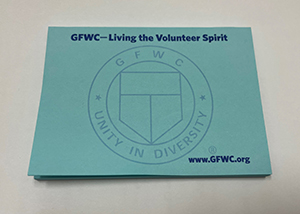 The Living the Volunteer Spirit Sticky Notes are a must-have for every busy GFWC clubwoman. These sticky notes are available in light blue with the white GFWC emblem watermark and feature the GFWC Living the Volunteer Spirit tagline. Each pack contains 50 sheets of 3×4 inch wide sticky notes. Order yours today.
There could be some mail service delays throughout the pandemic. To speed up processing of your order, we request that you pay for your order at time of purchase in the Member Portal. For information on mail service in your area, visit the USPS Service Alerts page.
GFWC
www.GFWC.org