October 1, 2020
View our Important Dates page for upcoming events and milestones.
Domestic Violence: Don't Wait Nine Seconds to Break the Silence 
by Darlene C. Adams, Intimate Partner Violence Advisor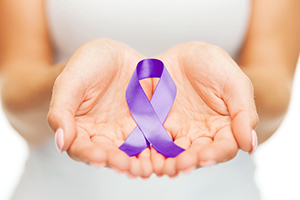 One…two…three…four…five…six…seven…eight…nine. Every nine seconds, one woman in the U.S. is assaulted or beaten. Let's break the silence on domestic violence!
October is National Domestic Violence Awareness Month. The observance started 31 years ago as a "Day in Unity" and has now evolved into a month-long campaign. National Domestic Violence Hotline explains it is "a way to connect communities and advocacy organizations to help end domestic violence."
Intimate Partner Violence (IPV) is one of the Signature Program's eight focus areas, described by the Centers for Disease Control and Prevention as "physical violence, sexual violence, stalking, or psychological harm by a current or former partner or spouse." IPV can occur among heterosexual or same-sex couples. More information is available for download in the Member Portal's Digital Library ("Club Manual" folder).
You have the opportunity to participate in several new projects during the month of October.
Use one of the purple GFWC Signature Program Facebook frames with the hashtag #BreaktheSilence or #StopDomesticViolence. To apply a frame to your profile photo, select the "Try it" button that appears below the graphic.
Come up with a creative GFWC video to "Break the Silence on Domestic Violence" and upload to social media, again using the hashtags above.
Purchase merchandise to support the "Starfish Project." For every dollar you spend through this link, a portion will go to GFWC's Signature Program Scholarships.
GFWC's Signature Program Committee looks forward to seeing how your club creatively advocates in October for Domestic Violence Awareness Month. Let's break the silence on domestic violence; share your domestic violence awareness-raising project success stories with PR@GFWC.org to be considered for the GFWC Blog.
Seeking Success for Survivors Scholarship Applications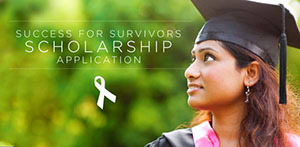 It's October 1 and the call for GFWC's 2021 Success for Survivors Scholarship applications is now open. The scholarship provides survivors of intimate partner violence with financial support as they seek higher education, made possible through generous donations from clubwomen, clubs, State Federations, and other groups.
To recognize Domestic Violence Awareness Month, consider dedicating your next club fundraiser to the GFWC Signature Program Fund this October! All funds donated go directly to the GFWC Success for Survivors Scholarship. It is through your support that GFWC can make the recipients' dreams a reality. As Cindy W., a scholarship awardee and recent college graduate said: "I am thrilled to have this opportunity to better myself and become self-sufficient with a new career. This is not just for me, but for all who I come in contact with as a nurse."
Help give survivors a better tomorrow by donating to the Fund through the Member Portal today!
Cares & Concerns
One of GFWC's most dedicated members, Madie Irene Poole, 89, passed away on September 28. A lifelong resident of Moundville, Alabama, Madie served as Alabama Director of Junior Clubs (1964–1966), Alabama State President (1982–1984), and Southern Region President (1986–1988). She will be sadly missed by her many friends in Federation.
GFWC remembers Mary Mace, GFWC Florida Past President (1980–1982), who passed away on September 10, just a few days ahead of her 99th birthday. She was a charter member, Past President, and honorary member of Cocoa Beach Woman's Club. Expressions of sympathy may be sent to Cocoa Beach Community Church, PO Box 320009, Cocoa Beach, FL. 32932-0009.
It is with sadness that we announce the death of Linda M. Boyd, Florida State President (2002–2004), who passed away on Tuesday, September 29.
Volunteers in Action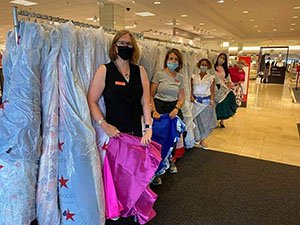 This week's GFWC Blog features GFWC Marlborough Junior Woman's Club (Massachusetts), Park City Athenaeum Club (Utah), GFWC Rotonda West Woman's Club (Florida), and GFWC Woman's League of the Lowcountry (South Carolina). Read about their Easter and prom dress drive, virtual walk to end Alzheimer's, scholarship program, and fundraiser to benefit survivors of sex trafficking.
Have club news? Submit a success story with action-packed photos about how your club is staying active during the pandemic to PR@GFWC.org.
New Member Portal Landing Page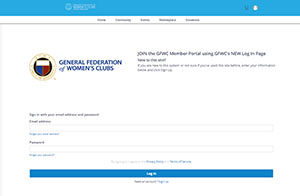 GFWC is excited to share the improvements that have been made to the Member Portal Welcome Page. To log in, enter your email address and password into the two fields provided.
The first time you log in to the Member Portal, there are a few things to remember:
Select the option to "Allow Cookies." Use your full email address as your username (all lowercase).
Select the "Forgot my password" option at the bottom. You will receive an email with information on creating your profile and setting a password.
To create a profile, select "Need an account? Sign Up" link at the bottom. You will be prompted to enter a username and password. Passwords include an uppercase letter, lowercase letter, number, special character (!@#$), and are at least eight characters long.
Have you successfully used the Member Portal before but are having trouble using your username or password?
Remember your password is case sensitive. Passwords include an uppercase letter, lowercase letter, number, special character (!@#$), and are at least eight characters long.
If you enter an incorrect password, try clearing your browser history, your cache, or cookies before attempting to log in again.
Register for Region Conferences in the Member Portal 
Have you registered for your Region Conference yet? Log in to the GFWC Member Portal, select "Events" from the top menu, select "Browse Events," and then select the appropriate Region Conference from the event listing to register. Registration for all of the events closes three days prior to their start, but please register early for planning purposes. Below are the upcoming registration deadlines!
South Central Region Conference
October 10, 2020, 11:00 a.m. – 5:00 p.m. CDT
Registration ends on October 7.
New England Region Conference
October 17, 2020, 1:00 p.m. – 4:30 p.m. EDT
Registration ends on October 14.
Great Lakes Region Conference
October 24, 2020, 9:00 a.m. – 1:00 p.m. CDT
Registration ends on October 21.
Don't have a camera or microphone on your computer? No problem! You can still listen in, watch, and vote during all Region Conferences. If you'd like to register for multiple Region Conferences, contact GFWC@GFWC.org.
Don't Forget to Renew Your Club's Directors and Officers Liability Insurance 
Renew your club's Directors & Officers (D&O) Liability Insurance by November 1! Clubs are not meeting as often or only virtually online, so members may not be focused on club financials. If your club has substantial assets, D&O Liability Insurance is important to protect your club's finances.
GFWC is pleased to offer three types of club insurance plans through our insurance partner, AH&T Insurance:
Directors & Officers Liability Insurance, intended to cover a variety of claims that allege a wrongful act attributable to the management or governance of an organization.
General Liability Insurance, which provides protection in the event of bodily injury or property damage to a third party due to your alleged negligence. The renewal deadline for most GFWC clubs is February 1.
Event Insurance, which allows clubs to insure a single event.
General Liability Insurance premiums start at $350 annually, but may vary based on the number of club members and other special considerations. Directors & Officers Liability Insurance premiums are $463.50 annually for all GFWC clubs. Event Insurance varies according to the scale of the event being insured.
To learn more, visit AH&T Insurance's website or contact Amy Miller with AH&T Insurance at 703-554-6269 or amiller@ahtins.com.
State President's Project: Crystal O'Neal, North Carolina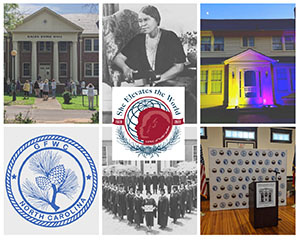 The volunteers of GFWC North Carolina are embracing campus enhancement at Charlotte Hawkins Brown Museum as the GFWC North Carolina President's Special Project for the 2020–2022 Administration. President Crystal O'Neal selected five focus areas: Sunflowers for Suffrage, Elevating Women and Girls, Impact NC, GFWC's Signature Program, and Safe Kids: the GFWC North Carolina Juniors' Special Project. In the Impact NC focus area, she asked clubs to come together to support the former Palmer Institute at the Charlotte Hawkins Brown Museum State Historic Site. Dr. Brown started the Palmer Memorial Institute in 1902 and grew it into a nationally-recognized boarding school for African American students where she impacted more than 1,000 students.
Crystal grew up near the site and saw it boarded up for many years. After it was partially renovated and became a state historic site, Crystal fell in love as she walked through the doors of Kimball Hall for the first time to vote. She is overwhelmed by the opportunity to share Dr. Brown's school and home with her GFWC sisters.
GFWC North Carolina held a summer meeting following current safety guidelines on August 1, 2020, at the Historic Site. Workshop presenters rotated among three groups and members enjoyed a narrated walking tour. President O'Neal streamed the walking tour on Facebook Live so that those who could not attend could participate in the tour remotely.
The goal is to raise $10,000 in two years to improve the landscaping on the campus grounds—Dr. Brown's gravesite and the newly installed flagpole in front of Kimball Hall. The incredible clubwomen of GFWC North Carolina will no doubt live up to the Administration theme, She Elevates the World, as they rise to this goal of supporting the Charlotte Hawkins Brown Museum.
Marketplace: Notebook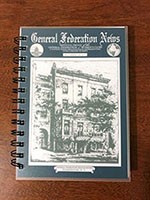 It's October, a time when we all come together to support survivors of domestic and sexual violence in their journeys to independence, whether through GFWC's scholarship or another means of support. Use this notebook to jot down project ideas for how your club might support survivors this month.
Please note: Headquarters is operating with limited staff daily, and the Postal Service is also experiencing service delays in many communities.