October 14, 2021
View our Important Dates page for upcoming events and milestones.

President's Pick 
By Marian St.Clair, International President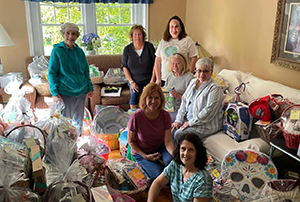 When I read the GFWC Blog each week, I'm often reminded that one of the most valuable aspects of club work is the chance to collaborate with other organizations and broaden our knowledge and skills. Partnerships can also provide purpose, a sense of community, a better understanding of others, and fun and fulfillment. More importantly, they frequently offer the opportunity to impact a difficult and sometimes heart-wrenching problem.
This month's "President's Pick" recognizes the GFWC Woman's Club of Denville Rockaway (New Jersey) for supporting the Joey Bella Memorial Fund, which provides financial assistance and emotional support to local families with a seriously ill child. Established in 1988 by family and friends of Joey Bella, who died of acute lymphatic leukemia, the Fund is an all-volunteer organization—so all resources are used to help other families in need.
For the third year in a row, the club has assisted with the organization's largest fundraiser, "Tricky Tray." Described as a combination silent auction and raffle, club members sold tickets, solicited businesses for prizes, organized donated items into more than 200 baskets, and volunteered at the event.
Susan Richardson, a club member who works with the Fund, said club members were very generous with both their time and donations, and that it was wonderful to see everyone work together to help families facing difficult situations.
Congratulations to the GFWC Woman's Club of Denville Rockaway for their dedication and efforts to make a difference in their local community!
Provide Support for Children in Crisis
By Carrie Zimmerman, Juniors' Special Program Chairman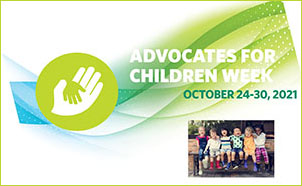 GFWC clubs support our children in many ways including the Juniors' Special Program: Advocates for Children. An essential part of advocating for children is helping children facing crises. Supporting programs that bring awareness to children in crisis can advance the goal of developing safe communities all around the world. Some ideas for helping children in crisis include:
Supporting foster children through luggage and clothing drives, creating care packages for children entering foster care, supporting birthday or holiday parties, hosting new shoe drives, and organizing Foster Parents' Night Out events.
Helping children's mental health by supporting parenting classes in your community, advocating for more mental health services in your community, supporting social-emotional learning in schools, teaching communities about ACEs (Adverse Childhood Experiences), participating in or supporting mentor programs, and creating programs that bring awareness to teen suicide.
Supporting programs in schools and communities that provide food and clothing to children experiencing poverty or homelessness, providing support to homeless shelters, and educating communities about the McKinney-Vento Homeless Assistance Act–a federal program to protect homeless families and youths in schools.
As GFWC clubwomen, we can make an impact in our communities for children one project at a time. Remember to submit your project for the "Stick Your Neck Out" challenge as we celebrate Advocates for Children Week from October 24-30, 2021. This Chairman looks forward to reading all of the "Stick Your Neck Out" challenge and Juniors' Special Program reports this year!
Volunteers in Action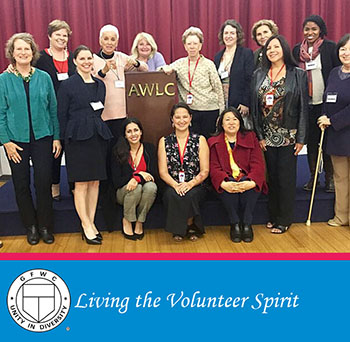 This week's GWFC Blog features the American Women's Literacy Club in Lima, Peru. Read about how clubwomen with this GFWC International Affiliate have continued to raise money for education-based charities in Peru despite challenges caused by the COVID-19 pandemic.
Have a success story to tell? Email PR@GFWC.org to have you club project considered for the GFWC Blog.
Support the Success for Survivors Scholarship Fund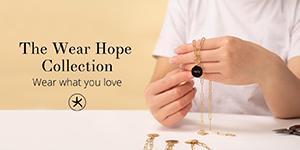 You have the opportunity to celebrate the things you love and the hope you give by wearing Starfish Project's beautiful new Wear Hope collection. This new line of survivor-created jewelry features many of Starfish Project's values engraved into the 14K gold and silver colored necklaces and bracelets. Through a fundraising agreement for the 2020–2022 Administration, purchasing any Starfish Project products at this dedicated link will supply 25% of the sales to the GFWC Success for Survivors Scholarship Fund! Your support has allowed GFWC to award an additional scholarship in 2021.
Starfish Project supports women escaping human trafficking and exploitation. The organization is currently working with more than 150 survivors to provide a fresh start in life by arranging safe housing, healthcare, education, and training, and by employing them to make jewelry and garments to support its mission. Order your next piece of jewelry today and help a survivor of human trafficking succeed!
Identify a Local, Respected Counselor for Your Forum
By Trisha Schafer, Teen Dating Violence Advisor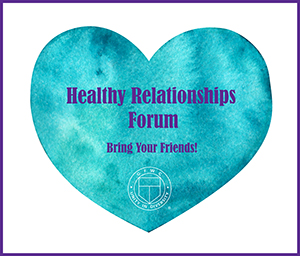 Look up and contact the domestic violence, rape crisis, or sexual assault agency that serves your city, county, or area. The agency will have the Certified Teen Counselor that your club needs to hold a Healthy Relationship Forum with teens in your community about setting healthy boundaries, anti-bullying, anger management, and other issues. Also, speak with this agency about advertising your Forum through its social media platforms (Facebook, Instagram, or LinkedIn). The agency should have a large number of followers, a great way to get the word out about your collaborative event.
Devoting October to planning your club's Healthy Teen Relationship Forum is a meaningful way to observe Domestic Violence Awareness Month. To help with advertising your club's forum online, there is a full-sized social media graphic available (pictured above) in the "Challenge Projects" folder within the "C" Member Portal's Digital Library.
Join Shot@Life's Mobilize to Immunize Campaign
GFWC Affiliate Organization Shot@Life is encouraging GFWC members to join their efforts in raising awareness about the lifesaving potential of vaccines. Between October 1 and November 12, advocates across the country will be mobilizing in their communities to raise awareness about the importance of vaccines and funding global immunization programs in the United States budget. Vaccine equity is important now more than ever. While life may be returning to normal in some countries, most low-income countries around the world still do not have access to lifesaving vaccines, for both COVID-19 and deadly diseases like polio, measles, pneumonia, and rotavirus. In addition, around 75% of COVID-19 vaccines distributed so far have gone to just 10 countries.
As events such as World Polio Day (October 24) and World Pneumonia Day (November 12) draw closer, everyone can make sure members of Congress know their constituents support global vaccination efforts and understand the vital role the U.S. plays in the lives of children around the world.
Visit Shot@Life's Mobilize to Immunize website to learn more about next steps and how to help raise awareness in your community.
Participate in Trick-or-Treat for UNICEF this October
For 75 years, GFWC Affiliate Organization UNICEF USA has been working tirelessly for the rights and well-being of every child. This year, everyone can "add meaning to their Halloween-ing" to help end the pandemic by participating in UNICEF USA's iconic Trick-or-Treat for UNICEF.
In 2020, UNICEF USA launched Trick-or-Treat for UNICEF's remote experience and discontinued its production of the iconic orange box to responsibly social distance and celebrate Halloween safely during COVID-19. This Halloween, UNICEF USA will not produce boxes as this beloved program evolves into a fully digital experience.
GFWC members can participate remotely by starting their own fundraiser or donating to support UNICEF's work to help communities across the world recover and respond to the COVID-19 pandemic by visiting the Trick-or-Treat for UNICEF fundraiser page. Through this site, UNICEF USA will be able to track GFWC club donations and fundraisers for Trick-or-Treat.
UNICEF USA also has various helpful resources available such as promotional videos, photos, and Trick-or-Treat for UNICEF logos.
Notice Regarding Credit Card Transactions with GFWC
As you may have experienced with other nonprofits and small businesses, credit card processing fees have increased over the past few years. GFWC has been absorbing this as a cost of business, but just like many other nonprofits, we are unable to continue to do so.
We regret having to pass on this cost, but beginning November 1, 2021, GFWC will implement a $3.00 convenience fee for credit card transactions. This will include all donation, event registration, and Marketplace transactions completed by credit card.
State President's Project: Donna Shibley, Massachusetts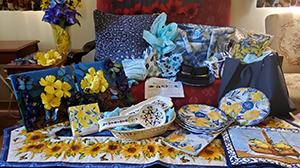 Who would have thought that the 2020-2022 Administration would have so many challenges? Despite the difficulties, GFWC clubwomen found ways to hold state meetings, conduct business, offer valuable information, support their clubs, and continue to give back to their communities and beyond with fun and enthusiasm. Hearts & Hands for GFWC, GFWC Massachusetts State President Donna Shibley's theme, originated as a focal point to encourage giving back to others with hands-on projects and events that tug at heartstrings.
Donna's focus area aligned with the GFWC Signature Program: Domestic and Sexual Violence Awareness and Prevention. Clubs found unique ways to assist others locally with various projects to support survivors, including sponsoring shelter wish lists and raising awareness. Money raised through sales of heart/hand bracelets, circle ribbon pins, and handcrafted cards will go back to clubs with grant opportunities awarded at the Combined Mid-winter Meeting 2022.
The upcoming GFWC Massachusetts Combined Fall Meeting 2021 will feature a blue and yellow raffle/auction (the Administration's colors) with creatively crafted or store-bought items as prizes. All proceeds raised will go directly to domestic violence grant opportunities.
The GFWC Massachusetts Combined Annual Convention 2021 offered attendees the opportunity to directly support Second Step, a domestic violence shelter based in Newton, Massachusetts.
The GFWC Massachusetts Combined Fall Meeting 2020 featured guest speaker Ashley Bendikson, top motivational youth and school speaker and award-winning activist on teen dating violence prevention, healthy relationships, and leadership, who remotely presented challenges faced by survivors and agencies that support them during the pandemic.
Clubwomen will continue to enthusiastically support the President's focus area by assisting their local domestic violence agencies while educating themselves and their communities about this ongoing issue. Even in times of hardship, clubs and members give their Hearts & Hands for GFWC.
Club Anniversaries and Gold Pin Recipients 
Club Anniversaries
20th
GFWC Past State President's Club (Massachusetts)
25th
GFWC Past State President's Club (New Jersey)
40th
GFWC Temecula Valley Woman's Club (California)
50th
GFWC Clearwater Community Woman's Club (Florida)
80th
GFWC Woman's Club of Hightstown (New Jersey)
90th
GFWC Woman's Civic Club of Hillsboro (Wisconsin)
GFWC Woman's Club of Fredericksburg (Virginia)
95th
GFWC Clarkson Woman's Club (Nebraska)
GFWC Salem Area Woman's Club (New Hampshire)
100th
GFWC Community Club of Collegeville (Pennsylvania)
GFWC Corralitos (California)
GFWC Prestonburg Woman's Club (Kentucky)
GFWC Stoughton Woman's Club (Massachusetts)
GFWC Woman's Club of Crestview (Florida)
120th
GFWC Glendale Woman's Club (Arizona)
GFWC Woman's Club of Asbury Park (New Jersey)
GFWC Woman's Club of Upper Montclair (New Jersey)
125th
GFWC Woman's Club of Englewood, Inc. (New Jersey)
130th
GFWC Woman's Club of Aurora (Illinois)
Gold Pin Recipients
Catherine Actis
GFWC Tracy Woman's Club (California)
Faye Ashby
GFWC Livermore Woman's Club (Kentucky)
Jeanne Barry
GFWC Community Club of Collegeville (Pennsylvania)
Connie Bazaire
GFWC Charlotte (Michigan)
Virginia Black
GFWC Madison Valley Woman's Club (Montana)
Betsy Brown
GFWC Woman's Club of Kenosha (Wisconsin)
Barbara Camponeschi
GFWC Woman's Club of Kenosha (Wisconsin)
Barbara Cornish
GFWC Community Club of Collegeville (Pennsylvania)
Betty Curry
GFWC Livermore Woman's Club (Kentucky)
Mary Ellen DeWane
GFWC Community Club of Collegeville (Pennsylvania)
Peggy DeWane
GFWC Community Club of Collegeville (Pennsylvania)
Mary Fuller
GFWC Stones River Woman's Club (Tennessee)
Lorraine Gorham
GFWC MS Senior America Club of MA (Massachusetts)
Mary Ellen Heckman
GFWC Woman's Club of East Troy (Wisconsin)
Leva Inglis
GFWC Charlotte (Michigan)
Carol Johnston
GFWC Woman's Club of Kenosha (Wisconsin)
Sally Lorah
GFWC Community Club of Collegeville (Pennsylvania)
Dianne Lundquist
GFWC Ebell Club of Irvine (California)
Beatrice Rohrmeier
GFWC Burnt Hills-Ballston Lake (New York)
Shirley Storey-Masson
GFWC Madison Valley Woman's Club (Montana)
GFWC Marketplace: Gift Bag Set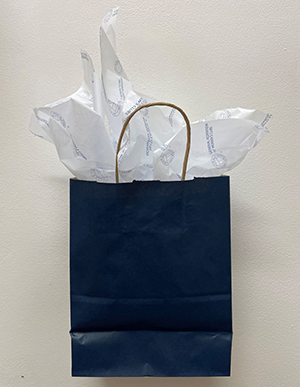 The GFWC gift bag set is the perfect package for any gift! The Federation blue gift bag comes with two sheets of gorgeous white tissue paper featuring the GFWC logo and emblem for the perfect gift set. Pick up some for your newest members to celebrate a personal milestone or birthday, the installation of a new President, or when gifting items to your community.
The GFWC emblem tissue paper is printed with soy-based ink on acid free paper and are FSC (Forest Stewardship Council) certified. You can gift comfortably knowing that this GFWC purchase is sustainable. This item comes with three gift bags and tissue paper sets. Order yours today.
There could be some mail service delays throughout the pandemic. To speed up processing of your order, we request that you pay for your order at time of purchase in the Member Portal. For information on mail service in your area, visit the USPS Service Alerts page.
GFWC
www.GFWC.org