October 21, 2021
View our Important Dates page for upcoming events and milestones.

Wear Purple Today, Purple Thursday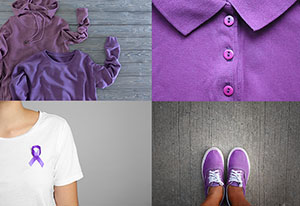 It's Purple Thursday, an annual observance when domestic violence prevention advocates wear the color purple during Domestic Violence Awareness Month. Domestic violence is a silent epidemic, and today is an opportunity for GFWC clubwomen to stand in solidarity with survivors and advocates.
Take your favorite purple shirt or outfit out of the closet and demonstrate your commitment to stopping domestic violence. When you go to work, spend time with your family, or participate in a club community service project, explain why you are wearing purple. Ask everyone that you interact with to join you in supporting survivors of domestic violence.
On GFWC's Facebook page today, members of GFWC's Signature Program Committee are sharing photos of themselves in action while wearing purple. Join them and post pictures of yourself, using the hashtags #BreaktheSilence and #StopDomesticViolence. Together, we can break the silence about domestic violence.
Advocates for Children Week Starts October 24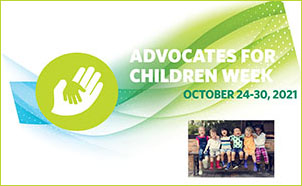 GFWC's Advocates for Children Week starts this Sunday! Make the most of October 24–30 and stick your neck out to support children. Parents and caregivers need more training to be the best Advocates for Children in emergency or other health situations. Schools need more support to create and upgrade curricula for students.
Participate in the "Stick Your Neck Out" challenge! View the Juniors' Special Program section of the Club Manual in the Member Portal Digital Library in the "C" Resources folder and the "Special Programs and CSPs" subfolder.
And be sure to submit your success story to PR@GFWC.org. Your Advocates for Children project could be selected to be published on the GFWC Blog.
Cares & Concerns 
It is with great sadness that we announce the passing of Jane Lee Nosal, Past New York State President and Past Middle Atlantic Region President. Known for her grace and wit, as well as more than 60 years of dedicated service to GFWC, Jane passed away on October 14.
Volunteers in Action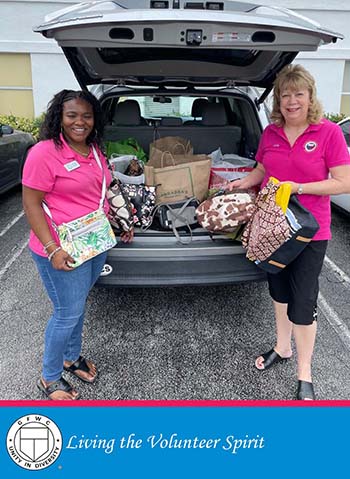 This week's GFWC Blog features GFWC Greater West Palm Beach Women's Club (Florida) and GFWC North Central Junior Alumnae Club (West Virginia). Check out these stories of how clubwomen donated purses and wallets to women survivors at a local domestic violence shelter and distributed new crayons and coloring books to several area schools.
Have a success story to tell? Email PR@GFWC.org to have you club project considered for the GFWC Blog.
Continue to Support Shot@Life's Mobilize to Immunize Campaign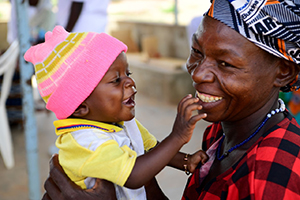 Right now, supporters of GFWC Affiliate Organization Shot@Life are mobilizing in their communities to raise awareness about the lifesaving potential of vaccines and funding global immunization programs in the U.S. budget. You have the opportunity to help make sure members of Congress know their constituents support global vaccination efforts and understand the vital role the U.S. plays in the lives of children around the world.
The easiest ways to use your voice and participate in Shot@Life's Mobilize to Immunize Campaign are by:
Signing Shot@Life's petition.
Letting your social networks know that you believe in vaccine equity and that every child deserves a shot at life.
Vaccines protect entire communities and future generations from infectious disease. While life may be returning to normal in some countries, most low-income countries around the world still do not have access to lifesaving vaccines, for both COVID-19 and deadly diseases like polio, measles, pneumonia, and rotavirus. In just one year, the pandemic has erased more than a decade's worth of progress, leaving 3.7 million more children un- or under-vaccinated in 2020 than in 2019.
For awareness resources, view Shot@Life's social media toolkit.
Recognize Innovative Club Presidents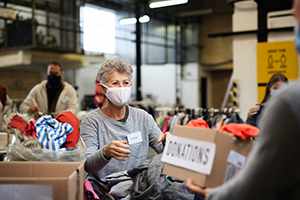 Does your club president inspire and encourage your club to develop creative and innovative projects to benefit your community through volunteerism? Or do you know a club president who inspires others? Help us highlight their commitment to GFWC by nominating her to be featured on www.GFWC.org. Our "Featured Member" profiles tell the stories of club presidents who are dedicated to making a difference through community service. You can also nominate yourself if you are a club president interested in sharing your Federation story.
To nominate someone, email Publications and Project Manager Taylor Fussman. Clubwomen selected to participate in this project will be interviewed over the phone or Zoom for approximately 30 minutes about their background with GFWC, why they enjoy volunteering, and what volunteerism means to them. We want these interviews to be a fun experience and opportunity for members to tell us what they enjoy about being part of this group of incredible women.
Credit Card Transactions with GFWC
As you may have experienced with other nonprofits and small businesses, credit card processing fees have increased over the past few years. GFWC has been absorbing this as a cost of business, but just like many other nonprofits, we are unable to continue to do so.
We regret having to pass on this cost, but beginning November 1, 2021, GFWC will implement a $3.00 convenience fee for credit card transactions. This will include all donation, event registration, and Marketplace transactions completed by credit card.
Avis and Budget Car Rental Savings Program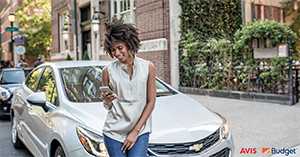 Enjoy the change in seasons and plan your fall getaway with savings from your GFWC Avis and Budget Car Rental Savings Program. With the Pay Now feature, members can save up to 35% off base rates on every rental, plus receive additional offers like dollars off, a complimentary upgrade, or a free weekend day.
You can also skip the counter and paperwork at many locations. Go straight to your car for faster pick-up and drop off when you sign up by using your complimentary membership in the Avis Preferred® or Budget's Fastbreak Rewards Program.
When making a reservation with Avis, be sure to use your Avis Worldwide Discount number B155149. When booking with Budget, use your Budget Customer Discount number R584749.
Office Depot Savings Program
Whether working from home, an office building or a bit of both, make your workspace yours. Use the GFWC Office Depot Savings Program to get everything you need, to do your best work from anywhere. When shopping online, you can also enjoy next-business-day delivery on qualifying orders of $50 or more within local delivery areas.
In addition to shopping through this members-only savings program, you can also receive exclusive limited time offers by texting GFWCSPC to 833-344-0228.
Use GFWC Emblems and Icons to Brand Your Club

With fall club projects underway, now is a great time to use club publications and promotional activities to attract new members and get your community excited about volunteer work. GFWC members have access to GFWC logos, emblems, and icons for marketing and publicity-related reasons. Using the logos, emblems, and icons will help promote your project and increase the recognition of the GFWC brand. These files include the 2020-2022 Administration Logo, various formats of the GFWC emblem, and icons for each of the Special Programs and Community Service Programs.
All files are available within the "L" Resources folder of the Member Portal Digital Library. When you go to download one of these images, you will see three different versions—a JPEG, PNG, and EPS file. These file types can be used for a variety of different projects, including:
Brochures and flyers. PNGs are an alternative if you are designing materials to be printed but do not have access to programs that can open an EPS file, such as Adobe Creative Suite. PNG files allow for a transparent background around the image, which can be useful when designing a brochure, flyer, or sign with various graphics and text that need to be laid out.
Working with vendors. EPS files allow graphic designers and printers to proportionally resize a graphic without altering elements of a layout. EPS files also store the exact colors used. While you won't be able to open the file without a professional design program, it is the best file for your club to send to a vendor. Often, printers also prefer EPS files because this file format generates the highest-quality image for commercial printing.
Websites. JPEGs, a very compressed type of file, allow web pages and social media profiles to load faster. However, JPEG files will feature the graphic on a white background.
Newsletters. Similar to websites, online newsletters can benefit from using JPEG files because images will load faster when recipients open an email.
Creating new file formats. An EPS file will allow graphic designers and printers to create many other, less commonly-used file types.
Strengthen the GFWC brand and promote your project through the use of the logos, emblems, and icons. No matter which file type you decide is the best fit for your project, be sure to review the GFWC Stylebook that is available within the "S" Resources folder of the Digital Library.
GFWC Marketplace: GFWC Drawstring Bag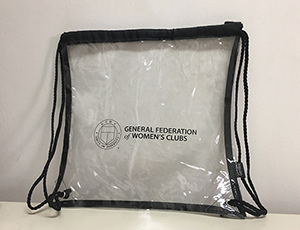 The GFWC Drawstring Bag is transparent, making it the perfect accessory for outdoor events, parades, and other socially-distanced activities. Keep your objects in one convenient bag that's easy to carry to your next volunteer event. Order yours today.
There could be some mail service delays throughout the pandemic. To speed up processing of your order, we request that you pay for your order at time of purchase in the Member Portal. For information on mail service in your area, visit the USPS Service Alerts page.
GFWC
www.GFWC.org