October 22, 2020
View our Important Dates page for upcoming events and milestones.
From GFWC's International President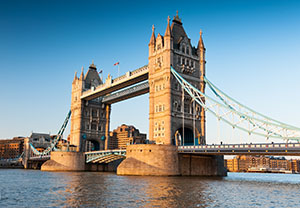 Dear GFWC Members,
I'm very excited to host a tour, "The Best of Britain," for GFWC members and their families and friends next summer, July 21 – 30.
Since 2015, I have hosted 15 tours with Discover Europe in countries across Europe, including England, Scotland, Ireland, France, Italy, Switzerland, Austria, the Netherlands, and more. Discover Europe is a U.S.-based operator that specializes in small groups and custom tours. Their client list includes alumni groups with Tufts University, Smith College, and Vassar College, among others. I can personally vouch for their commitment to an exceptional travel experience.
"The Best of Britain" tour visits some of my favorite places in England, from the garden of Prince Charles at his private estate, Highgrove, to the artist studio of Winston Churchill at his country home, and the writing nook of Jane Austen in a humble abode in a tiny Hampshire village. We will relish the splendor of Windsor, the rolling hills and honey-colored stone houses of the Cotswolds, the Weald and ancient forests of Kent and Sussex, and the hustle and bustle of London. For your comfort, the tour is limited to 30 travelers.
This brochure provides a full itinerary and all registration information. However, do not hesitate to contact Discover Europe, or me, for further information.
I hope you will want to travel with me next summer!
All my best,
Marian St.Clair
International President
Help Grow the Success for Survivors Scholarship Fund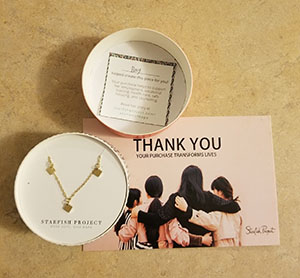 Have you checked out the Starfish Project's merchandise yet? More than $4,100 in purchases have been made through GFWC's dedicated link, and 25% of the sales directly supports GFWC's Success for Survivors Scholarship. This endorsed fundraiser will continue through June 28, 2022, helping domestic violence survivors overcome financial challenges and invest in a brighter future.
The Starfish Project works with women escaping human trafficking and exploitation. The organization is currently assisting more than 150 women to provide a fresh start in life by arranging safe housing, healthcare, education and training, and employing them to make jewelry and garments to support its mission. Starfish Project Founder Jenny McGee is also the 2020–2022 Signature Program Honorary Chairman.
Order your next favorite necklace, pair of earrings, bracelet, or ring today through this link (which is also on the Starfish Project GFWC web page)! Together, we can continue to support survivors!
Volunteers in Action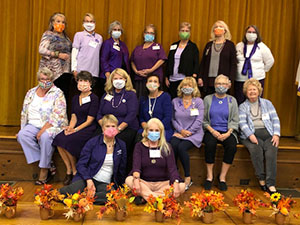 Ossoli Circle (Tennessee), The Civic Woman's Club of Picayune (Mississippi), Montgomery Woman's Club (Ohio), The Woman's Club of Medford (New Jersey), and the Woman's Club of Clayton (North Carolina) are featured on the GFWC Blog this week. Read about their domestic violence awareness efforts, project to restock USO lounges for military families, Scarecrows on Main event, and Read Across America book donations.
Have club news? Submit a success story with action-packed photos about how your club is staying active during the pandemic to PR@GFWC.org.
Region Conferences: How Does Your Light Shine?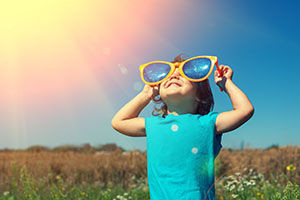 What members are saying about the remote GFWC Region Conferences:
"I was hesitant about signing up for the conference because it was online; however, I'm so glad I did. Everyone did a great job keeping our attention. Thank you and congratulations on a job well done."
"Marian, you are connecting with what we are feeling this past year. Thank you."
"Loved hearing all the State President reports. Great leadership in GFWC!"
"Deb, you really inspired this Membership team member. Loved your enthusiasm and passion! Can't wait to share your insights with the members…"
"Inspirational and good reminder of why we are GFWC club members, so many ways we can help this world."
Register for Region Conferences in the Member Portal  
Have you registered for your Region Conference yet? Log in to the GFWC Member Portal, select "Events" from the top menu, select "Browse Events," and then select the appropriate Region Conference from the event listing to register. Registration for all of the events closes three days prior to their start, but please register early for planning purposes. Below are the upcoming registration deadlines!
Southern Region Conference
October 31, 2020, 1:00 p.m. – 5:00 p.m. EDT
Registration ends on October 28.
Southeastern Region Conference
November 7, 2020, 1:00 p.m. – 4:00 p.m. EDT
Registration ends on November 4.
Don't have a camera or microphone on your computer? No problem! You can still listen in, watch, and vote during all Region Conferences. If you'd like to register for multiple Region Conferences, contact GFWC@GFWC.org.

 Advocates for Children Week Starts October 25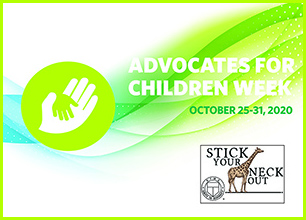 GFWC's Advocates for Children Week starts this Sunday! Schools need more art curricula and outdoor activities. Parents and caregivers need more training to be the best Advocates for Children in emergency or other health situations. And, many states and cities have yet to proclaim the fourth week of October as Advocates for Children Week (see "A" in the Member Portal's Digital Library for resources).
Remember to submit an Advocates for Children club success story to PR@GFWC.org to be considered for GFWC's Blog.
Deadline Approaching: Turning Point Suffragist Memorial Naming Opportunities 
October 31 is the deadline to have your name listed on the Donor Wall or other Turning Point Suffragist Memorial components in Occoquan, VA. Visit the Suffrage Memorial's giving page for more information about honoring the brave women whose courage and commitment led to the passing of the 19th Amendment to the Constitution.
Plan Your Club's Signature Program Projects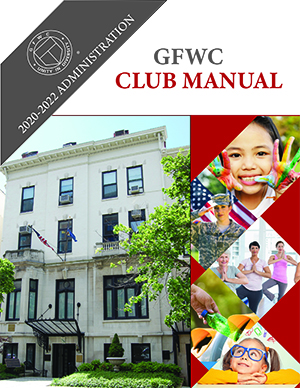 There may only be a week left of Domestic Violence Awareness Month, but your club's work within the Signature Program area is only beginning! The 2020–2022 Club Manual, available within "C" Resources of the Member Portal's Digital Library, has project ideas and information that your club can use to help raise awareness and prevent domestic and sexual violence. Participate in the Challenge Project and review the resources in these eight programmatic areas:
Intimate Partner Violence (IPV)
Child Abuse
Teen Dating Violence
Campus Sexual Assault
Elder Abuse
Violence Against Native American Women
Military Sexual Assault
Human Trafficking for Sexual Purposes
Once your club completes a domestic violence awareness-raising project, be sure to share your success story with PR@GFWC.org to be considered for the GFWC Blog.
Red Maple Leaf Quilt Raffle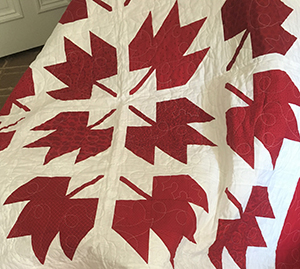 Purchase raffle tickets by November 30 for your chance to win the beautiful red maple leaf quilt crafted by New Hampshire clubwoman Anne Engelhardt. The winner will be drawn during the remote GFWC Holiday Open House observance on December 9. Tickets are three for $10 or 10 for $25. Order your tickets and get excited for the 2021 GFWC Annual Convention in Toronto where there are plenty of red maple trees to admire.
State President's Project: Karen-Marie Wasik, Maryland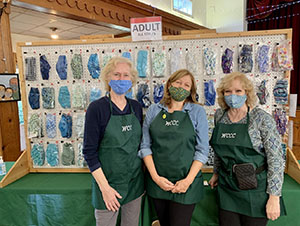 Clubwomen have taken Maryland's 2020–2022 motto, Bee Active…Keep Our Federation Buzzing, to heart.
Creativity, energy, and adaptability have all been demonstrated through the new ways that clubs are raising funds and support their communities in our COVID-19 world. One club made and sold masks and later held a "deer proof" bulb sale; another sold White House ornaments and Christmas wreaths; and another participated in the United Way's "Stuff the Bus" campaign by gathering requested school supplies. Additionally, a club supported the GFWC Signature Program by donating bras and panties to a charity to be distributed to human trafficking survivors.
Several clubs are supporting the President's Project and U.S. armed services personnel and their families by gathering items for a "Baby Shower." This event will be held during the November meeting; items gathered will be given to a Maryland Army Base Wives' Club. At future meetings, the project chairman will highlight additional ways to meet the various needs of these families, deployed and returning personnel, and personnel returning with disabilities. Special efforts will be directed toward the support of the USO-SWA reading-book project.
To support the GFWC Signature Program, the chairman plans to highlight ways clubs can meet the various needs of survivors. She will begin with information about human trafficking. Karen-Marie is collecting information regarding all District club activities and will highlight them in the The Buzz. Karen-Marie hopes that this newsletter will encourage all clubs to share ideas and projects, nurturing the unity of Maryland clubwomen.
Marketplace: A Private Family Matter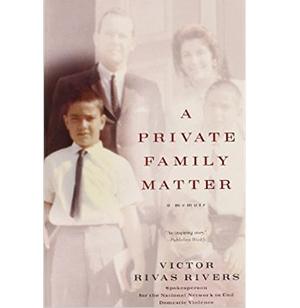 Reading A Private Family Matter: A Memoir by Victor Rivas Rivers is a meaningful way you can observe Domestic Violence Awareness Month. Use the extra time you have at home to read this powerful story about how domestic violence put one family in crisis.
There have been reports of significant mail service delays in many communities throughout the United States. GFWC staff is processing Marketplace orders as quickly as possible, but Headquarters is still operating with limited staff onsite daily. For details on mail service in your area, visit the USPS Service Alerts page.