October 27, 2022
View our Important Dates page for upcoming events and milestones.
President's Gem
By Deb Strahanoski, GFWC International President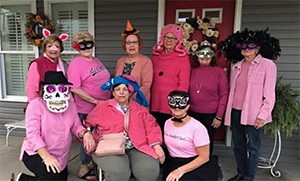 People of all ages spend October carving pumpkins and trick-or-treating for Halloween. However, October is also a time to recognize two important awareness months – Domestic Violence Awareness Month and Breast Cancer Awareness Month. I have selected the GFWC North Central Junior Alumnae Club, in West Virginia, as this month's President's Gem for their efforts to recognize both of these significant causes in their community.
Clubwomen kicked off their awareness efforts with a "Pink Out Party" held at their October meeting, during which members dressed in pink and were encouraged to continue to wear pink along with breast cancer awareness pins throughout the month. Members were also invited to express their creativity by painting pumpkins pink and displaying them at their homes or throughout their communities along with signs encouraging people to schedule a mammogram.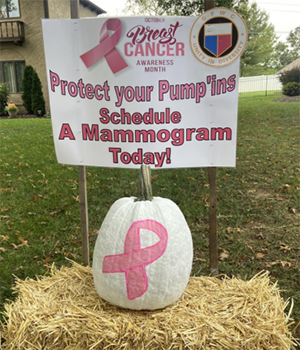 "We have several members of our club who are breast cancer survivors and they all discovered it through mammograms," Second Vice President Tressa Wolfe said. "We feel it is very important for women in the community to schedule their mammogram."
Since the club includes members from throughout five different counties, the hope was that the project would have a broad reach.
In addition to this project, members chose to recognize Domestic Violence Awareness month by giving back to those in need. To accomplish this goal, the club donated $300 in monetary and in-kind donations to Hope Incorporated, an area domestic violence shelter.
Congratulations to the clubwomen of the GFWC North Central Junior Alumnae Club on these wonderful awareness projects!
Building Community Awareness
By Joann Wheeler, GFWC Membership Committee Member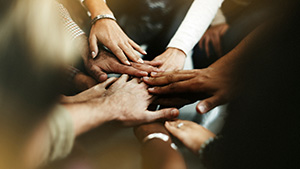 WE ARE GFWC! As an international organization, we are proud of our history, traditions, and contributions to our communities through volunteer service. Even though we are improving our branding, have a beautiful working headquarters, and many clubs located throughout all states and several countries, we still struggle to step into the limelight as a powerful women's volunteer organization. The solution to this lack of recognition is a stronger effort by every club to build their community awareness right at home. Step up, be seen, be heard, and share the work of GFWC volunteers!
So how do we accomplish this mission of educating our communities about the benefits of belonging to GFWC, share the many volunteer opportunities, and promote the assistance given to different communities? Members now have multiple avenues to reach out and share the "wealth" of GFWC.  Digital promotion, printed materials, radio, and television can all be used to reinforce this information. The social media world also continues to grow and allows us to tell the story of GFWC's volunteer accomplishments.
Reach out, attend social, city, and community events, go to other organization's activities, and participate in business gatherings and chamber meetings. Doing all these activities will connect your club with the community and help them understand what the club is doing to support the community's needs. Showcase the local club by wearing some form of GFWC branding, display signage and posters, hand out club information, and meet individuals with a smile on your face and an eagerness to share about the many benefits of being a GFWC volunteer. Word of mouth is a powerful way to excite other women about the impact of GFWC. Develop a reputation as the "go to club" when a need is identified in the community.
Are you living the volunteer spirit? Then tell someone today!
Volunteers in Action
This week's GFWC Blog features GFWC Marlborough Junior Woman's Club (Massachusetts) and GFWC Woman's Citizenship Club of Alamosa (Colorado). Read how Massachusetts clubwomen hosted a Trunk-or-Treat event for local families and how Colorado members are using recycled plastic to make sleeping mats for people in need in their community.
Have a success story to tell? Email PR@GFWC.org to have your club project considered for the GFWC Blog.
Sign Up Today for the 2022 GFWC Holiday Open House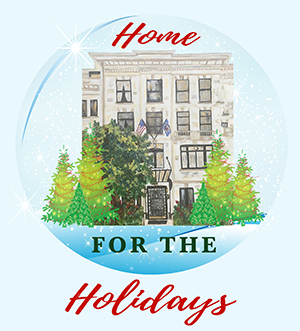 GFWC Headquarters will be filled with holiday cheer on December 7 for the in-person 2022 GFWC Holiday Open House, hosted by GFWC International President Deb Strahanoski and GFWC Director of Junior Clubs Katie Moydell. The event will include two scheduled receptions from 11:00 a.m. to 1:00 p.m. ET and from 1:30 p.m. to 3:30 p.m. ET at GFWC's historic Headquarters at 1734 N St. NW, Washington, DC. At this time, registration for the afternoon session is closed, but there are still spots open to attend the morning reception. During each reception, attendees will be able to enjoy viewing ceramic holiday villages provided by the State Federations that will be on display in recognition of this year's theme, Home for the Holidays.
To accommodate guests coming from out of town, GFWC has a room block available at the Courtyard by Marriott Washington, DC Dupont Circle hotel across the street from Headquarters. Book your room online today.
Register today through the Member Portal and enjoy the giving season with Federation friends. If you would like to register a group for the reception, please email Events@GFWC.org.
Legislative Corner 
To encourage participation in the democratic process, this monthly column aims to inform members about current legislation and programs that are germane to the GFWC Resolutions. It also highlights important actions of the House, Senate, and White House, and provides follow-up information about GFWC Legislative Action Alerts.
Congress considered hundreds of bills in a flurry of activity before recessing for the November elections. In mid-November, Congress will reconvene to complete its business before the end of the year.
TAKE ACTION NOW: Family Violence Prevention and Services Act Reauthorization
In recognition of Domestic Violence Awareness Month, GFWC launched a Legislative Action Alert urging Congress to pass the Family Violence Prevention and Services Improvement Act (FVPSA), which provides resources and funding for local domestic violence shelters, state coalitions, hotlines, and prevention programs. The Senate must consider S. 1275, while the House of Representatives passed H.R. 2119 in 2021. GFWC joins the National Network to End Domestic Violence, the National Coalition Against Domestic Violence, and the National Domestic Violence Hotline, among others, to urge Congress to approve reauthorization. If you have not acted on this legislative alert, please join the GFWC Legislative Action Center and do so now!
Advocate for Online Safety for Children and Teens
GFWC launched a Legislative Action Alert in support of the EARN IT Act (S. 3538, H.R. 6544), which is bipartisan and has been approved unanimously by the Senate Judiciary Committee but is still awaiting a vote on the Senate floor. In early October, GFWC Director of Junior Clubs Katie Moydell presented a report to the EARN IT Act Coalition hosted by the National Center on Sexual Exploitation, highlighting that GFWC clubwomen have made more than 2,500 contacts on Capitol Hill to support this legislation. Thank you for acting on this child sexual exploitation prevention legislative alert! GFWC proudly joins the National Center on Sexual Exploitation, the National Children's Alliance, the Child Rescue Coalition, and others to support this bill.
Child Abuse Prevention Bill Moves Forward
The Senate approved S. 734 to amend the Child Abuse Prevention and Treatment Act to provide for grants in support of evidence-based or informed training and education to teachers and other school employees, students, caregivers, and community volunteers about how to prevent, recognize, and report child sexual abuse among primary and secondary school students. The bill is named for Jenna Quinn from Texas, a child abuse survivor, and modeled after successful state legislation. More than half of all states have adopted a form of Jenna's Law, and some have expanded to include sex trafficking prevention education in schools. Legislative leaders are hoping to combine the Child Abuse Prevention Bill with the Family Violence Prevention and Services Improvement Act and enact them before the end of the year.
"Ghost Guns" Now Must Be Traceable
In late August, two federal judges allowed a new federal rule governing "ghost guns" to take effect, requiring for the first time that the kits which allow people to assemble homemade firearms must include serial numbers and mandate background checks for people who buy the kits from dealers. Between 2016 and 2021, the Bureau of Alcohol, Tobacco, Firearms and Explosives received more than 45,000 reports of "privately made firearms" being recovered by authorities during criminal investigations. The Justice Department reported more than 19,300 such firearms recovered in 2021, nearly five times the tally from 2018. The rule will make it harder for criminals and other prohibited persons to obtain untraceable guns. Hopefully, it will help to ensure that law enforcement officers can retrieve the information they need to solve crimes, and it will help reduce the number of untraceable firearms flooding our communities.
Post-Disaster Housing
In a strong bipartisan vote, the House of Representatives passed the Expediting Disaster Recovery Act (H.R. 5774) sponsored by Rep. Garret Graves (R-LA) to have the Federal Emergency Management Agency (FEMA) provide financial aid for meeting housing needs following disasters that have destroyed housing in a given area. The bill is intended to make funds immediately available to the disaster victims, rather than spending money on years of temporary housing and temporary recovery efforts. The Senate did not pass its bill before the break.
Human Trafficking Bills 
In late September, the House of Representatives approved the Stop Human Trafficking in School Zones Act (H.R. 7566) to increase the punishment for human trafficking in a school zone. They also approved the Human Trafficking Prevention Act (H.R. 7181) to direct the Secretary of Transportation to provide for the posting of contact information of the national human trafficking hotline in the restrooms of each aircraft, airport, over-the-road bus, bus station, passenger train, and passenger railroad station operating with the United States. Currently, there are three major trafficking bills being negotiated by the Senate to achieve bipartisan support. Negotiations are ongoing with House leaders so that final legislation can be approved before the end of the year.
Providing Student Loan Support
Congress enacted the Joint Consolidation Loan Separation Act (H.R. 2460, S. 1098) with strong bipartisan support. From 1993 to 2006, married couples were able to combine their individual student loans into one joint consolidation loan, making both individuals jointly liable for repayment. However, when Congress eliminated the program in 2006, they did not provide a means to severe the existing joint loans. Borrowers were required to continue paying their joint consolidated loan with their partner, even in the event of domestic violence, economic abuse, or an unresponsive ex-partner, with no legal options available for relief. The new Act allows borrowers to split their consolidated loan into two separate federal direct loans, freeing many from the fiscal responsibility of the repayment of an ex-partner's student loan debt.
Immigrants and Jobs
Congress enacted the Bridging the Gap for New Americans Act (S. 3157) with bipartisan support. The bill requires the Labor Department to study ways to improve the ability of lawfully present noncitizens and naturalized citizens to obtain employment that fits their level of skills. This will be key to addressing labor shortages.
State President's Project:  Lori Hawley, Colorado
GFWC Colorado State President Lori Hawley's Administration theme is Volunteering Makes Your Heart Sing! She has asked her fellow Colorado clubwomen to focus on the feeling a volunteer experiences when they realize their efforts have positively affected someone else. By examining how volunteering makes them feel, clubwomen will be able to talk about the joy of volunteering and share it with their friends and neighbors, thereby increasing membership, which is Lori's first goal.
Being a professional musician, it felt natural for Lori to make music the theme for her Administration, and it was serendipitous when she learned of Musicians On Call, whose mission is to bring the healing power of music to hospital patients and others.
Musicians On Call serves patients, families, and caregivers in hospitals across the country and provides live and video performances to facilitate interactive, group, and one-on-one experiences. They also provide tablets with up-beat or calming playlists, along with noise-cancelling headphones to cancer patients, dialysis patients, and others.
The results are amazing! Musicians On Call's services transform the suffering that patients experience in hospitals. The organization has served more than 1 million people across the country. Lori is encouraging Colorado clubwomen and others to donate to this worthwhile organization.
Lori has also urged Colorado clubs to support music in their communities by donating used instruments to their local school music programs, supporting live music opportunities, buying music for community bands and choirs, taking seniors to concerts, paying for dry cleaning of marching band uniforms, inviting instrumental and vocal music groups to perform at their events, paying for school instrument repairs, funding scholarships to summer music camps, and doing at least one project with the proceeds going to Musicians On Call.
Lori is excited to bring music into the forefront of her Administration, and she can't wait to see how Colorado clubwomen will respond!
Club Anniversaries and Gold Pin Recipients
Club Anniversaries
60th
GFWC Bloomington Federated Woman's Club (Minnesota)
GFWC Woman's Club of South County (Rhode Island)
70th
GFWC Junior Woman's Club of Westminster (Maryland)
95th
GFWC Palos Park Woman's Club (Illinois)
120th
GFWC Woman's Club of Antioch (California)
GFWC Woman's Club of Fullerton (California)
125th
GFWC Rhinelander Woman's Club (Wisconsin)
Gold Pin Recipients
Carol Blankenship
GFWC Monday Club of Johnson City (Tennessee)
Patricia Chandler
GFWC Woman's Civic Club of Kirbyville (Texas)
Vange Chatis
GFWC Somers Women's Club (Connecticut)
Ruth Diedrich
GFWC Brillion Woman's Club (Wisconsin)
Faith Gelinas
GFWC Somers Women's Club (Connecticut)
Mary Beth Guy
GFWC Woman's Civic Club of Kirbyville (Texas)
Sandi Jones
GFWC Concord Contemporary Club (New Hampshire)
Micki Joslin
GFWC Monday Club of Johnson City (Tennessee)
Beverly Loofboro
GFWC Brillion Woman's Club (Wisconsin)
Toni Mangretta
GFWC Town and Country Woman's Club (Pennsylvania)
Lucy McPherson
GFWC Monday Club of Johnson City (Tennessee)
Sami Shirley
GFWC Woman's Club of Aransas Pass (Texas)
Sue Starr
GFWC Mechanicsburg (Pennsylvania)
Diana Vance
GFWC Monroe Woman's Club (Wisconsin)
Pam Weaver
GFWC Mechanicsburg (Pennsylvania)
Nancy Weisenfels
GFWC Uandi Literary Club (Missouri)
Diane Zickert
GFWC Brillion Woman's Club (Wisconsin)
GFWC Marketplace: GFWC License Plate Frame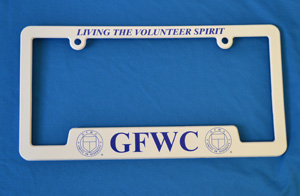 Show off your volunteer pride while driving around with a GFWC License Plate Frame! This white frame with the blue GFWC logo and Living the Volunteer Spirit tagline fits easily around your car's license plate and is the perfect way to spread awareness of GFWC. Order yours today.
For information on mail service in your area, visit the USPS Service Alerts page. To speed up the processing of your order, we request that you pay for your order at the time of purchase in the Member Portal.
Update Your Member Portal Profile
Please visit your profile in the Member Portal and verify that your name, contact information, and home address are correct. If these fields are not correct, select the pencil icon to make edits. If your primary club is incorrect, please email GFWC@GFWC.org for assistance. Past positions are currently being archived by GFWC staff.
GFWC
www.GFWC.org