October 28, 2021
View our Important Dates page for upcoming events and milestones.

Attend the 2021 GFWC Holiday Open House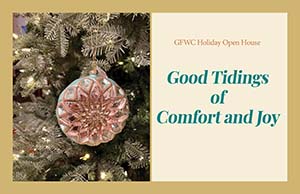 The 2021 GFWC Holiday Open House, hosted by GFWC International President Marian St.Clair, is an exciting opportunity for you to celebrate this giving season and experience a bit of holiday magic. Register to attend one of two scheduled receptions from 10:00 a.m. to 12:00 noon ET or from 1:30 p.m. to 3:30 p.m. ET on December 8. During each reception, attendees will be welcomed into the historic GFWC Headquarters at 1734 N St. NW, Washington D.C., to mingle with fellow clubwomen and enjoy this year's theme, Good Tidings of Comfort and Joy.
Attendance will be limited at the receptions for safety and registration will close at 12:00 noon ET on December 1. Register today through the GFWC Member Portal.
Honor Native American Heritage This November
By Angela Cutrera, Arts and Culture Community Service Program Chairman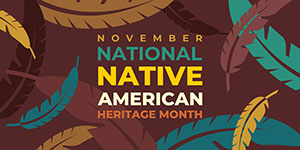 During the month of November, we observe Native American Heritage Month and celebrate the culture of the Native American people. Take the time this month to educate club and community members about their history, traditions, dance, music, and crafts and find ways to commemorate their heritage.
Here is a brief history of Native American Heritage Month:
Dr. Arthur Caswell Parker of the Seneca Nation was able to persuade the Boy Scouts of America to recognize "First Americans" Day from 1912-1915.
In 1915, the annual Congress of the American Indian Association meeting in Lawrence, Kansas, approved a plan for American Indian Day. Its president, Rev. Sherman Coolidge of the Arapahoe Tribe, issued a proclamation declaring the second Saturday in May as American Indian Day. The proclamation also contained the first formal appeal for Indians to be recognized as U.S. citizens.
New York was the first state to recognize American Indian Day on the second Saturday in May of 1916.
Native Americans were granted citizenship in 1924 when Congress enacted the Indian Citizenship Act.
Most Native Americans were able to vote beginning in 1924. However, it took more than 40 years for all 50 states to allow Native Americans to vote.
The first national Native American Awareness Week was proclaimed in October 1976 by President Gerald R. Ford.
In 1990, President George H.W. Bush approved a resolution proclaiming November as National American Indian Heritage Month.
Proclamations have been issued by presidents each year using various names, including National American Indian and Alaska Native Heritage Month.
The celebration title was changed to National Native American Heritage Month in 2009 by President Barack Obama.
Research the history of Native Americans and share information with club members about the number of tribes and land reservations, the location of tribes and pueblos, and which states have the largest number of Native Americans. Discover more by using the resources and records available from the National Archives, the Bureau of Indian Affairs, and the National Park Service. Plan to celebrate the culture and honor the contributions of the "First Americans" during the month of November.
Fond Farewell 
GFWC International President Marian St.Clair and the GFWC Officers, Board of Directors, and staff would like to thank Chief of Operations Patty Budka and recognize her for four years of exemplary dedication and service. Patty's last day at GFWC will be Friday, October 29. She will be greatly missed by all. We wish Patty health, happiness, and much success in the days to come.
Volunteers in Action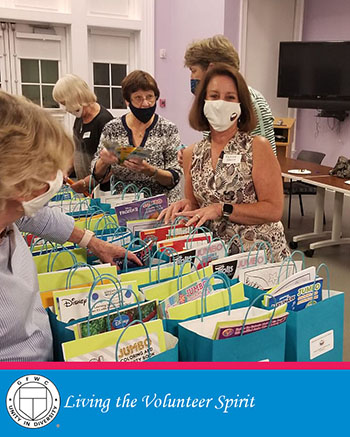 This week's GFWC Blog features GFWC Women's Club of Madison (Connecticut) and GFWC Woman's Club of Laurel, Inc. (Maryland). Read about how clubwomen put together arts and crafts bags for the children at Ronald McDonald House of Connecticut and hosted a fundraiser to support their Literacy for Little Ones project to improve literacy and encourage an interest in reading.
Have a recent success story or one from Advocates for Children Week to tell? Email PR@GFWC.org to have you club project considered for the GFWC Blog.
Join Shot@Life's Mobilize to Immunize Campaign
GFWC Affiliate Organization Shot@Life is encouraging members to join them in the final stretch of their Mobilize to Immunize campaign to raise awareness about the lifesaving potential of vaccines and funding global immunization programs in the U.S. budget. You can support this campaign by making sure members of Congress know their constituents support global vaccination efforts and understand the vital role the U.S. plays in the lives of children around globe.
The U.S. Senate recently released its proposed funding bills for Shot@Life programs, including an increase for USAID and CDC global polio activities. However, the bills are not yet final, so Shot@Life needs your support to get over the finish line.
You can participate in the Mobilize to Immunize campaign by:
Calling your members of Congress using Shot@Life's patch-through line at 202-902-6614. These talking points will give you some guidance on how to encourage members of Congress to fund global vaccine programs at the highest levels in this next step of the budget process.
Signing Shot@Life's petition.
Letting your social networks know that you believe in vaccine equity and that every child deserves a shot at life.
It takes less than 15 minutes to call your members of Congress and help make a difference.
For awareness resources, view Shot@Life's social media toolkit. If you have any questions or would like to brainstorm other ways your club can get involved, email a Shot@Life representative.
Starting November 1: Credit Card Transactions
As you may have experienced with other nonprofits and small businesses, credit card processing fees have increased over the past few years. GFWC has been absorbing this as a cost of business, but just like many other nonprofits, we are unable to continue to do so.
We regret having to pass on this cost, but beginning November 1, 2021, GFWC will implement a $3.00 convenience fee for credit card transactions. This will include all donation, event registration, and Marketplace transactions completed by credit card.
Legislative Corner
Congress has approved a short-term appropriations Continuing Resolution to December 3 to extend funding for vital federal agencies, including education, health, housing, nutrition, veteran services, and public safety programs to avoid a shutdown. In addition, the bill included $28.6 billion to assist survivors of recent natural disasters and $6.3 billion to support Afghanistan evacuees. Congress temporarily raised the debt limit by $480 billion, providing enough funds until early December 2021, so the federal government would not default on its debts. When negotiations for long-term solutions failed, these were the best bipartisan agreements that could be reached to avoid an economic collapse.
Domestic Violence Awareness and Prevention Month
The House of Representatives approved the Family Violence Prevention and Services Act (FVPSA) on October 26, by a vote of 228-200.  This is one of the key authorization bills providing Department of Health and Human Services funding for programs and resources to combat Intimate Partner Violence, supporting 1,500 domestic violence programs and 240 tribes and tribal organizations across the nation. H.R. 2119 also increases funding for 24-hour hotlines, prevention programs for local communities, and enhances survivor services through training and technical assistance. Many thanks to the GFWC clubwomen who supported this legislation by contacting your member of Congress through the GFWC Legislative Action Center. Next the Senate must act!
On October 5, the Senate Judiciary Committee held its hearing, Renewing and Strengthening the Violence Against Women Act (VAWA). In addition to women Senators, the committee heard from Lisa Monaco, Deputy Attorney General at the Department of Justice. Read her written testimony outlining the priorities of the Biden Administration.
On October 20, GFWC joined other national leaders; including the National Network to End Domestic Violence, the National Alliance to End Sexual Violence, the National Coalition Against Domestic Violence, and Families Without Violence; to advocate to Senators that they focus efforts on finalizing bipartisan legislation and bring VAWA to the floor for a vote. The House of Representatives passed its bill, H.R. 1620, in March. It is time for the Senate to act so a final bill can be enacted before the end of the year! Many thanks to the GFWC clubwomen who participated in this national call for action through the GFWC Legislative Action Center. Haven't done it yet?  It's not too late—join now!
National Strategy on Gender Equity and Equality
On October 22, the White House Gender Policy Council announced the release of the first-ever National Strategy on Gender Equity and Equality. The report highlights that advancing gender equity and equality is fundamental to every individual's economic security, safety, health, well-being, and ability to exercise the most basic rights.
Read about this historic strategy in the White House Briefing Room.
Gender equity is essential to economic growth and development, democracy, and political stability. The COVID-19 pandemic has fueled a health crisis, an economic crisis, and a caregiving crisis that have magnified the challenges that women and girls have long faced. The White House Gender Policy Council invites GFWC to provide input and recommendations, to engage in the implementation of the National Strategy, and to develop the nation's first comprehensive national action plan on ending gender-based violence.
The GFWC Executive Committee will review the National Strategy on Gender Equity and Equality and determine ways to engage with the White House Gender Policy Council.
GFWC Marketplace: GFWC Face Mask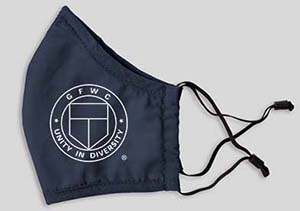 Debuted at the 2021 GFWC Annual Convention, the GFWC Face Mask is the perfect way to show your Federation spirit while also keeping yourself and others safe from the spread of COVID-19 and its variants. The black mask features the GFWC emblem, has adjustable ear loops, and is perfect for everyday use. Order yours today.
There could be some mail service delays throughout the pandemic. To speed up processing of your order, we request that you pay for your order at time of purchase in the Member Portal. For information on mail service in your area, visit the USPS Service Alerts page.
GFWC
www.GFWC.org