September 10, 2020
View our Important Dates page for upcoming events and milestones.
A Healthy Dose of Wellness Activities  
by Beth Smith, GFWC Health and Wellness Community Service Program Chairman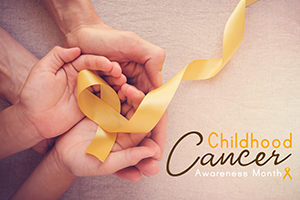 What month is it? It is Childhood Cancer Awareness Month, but there are also many other health and wellness-oriented observances on particular days or weeks coming up as well. It's easier to stay on top of coordinating all of these observances—and the colors and themes that symbolize them—by using www.Health.gov and clicking on "National Health Observances." There is a list of links on this website with project ideas and materials you can use to fill your Health and Wellness club calendar.
On www.Health.gov, you can also learn more about diseases and prevention strategies from the Centers for Disease Control and Prevention's Disease or Condition of the Week. Taking the weekly quiz or selecting from the website's list of diseases are great ways for club members to become more familiar with particular conditions. And, consider continuing the conversation with a guest speaker at a club meeting; these topics are great for virtual meetings too. 
All things being virtual means that we need to support disease prevention organizations differently today. Many community walks to raise funds now allow you the flexibility to participate in your own way. Any activity can be used to raise donations, and a helpful guide to participating in virtual events can be found at www.NAMIWalks.org. The National Alliance on Mental Illness (NAMI) unites participants across the nation during the first full week in October for Mental Illness Awareness Week (October 4–10). Find a NAMI walk or other mental health awareness event and get active to support healing by participating in the GFWC Health and Wellness Challenge Project; details can be found in the Health and Wellness section of the Club Manual. In the Member Portal's Digital Library, this content is filed within "C" Resources, "Club Manual," and then there is a "Special Programs and CSPs" sub-folder.  
Register for Region Conferences in the Member Portal
Have you registered for your Region Conference yet? Log in to the GFWC Member Portal and then ultimately select the appropriate Region Conference from the event listing to register. Registration for all of these events closes three days prior to their start, but please register early for planning purposes (and to get your front row seat). Below are the next three registration deadlines coming up!
Mississippi Valley Region Conference
September 19, 2020, 10:00 a.m. – 3:00 p.m. CDT
Registration ends on September 16.
Western States Region Conference
September 26, 2020, 9:00 a.m. – 1:00 p.m. MDT
Registration ends on September 23.
Middle Atlantic Region Conference
October 3, 2020, 4:00 p.m. – 8:00 p.m. EDT
Registration ends on September 30.
View the complete list of Region Conferences. If you'd like to register for multiple Region Conferences, contact JSimpson@GFWC.org.
Volunteers in Action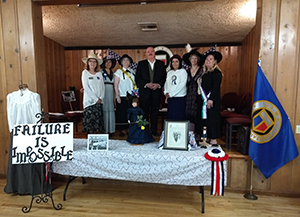 Our celebration of the Women's Suffrage Centennial continues! Read this week's GFWC Blog stories celebrating August 26, 2020, from GFWC Delaware, GFWC Glendale Woman's Club (Arizona), The Miami Woman's Club (Florida), GFWC Battle Ground (Washington), GFWC Woman's Club of Denville-Rockaway (New Jersey), and the Stones River Woman's Club (Tennessee). Check back next week for more observances that took place across our Federation!
Have news about an innovative club event or project to share? Send your success stories with action-packed photos to PR@GFWC.org.
Zooming with International Affiliates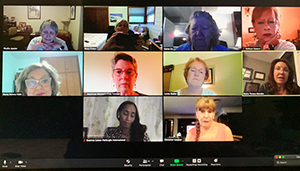 Recently, International Liaison Chairman Mary Kaye Ernest organized the first ever Zoom meeting attended by GFWC International Liaisons and GFWC International Affiliates; invitations were sent with respect to workable time zones. What a great experience this was; it was an opportunity to introduce our 2020–2022 Liaisons and put faces with names for our International Affiliates. Each Affiliate shared the status of its clubs and how it has navigated COVID-19, hurricanes, and other challenges.
Maria Do Valle of the International Woman's Club of Porto Alegre–Brazil reported that members of this club held a successful Zoom club meeting but mentioned that not all members were able to participate yet because of the technology available.

Maria Theresa Mendes, President of

GFWC Cre-Ser–Brazil, reported that the Board Members of this club have met using Zoom and that members have been making masks. In their area of the country, all events are still canceled and families are dealing with high levels of unemployment.

Christine Gardner of the

Grand Bahamas American Women's Club described the ongoing devastation in the Bahamas, an area not yet recovered from the hurricanes of 2019 and where many residents live in tents. Many of the club members with dual homes and businesses returned to mainland U.S.A. and are not yet able to travel back to the Bahamas due to COVID-19 restrictions.

Bernice Geban, President of

GFWC Belize City Woman's Club has published a book highlighting the history of Belize, as a step toward funding work for her doctorate degree.

Carolyn Applebe, President of

The American Woman's Club of Toronto shared a personal invitation to plan now to attend the 2021 GFWC Annual Convention in Toronto, Canada.
All participants agreed that the online meeting was a real positive to come out of coronavirus restrictions—opening new ways to communicate with our members regardless of their locations. Additional updates will be shared as the GFWC International Affiliates Committee continues Zoom meeting communications with other GFWC clubs around the world.
Techie's Tips: Logging in to the Member Portal 
The First or 15th Time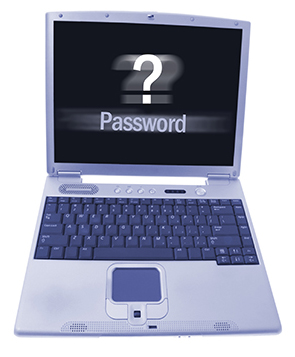 Logging in for the First Time 
The first time you log in to the Member Portal, there are a few things to remember:
Select the option to "Allow Cookies."
Use your full email address as your username (all lowercase).
Select the "Forgot my password" option at the bottom. You will receive an email with information on creating your profile and setting a password.
To create a profile, select "Need an account? Sign Up" link at the bottom. You will be prompted to enter a username and password. Passwords include an uppercase letter, lowercase letter, number, special character (!@#$), and are at least eight characters long.
Logged in Before

Have you successfully used the Member Portal before but are having trouble using your username or password?
Remember your password is case sensitive. Passwords include an uppercase letter, lowercase letter, number, special character (!@#$), and are at least eight characters long.   

If you enter an incorrect password, try clearing your browser history, your cache, or cookies before attempting to log in again.
Club Anniversaries and Gold Pin Recipients  
Anniversaries
50th
Western Pocono Women's Club (Pennsylvania)  
55th
Pleasant Prairie Woman's Club (Wisconsin)  
70th
North Shore Junior Woman's Club (Wisconsin)
Oconomowoc Woman's Club (Wisconsin)  
80th
GFWC Spring Grove (Pennsylvania)
Stevens Point Junior Woman's Club (Wisconsin)  
90th
Kenosha Junior Woman's Club (Wisconsin)
95th
Centuria Woman's Club (Wisconsin)
GFWC Starbuck (Minnesota)  
100th
Culver City Woman's Club (California)
GFWC Edmore Women's Club (Michigan)  
105th
Spooner Woman's Study Club (Wisconsin)  
110th
Cedarburg Woman's Club (Wisconsin)
Woman's Club of Redondo Beach (California)  
115th 
Colfax Woman's Club (Wisconsin)  Edgerton Federation of Women's Clubs (Wisconsin)
Woman's Club of Pewaukee (Wisconsin)  
120th
Port Washington Woman's Club (Wisconsin)  
135th
Woman's Club of Monroe (Wisconsin)
Gold Pin Recipients
Patricia Underwood
The Haddon Fortnightly (New Jersey)
Jean Box, Jo Ann Myers
Collinsville Study Club (Alabama)
Donna Coleman, Patricia Krome, Patricia Mackes, Dorothy Sawyer
Western Pocono Women's Club (Pennsylvania)
Jeanne Lish, Ardyce Lindsley
La Habra Woman's Club (California)
Barbara Barker
Sedgefield Woman's Club (North Carolina)
Cynthia Carnahan
Lombard Service League (Illinois)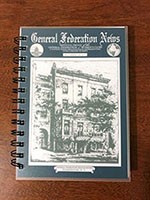 Get creative with service projects that follow local social distancing guidelines. This unique spiral-bound notebook is the perfect place to write your innovative ideas on how to make a difference in GFWC's five new Community Service Program areas: Arts and Culture, Civic Engagement and Outreach, Education and Libraries, Environment, and Health and Wellness! It features a 1929 cover of General Federation News that has a beautiful illustration of GFWC Headquarters. Get yours for $12 in the GFWC Marketplace.
Please note: Headquarters is operating with limited staff daily, and the Postal Service is also experiencing service delays in many communities.