Projects Perfect for Juniorettes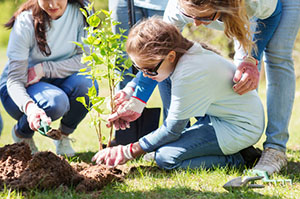 Are your Juniorettes eager for new projects? Check out these ideas for how you can get your Juniorette club excited to bring change to their community.
Plant trees at school for the Arbor Day Grand Initiative. Juniorettes can talk with their school leadership to see if it's possible to plant a tree or even have a school-wide tree planting for all the students.
Support St. Jude. St. Jude not only helps children but it rallies children to help each other. They have volunteer projects geared specifically for young people! The St. Jude Math-A-Thon is for K-8th graders, and it's the best of both worlds, improving students' math skills while also raising funds for kids in need. For Juniorettes, St. Jude makes fundraising easy with programs like "Team Up for St. Jude" which mixes school spirit with the volunteer spirit!
Brainstorm with our Juniorette Vision Board. With this tool, they can plan their own vision for a better community and world.
GFWC Juniorettes are full of energy that can bring these projects to life. Try one of these ideas and tell us about your success stories at pr@gfwc.org.
New GFWC Marketplace! 
All of GFWC's Marketplace products that you know and love are transitioning to the Member Portal. Purchases and donations can now be tracked on your MemberSuite profile, putting all of your transactions in one central location.
If you haven't already verified your profile, follow these steps to make Marketplace purchases:
Click on the profile icon in the top right corner.
Select "Login."
Select "Forgot your password?"
Enter the email you receive News & Notes with each week.
You'll receive an email with a code. Enter that code to create a password.
Log in with your new password.
Check out the new GFWC Marketplace now!
Cares & Concerns
Please keep Capital Campaign Committee Member Mary Jo Thomas in your thoughts. She recently suffered a stroke but is making good progress toward recovery. Cards can be sent to her home address at 279 Rock Lake Road; Fairmont, WV 26554.
Volunteers in Action
GFWC Meadowlarks (Wyoming), Women's Club of Farmingdale (New York), and GFWC Ohio Junior Cyberlinks Club are featured on the GFWC Blog.
Help Hurricane Dorian Survivors
Please help The Bahamas after the devestation caused by Hurricane Dorian. Some of the many ways you can help include supporting the Bahamas Red Cross and GFWC Partner UNICEF Emergency Relief Efforts. Organizations like these have programs to provide direct assistance. However you help, The Grand Bahama American Women's Club will appreciate support from clubwomen looking out for them and their country.
Book Your Trip to Ireland with GFWC
Join GFWC International President Mary Ellen Brock and your fellow clubwomen for an eight-day adventure in Ireland! With trips to the coastal landscape and an evening of canapes and cocktails in the Christ Church Cathedral crypt, you'll take in the best that the Emerald Island has to offer.
Reservations must be made by September 25, so book now!
Welcome an Honor Flight with GFWC
Greet the New York State Leatherstocking Honor Flight from Albany, NY on Saturday, September 14. Meet the veterans at the Air Force Memorial at 10:30A.M. The Century Club of Amsterdam is sponsoring Jean Hayes, a US Vietnam Era Navy E-2 veteran who was stationed on the Naval Airbase at Quonset Point, RI.
Support GFWC's Signature Program
Next month is Domestic Violence Awareness Month. The 2019 Top Projects offers great ideas for how you can recognize the observance:
Create a Girls on the Run Chapter. The GFWC Sorosis Club of Waurika (Oklahoma) applied to create a Girls on the Run chapter in their community and provided the necessary funds. The program teaches young students critical skills such as the role of healthy relationships in their lives, combined with physical activity to empower girls.
Hope Bags for Human Trafficking Victims. The GFWC Women's Civic League of Cheyenne (Wyoming) partnered with a local Juniorette club to create backpacks of clothing and personal care items to provide to those rescued by their local police department's Human Trafficking division.
Shelter Safe Room Refurbishment. The GFWC Outer Banks Woman's Club (North Carolina) refurbished a room at a local shelter. This included repairing damage, repainting, and providing items such as bedding and shelves.
Look for more ways to support the GFWC's Signature Program in the 2019 Top Projects and the Club Manual!
GFWC Marketplace: 2019 Convention Bag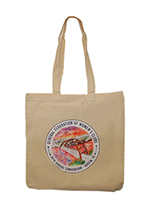 The 2019 Convention tote bag is the perfect reusable bag that will allow you to help the environment and shop in style! Featuring a watercolor design of the Pennybacker Bridge, which bears the family name of GFWC Past International President Anna Hardwick Pennybacker, this bag might even start a conversation in the grocery line! Get yours for $10 in the new GFWC Marketplace