Plan for Advocates for Children Week
One of GFWC's best and biggest weeks of the year, Advocates for Children Week, is coming up on October 21-27! Start planning now to make sure your event or project is a great success and to get all the helping hands you can. First, contact your governor or mayor to request they proclaim the week as "GFWC Advocates for Children Week" for your state or city to get your communities involved in making a difference in the lives of children.
Need an idea for what your club can do? GFWC Partners are good resources. Coordinate a St. Jude Trike-A-Thon for a daycare or preschool in your area. The event is a service learning program that teaches trike and riding toy safety while benefiting children of St. Jude. If you sign up to become a coordinator, St. Jude will provide everything you need to host a great event.
---
YMCA Partnership
Did you know the YMCA Military Outreach Initiative, launched in 2008, provides government funding for eligible military families and active duty personnel to receive free membership at community YMCAs? Participating YMCAs throughout the United States will provide this program for the following Title 10 DOD Military Groups: Families of Deployed National Guard and Reserve, Active Duty Assigned to Independent Duty Locations, Relocated Spouses of Deployed Active Duty Personnel and Community-Based Wounded Transition Units. Discount memberships are available for retired military personnel. Support your local YMCA and see if they participate!
---
Am I Being Spoofed?
You just received an email from GFWC staff, a GFWC sister, or another trusted source asking you to do something strange or unexpected. You might even receive a sales pitch labeled as coming from a person you trust. While hacking is a pressing problem for Internet users, more often than not it's actually spoofing. Here's how to tell the difference between whether you're just being baited ("spoofed") for a response, or hacked:
Your usernames and passwords still work if you are spoofed. One of the first things hackers usually do is lock you out of your computer and accounts!
When hovering over the sender's email address, you see a different one than what your trusted contact gave you.
Unexpected software is often installed on your computer if hacked. As a precaution, regularly double check that you recognize all installed programs.
Your computer has a mind of its own if you've been hacked. If you're being spoofed, your computer mouse will not move on its own and give successful commands.
Finally if your email needs to be posted on your club's website for customer service reasons, you will need to more closely monitor for email spoofs. While GFWC cannot prevent your email account from receiving these emails, rest assured that your privacy is a priority. GFWC does not broadcast contact information to stay vigilant in the age of the Internet and technology! Learn more here.
---
New GFWC International Clubs in Belize
GFWC welcomes the newly formed GFWC Belmopan Women's Club and the GFWC Belmopan Juniorettes from Belize! The Belmopan Club has grown to 17 members, and they've completed their first service project: a uniform initiative. Many families in Belize cannot afford the required school uniforms for their children, so the clubwomen collected gently worn uniforms and distributed them to families in need. The GFWC Belmopan Juniorettes have an impressive membership of 40 young women. They've already had their first service project, which was to beautify the habitat of endangered birds. Both clubs already have great ideas for how to improve their communities, and we can't wait to see them put those ideas into action. You can see more photos on Pinterest!
---
Volunteers in Action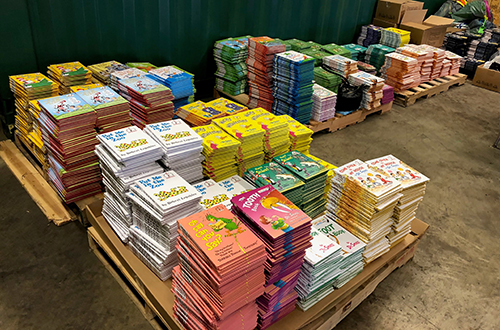 This week's Volunteer in Action photo is from the GFWC Woman's Club of Westminster (Maryland), whose annual project supports one of the Seven Grand Initiatives. To learn about the partnership that makes the project such a success, check out their new club profile on the GFWC website!
Have a story you want to share? Send your photos and a description of the project to PR@GFWC.org to be considered for our next Volunteers in Action member profile.
---
Give Thanks This Month
GFWC's Thank You Tuesday campaign is in full swing. Follow @GFWCMembers, GFWC's Facebook Page, and plan to share your positive GFWC membership experiences using the hashtag #ThankYouTuesday in your posts. This month's theme is "Back to School." Throughout September, let us know how you have impacted future generations through GFWC.
---
Shot@Life
Last month, Shot@Life travelled to Uganda to see firsthand the programs they advocate for and fund in action! Six of their trained Champions joined the trip and are currently preparing to meet with their Congressional offices during Race to Erase, the upcoming advocacy push running October 1 through November 12. During their meetings, Champions will share their experiences and remind us of the difference we can continue to make for children in the hardest to reach areas of the world.
One trip participant was GFWC Washington clubwoman Susan Tyler, who has attended Shot@Life's Champion Summit in D.C. for the past three years, and has conducted meetings with her Congressional offices both in D.C. and her home district.
Please also join Shot@Life for their 15-minute Race to Erase kick-off webinar taking place on Thursday, September 27 at 7:30pm ET by visiting http://bit.ly/2w2s0sS.
---
Where in the World is GFWC? 
Where do you take your GFWC volunteer spirit? Snap a picture of this "flat GFWC" with you, post the picture on your Instagram or Facebook, and tag it using #GFWC1820. The GFWC Juniors will be awarding winners for most creative, funniest, and furthest distance. We can't wait to see where in the world GFWC goes this administration!
---
MLK Day of Service Ideas
Take notes on ideas you'd like to present at your club meeting for the Martin Luther King, Jr. Day of Service, one of the 2018-2020 Administration's Seven Grand Initiatives! This week's idea is:
Wear a Pair, Bring a Pair

The GFWC Woman's Club of Bloomfield (New Jersey) hosted a "Wear a Pair, Bring a Pair" pajama party. They sent invitations to members, family, and friends, who were asked to bring youth-sized pajamas to be donated to shelters in their area. To make the event even more fun, attendees were asked to wear pajamas! Their project was listed in the 2018 Top GFWC Projects.
*Last week we mistakenly published that the GFWC Florentine Evening Club was from Missouri, but they are from Mississippi.
---
Legislative Action Corner
Who Represents Us?
Do you know who makes the decisions for you in Congress? Knowing your representatives and where they stand on important issues is imperative to becoming an effective advocate. That's why GFWC's Legislative Action Center (LAC) makes it easy for you to get to know your state and national elected leaders. The LAC provides information on your elected leaders, including biographical information, how often they agree or disagree with GFWC's advocacy positions, how to contact them, and more! Starting from the President of the United States, down to the representatives in your State Legislature, GFWC wants you to know who represents you! All you have to do is provide your zip code and leave the rest to us. See you on GFWC's Legislative Action Center!
---
Parliamentary Pointers
By GFWC Parliamentarian Deen J. Meloro
Minutes are one of the most important documents in the life of an organization. They are the history of the organization, and, as such, have particular parliamentary rules.
The first paragraph of the minutes should say the name of the organization, what kind of a meeting was being held (regular, Executive Board, special), the date and time of the meeting, the fact that the President and the Secretary were both present (or the names and titles of substitutes), and that a quota of members was present. If the meeting is not always held in the same location, then the location of the meeting should be noted.
After the opening exercises are noted, the next business in order should be the minutes of the previous meeting. Were they approved as read (or circulated)? The minutes being taken for this meeting don't list the corrections, just note that there were corrections. The corrections are written on the official copy of the minutes of the previous meeting. Also, it is not "additions or corrections." It is only "corrections" because additions would be corrections.
Each new subject should have a separate paragraph.
If correspondence is read or named by the corresponding secretary, or the secretary, it is not necessary to list or note each piece. It can just be noted that "The Secretary (or Corresponding Secretary) noted the correspondence received."  If there is a particularly important piece of correspondence, then that would be put in the minutes.
---
GFWC Marketplace: GFWC Emblem Stickers
GFWC Emblem Stickers are perfect for cards, notes, gifts, and more! There are 63 stickers per sheet. Each sticker is one inch in diameter. $5 per sheet at the GFWC Marketplace.
---
Be the Hero
There could not be an easier way to be the Hero and support your cause. Earn 50% profit and the bulbs get delivered directly to your supporters. They are 100% guaranteed, with no minimum order and no upfront cost required! Order your free sales supplies to start your door to door fundraiser or build your online campaign today!
Raise fantastic profits, all the while beautifying your community and rejuvenating Mother Earth.
Earn 50% profit from sales! An extra 5% from every sale goes directly to GFWC to support national projects.
Call 1-888-833-1486.
---
Subscribe to News & Notes
Signing up for News & Notes is easy! Simply provide your name, mailing address, email, and club name to gfwc@gfwc.org.