September 15, 2022
View our Important Dates page for upcoming events and milestones.
Fall Magazine Available for Download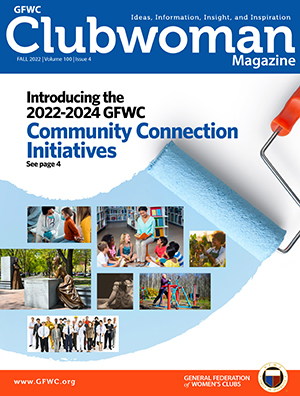 The 2022 Fall GFWC Clubwoman Magazine is now available to all members digitally in an easy-to-print, single-page format. The issue is available on www.gfwc.org under the News & Publications drop-down menu and will be archived with all other digital issues in the GFWC Member Portal's Digital Library, under "C" in the "Clubwoman Magazine" folder.
Download the 2022 Fall Magazine and join us in celebrating the start of another exciting Administration! This issue features an interview with 2022-2024 International President Deb Strahanoski, an introduction to the new Community Connection Initiatives for each of the Special and Community Service Programs, a recap of the memorable 2022 GFWC Annual Convention in New Orleans, details about the Annual Giving Program, an invitation to the 2022 Holiday Open House, and so much more.
MemberSuite Continues Efforts to Keep Member Information Secure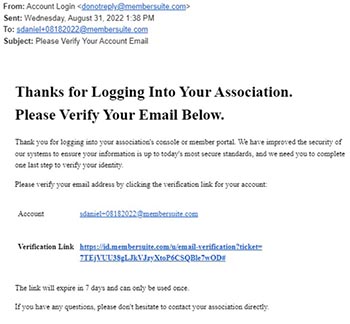 GFWC's Association Management System, MemberSuite, is continuously working to keep your information on the GFWC Member Portal safe and secure. In an effort to increase and ensure the security of your personal information, MemberSuite released a new authentication step, which took effect this past week.
As a result of the new authentication step, when you next log into your Member Portal account, you will receive a one-time email to verify the email address connected to your account by clicking on a verification link that will be sent in the automatic email. The sample email pictured above shows the general verification email you will receive.
Once you have clicked the verification link, you will be able to continue logging into and using your account as usual.
If you have any questions about this process, please contact GFWC staff at GFWC@GFWC.org.
Volunteers in Action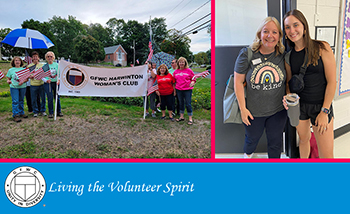 This week's GFWC Blog features GFWC Connecticut and GFWC Lombard Junior Women's Club (Illinois). Read how Connecticut clubwomen joined Wreaths Across America in waving American flags in commemoration of the 21st anniversary of September 11, 2001, and how Illinois members hosted a STEM Activity Day for about 200 children in their community.
Have a success story to tell? Email PR@GFWC.org to have your club project considered for the GFWC Blog.
Explore the Best of Northern Italy with President Strahanoski and GFWC Friends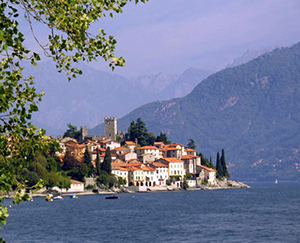 Enjoy stunning scenery, delicious food, and outstanding company during the 2023 "The Best of Northern Italy" tour with President Deb Strahanoski, Immediate Past President Marian St.Clair, and GFWC friends. The tour, operated by Discover Europe, will follow a relaxed pace to allow attendees a chance to enjoy the important tourist sites as well as discover hidden gems.
Throughout the tour, you will have the opportunity to travel along the coast and through the countryside, exploring all that this beautiful country has to offer. A few of the highlights include visiting the popular center of Florence; sightseeing in Milan, including a viewing of Leonardo's Last Supper, in situ in the church of Santa Maria della Grazie; a walking tour of the Duomo and the Uffizi Gallery, and so much more.
View the "The Best of Northern Italy" brochure for full details of this exciting offering. Family and non-GFWC friends are welcome to join the tour, but space on this journey is limited, so reserve your spot today!
Support the Success for Survivors Scholarship Fund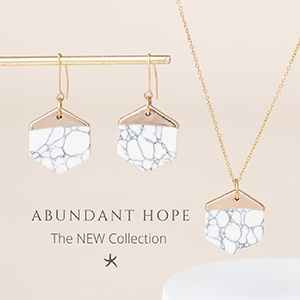 Starfish Project is celebrating the abundant hope you give as you wear and gift the organization's jewelry with their new fall collection. This hope creates real-life transformation in the women who are experiencing freedom, establishing independence, and developing careers. The Abundant Hope Collection features classic, impactful pieces that are guaranteed to elevate any look and be comfortable for all-day wear! Celebrate the power of hope with timeless styles in gold and silver. Through a fundraising agreement with GFWC, purchasing any Starfish Project products at this dedicated link will give 25% of the sales price to the GFWC Success for Survivors Scholarship Fund. Starfish Project supports women escaping human trafficking and exploitation. The organization is currently working with more than 150 survivors to provide a fresh start in life by arranging safe housing, healthcare, education, and training, and by employing them to make jewelry and garments to support its mission. Order your next piece of jewelry today and help a survivor of human trafficking succeed!
Securing a Brighter Future
By Mary Ann Pierce, Annual Giving Program Committee Member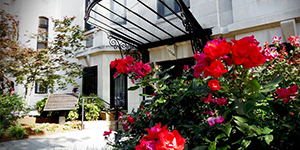 Are you ready to create a lot of sparkle and shine a light on GFWC Headquarters and Programs? The first quarter of our Annual Giving Campaign will close and a new quarter will begin. Here is your chance to support a program or some needed repairs to Headquarters in Washington, DC, with your $100 donation. Anyone who donates $100 or more will receive a plantable Christmas ornament as a small thank you from GFWC. Remember, this is your last opportunity to donate and receive a key (possibly to open a future treasure) for this quarter.
All donations are cumulative and will be listed in your Member Portal account. Such an easy way to keep track of all that you donate and participate in for GFWC! To find out more about how you can support the Annual Giving Campaign and secure our future, please read the Annual Giving Program section, available in the "A" Resources folder or the "Club Manual" subfolder of the "C" Resources folder in the Member Portal Digital Library.
Without you and your support, GFWC and its many programs and partner organizations wouldn't be possible. One very special need has arisen recently that needs all our support–the iron marquee above the front door. Both marquees are in desperate need of repair and must be made more secure. We all enjoy our photo ops there and want them to continue.
Thank you for all you do to support our organization. We are nothing without you, your hard work, your concern, and your financial support!
Encouraging Youth Writers
By Donna Shibley, Writing Contest Chairman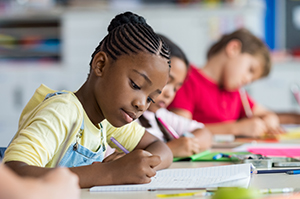 It can be a fun, worthwhile experience for your club to establish a writing contest for youth in your community. Children who love to write are looking to share their work, and encouraging writing is a wonderful way to help youth show their creativity.
There are many different avenues to use when starting up a writing contest. Is there a teacher or school in your town that you typically work with? Do you have a working relationship with your town library?
Some tips for creating a contest include making a flier with all necessary information and determining if you want to concentrate on a certain grade range or have the contest open for all grades, K-12. Also consider if you will offer participation certificates or token prizes, and if you will secure "professional" judges. It's also a good idea to use social media to promote the contest and prominently display your club's name and GFWC.
Make sure to share the judging criteria for all participants. For the complete list of judging criteria, see the Writing Contest information in the GFWC Club Manual, located in the "C" Resources folder of the Member Portal Digital Library.
Entries must be written during the contest year, January 1-December 31, 2022.
Grade Level Categories:
Category 1: Grades K, 1, and 2
Category 2: Grades 3, 4, and 5
Category 3: Grades 6, 7, and 8
Category 4: Grades 9, 10, 11, and 12
Other requirements:
Entries may not have been published prior to the competition and must be original works by the author.
A signed GFWC Creative Arts Waiver must be included with each submission.
Short stories are limited to 2,000 words.
Poetry entries can be any style, with a minimum length of eight lines and a maximum of 50 lines.
Good luck, and thank you for encouraging our sparkling youth writers.
What's In a Name?
By 2022-2024 GFWC Bylaws Committee
Over the next several months, the GFWC Bylaws Committee will be sharing information about the nine basic bylaws articles as found in Robert's Rules of Order Newly Revised, 12th edition (RONR). We emphasize that we are not attorneys and state statutes may differ and do have precedence.
Most often, the first article is the name of the organization. If a club or Federation has a constitution separate from the bylaws or has a corporate charter, this article can be omitted as the official name will be listed in those. However, since most members refer to the bylaws more often, most put the official name in both documents. The official name is that which is found in the superior document (charter or articles of incorporation or constitution).
The full, exact, and properly punctuated name should be given in the article. If the organization is also known by an abbreviation of the name, that should be included, as well. For example, "The name of this Society shall be the GFWC Always of Service to the Community Club, hereafter referred to as the GFWC Service Club."  If the group is incorporated, the term "doing business as" may be substituted for "hereafter referred to" or "also known as."
Be sure the name is spelled correctly. Is it "Woman" or "Women"? Is there an apostrophe, slash, or hyphen? "GFWC" or "General Federation of Women's Clubs" should be in the name (GFWC Bylaw Article IV. Constituent Divisions. Section 4.1. Names "The constituent divisions of GFWC should include General Federation of Women's Clubs or GFWC in their name to show their relationship to the international organization"). It is realized there are some entities within GFWC that are chartered or incorporated without "GFWC" in the name and do not wish to attempt legal name changes. The bylaws can be amended to include an "also known as" or "doing business as" clause without affecting the legal name of the entity.
Participate in Trick-or-Treat for UNICEF this October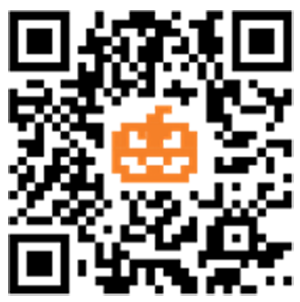 Add some meaning to your "Halloween-ing" this year by participating in GFWC Affiliate Organization UNICEF USA's Trick-or-Treat for UNICEF. This year, the organization is bringing their iconic little orange box into the 21st century by transforming the campaign into a new digital experience, inspiring a new generation of changemakers to make a difference for children. October 1, you will be able to positively impact children everywhere. To participate, scan the QR code above with your phone using the camera app and click on the link that appears. For those who still want to collect coins and dollars at your club events, in your office, or in your community, you can download a printable canister wrapper to share. Also, check out unicefusa.org/GFWC for more Trick-or-Treat for UNICEF resources, including event templates, one-pagers, coloring posters, and much more!

Starting on

GFWC Marketplace: GFWC Navy Face Mask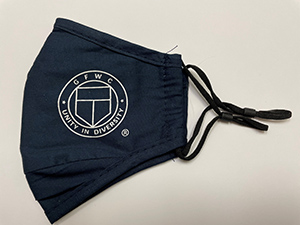 Debuted at the 2021 Annual Convention, the GFWC Emblem Mask is the perfect way to show your Federation spirit while keeping yourself and others safe from the spread of COVID-19 and its variants. The new solid navy mask has adjustable ear loops and is perfect for everyday use. Order yours today.
For information on mail service in your area, visit the USPS Service Alerts page. To speed up the processing of your order, we request that you pay for your order at the time of purchase in the Member Portal.
GFWC
www.GFWC.org