September 17, 2020
View our Important Dates page for upcoming events and milestones.
Show Up for Your Community: Advocates for Children Week 
By Carrie Zimmerman, GFWC Juniors' Special Program Chairman
The Juniors' Special Program's GFWC Advocates for Children Week is coming up soon: Sunday, October 25, to Saturday, October 31, 2020. Most clubs have resumed meetings from their summer break, and this Advocates for Children yearly event could be a great way to attract more members, brand your club, and show the resiliency that GFWC has had during these pandemic times.
Many clubs have been using remote platforms like Zoom to stay engaged and help retain the membership within their clubs. These remote platforms can be used to do Juniors' Special Program projects too! Host an online auction that may benefit a children's program. Have a remote meeting where everyone works on making goodie bags for local children group homes. Host a remote painting party for teen girls or a seminar for your club that focuses on advocating for children, like mentor programs or an ACEs (Adverse Childhood Experiences) training. GFWC clubwomen are creative and resilient; we just need to think outside of the box to show up for our communities!
Please don't forget the Juniors' Special Program Challenge Project for GFWC's Advocates for Children Week will have its own special award: The Giraffe Award will be presented during the Juniors' Business Session at the 2021 and 2022 GFWC Annual Conventions to honor all State Federations that participate in the Challenge Project. An award certificate will be provided to each club that undertakes a project directly benefiting children during the fourth week of October. The application form (due March 15, 2021) can be found in the Club Manual, located in Member Portal's Digital Library.
In Memoriam: International Past President Shelby P. Hamlett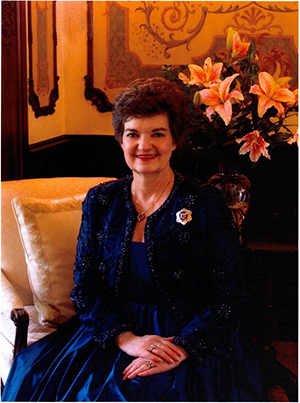 GFWC was sad to learn that Shelby P. Hamlett, 2000–2002 International President, passed away on September 14, 2020.
Born in Wytheville, Virginia, Shelby spent most of her life in Roanoke, a vibrant city among the Blue Ridge Mountains where she began her club work at the age of 18 with the Brambleton Junior Woman's Club. Just as Roanoke has an iconic star that sparkles over the city from a high mountaintop, GFWC had a shining star in Shelby.
Shelby never met a stranger—everyone was a friend. All who knew her would agree that she was truly interested in whatever you had to share. Despite frequent separations from her federation sisters, Shelby had the gift of reconnecting with friends as if they had never been apart.
Shelby loved GFWC with all her heart and held tremendous faith in the Federation and its members. Under her leadership, GFWC established the Leadership Education and Development Seminar (LEADS). Even in the face of declining membership, Shelby believed that educated and inspired leaders would keep the Federation strong.
Those privileged to call Shelby a friend agree she personified Mary Stewart's Collect for Clubwomen. She touched and knew "the great, common human heart of us all." Shelby's grace, kindness, and generous spirit will always be remembered.
Please send condolences to Shelby's son:
David Hamlett
6204 Woodlawn Avenue
Columbia, SC 29209
Memorial donations can be made to:
Heights Community Church
2014 Memorial Avenue
Roanoke, VA 24015
GFWC Programs
GFWC Headquarters
1734 N Street, NW
Washington, DC 20036
Easter Seals UCP
5171 Glenwood Avenue, Ste. 211
Raleigh, NC 27612
Cares & Concerns 
Our thoughts are with GFWC members who live along the Gulf Coast and inland areas that have been battered by Hurricane Sally.
GFWC extends its sympathies to GFWC South Dakota President Liz Lynch, whose husband Dan Lynch passed away on Friday, September 11. Cards can be sent to 31172 428th Avenue, Tabor, SD 57063.
GFWC extends its sympathies to Budget and Finance Committee Member Phyllis Skubic, who lost her mom, Doris Bottens, on September 15.
Volunteers in Action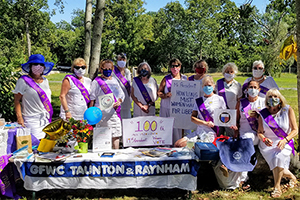 The Suffrage Centennial celebrations of GFWC New Hampshire, GFWC Shorewood Woman's Club (Wisconsin), GFWC Northborough Junior Woman's Club (Massachusetts), GFWC Potpourri Glenwood and GFWC Starbuck (Minnesota), Taunton and Raynham Junior Woman's Club (Massachusetts), GFWC Pocono Mountain Women's Club (Pennsylvania), and GFWC Rhinelander Woman's Club (Wisconsin) are featured on the GFWC Blog this week.
Have club news to share? Send your success stories with action-packed photos to PR@GFWC.org.
Attend Heifer's Holiday Planning Webinar
Join Heifer International on Thursday, October 1, at Noon EDT for its Holiday Planning Webinar for GFWC members. The webinar will cover:
How to make your club's donation count this holiday season.
How to organize your club's very own Virtual Living Gift Market.
Plan to Join the Webinar
Online: The participant password is: 077357.
iPhone One-Tap: U.S.: +1 312-626-6799, 95833915484#  or +1 646-558-8656, 95833915484#.
Telephone: For higher quality, dial one of the following numbers based on your current location: +1 312-626-6799 or +1 646-558-8656 or +1 301-715-8592.
Register for Region Conferences in the Member Portal

Have you registered for your Region Conference yet? Log in to the GFWC Member Portal, select "Events" from the top menu, select "Browse Events," and then select the appropriate Region Conference from the event listing to register. Registration for all of these events closes three days prior to their start, but please register early for planning purposes (and to get your front row seat). Below are the next three registration deadlines coming up!
Western States Region Conference
September 26, 2020, 9:00 a.m. – 1:00 p.m. MDT
Registration ends September 23.
Middle Atlantic Region Conference 
October 3, 2020, 4:00 p.m. – 8:00 p.m. EDT
Registration ends September 30.
South Central Region Conference
October 10, 2020, 1:00 p.m. – 5:00 p.m. CDT
Registration ends October 7.
View the complete list of Region Conferences. If you'd like to register for multiple Region Conferences, contact GFWC@GFWC.org.
Red Maple Leaf Quilt Raffle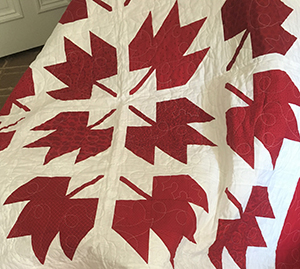 Purchase raffle tickets by November 30 for your chance to win the beautiful red maple leaf quilt crafted by New Hampshire clubwoman Anne Engelhardt. The winner will be drawn during the GFWC Holiday Party on December 9. Tickets are three for $10 or ten for $25. Order your tickets, and get excited for the 2021 GFWC Annual Convention in Toronto where there are plenty of red maple trees to admire.
Techie's Tips: Enabling Pop-Ups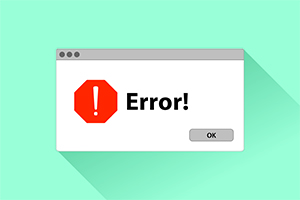 A pop-up blocker is a web browser setting on your device that prevents new windows of content from displaying automatically. Not turning off a pop-up blocker may interfere with the functionality of some websites, like the GFWC Member Portal.  Double check that you've enabled pop-ups within your favorite browser's settings with the tips below for the most common browsers.
Chrome
In Chrome, you can enable pop-ups for specific websites while keeping them blocked for other websites. To enable pop-ups in Chrome:
At the top right, click on the three vertical dots and then choose "Settings."
Under "Privacy and Security," click "Site Settings."
Click "Pop-Ups and Redirects."Under "Allow," add in all lower case "https://gfwc.users.membersuite.com/home" to enable pop-ups.
Firefox
In Firefox, you can enable pop-ups for specific websites while keeping them blocked for other websites. To enable pop-ups in Firefox:
Open Firefox and click the icon with three horizontal bars in the upper right side of the browser toolbar.
Select "Options" (Windows) or "Preferences" (macOS).
In the left sidebar, click on "Privacy and Security" and then scroll down until you reach "Permissions."
Next to "Block Pop-Up Windows," click "Exceptions."In the "Address of Website" field, add in all lowercase "https://gfwc.users.membersuite.com/home," and then click "Allow."
Click "Save Changes" and close any remaining dialog boxes.
Microsoft Edge
For Microsoft Edge, pop-ups are either entirely enabled or they are blocked. To enable pop-ups in Microsoft Edge (Windows 10):
Click the ellipsis icon (…) in the upper right corner of your web browser and then click "Settings."
In the advanced settings section, click "View" advanced settings.
In the Block pop-ups section, click the switch to "Off." Pop-ups are now allowed.
Safari
For Safari, pop-ups are either entirely enabled or they are blocked. To enable pop-ups in Safari:
From the Safari menu, choose "Preferences," then click the "Security" tab.
Ensure the block pop-up windows option is not checked. Unchecking this option will allow pop-ups.
Marketplace:  Notebook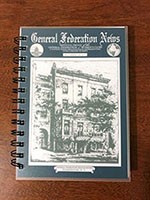 Get creative with service projects that follow local social distancing guidelines. This unique spiral-bound notebook is the perfect place to write your innovative ideas on how to make a difference in GFWC's five new Community Service Program areas: Arts and Culture, Civic Engagement and Outreach, Education and Libraries, Environment, and Health and Wellness! It features a 1929 cover of General Federation News that has a beautiful illustration of GFWC Headquarters. Get yours for $12 in the GFWC Marketplace.
Please note: Headquarters is operating with limited staff daily, and the Postal Service is also experiencing service delays in many communities.