September 22, 2022
View our Important Dates page for upcoming events and milestones.
Special and Community Service Program One-Page Handouts Now Available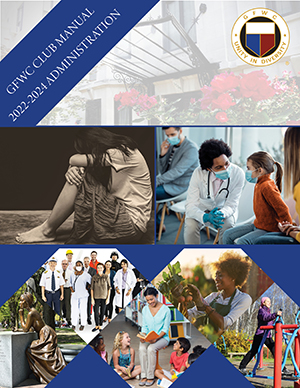 To help you and your club effectively live the volunteer spirit, GFWC now has one-page handouts available for download that describe each of the Special and Community Service Programs. These valuable tools are located in the "Club Manual" subfolder of the "C" Resources folder in the Member Portal Digital Library.
From details about the 2022-2024 Community Connection Initiatives to examples of projects clubwomen can undertake within each program, these handouts act as a preview and overview of the rest of the information contained in each corresponding section of the GFWC Club Manual.
Download these handouts today and continue to make a difference in your communities and around the world!
Engage Beyond the Page: Meet the Author/Book Review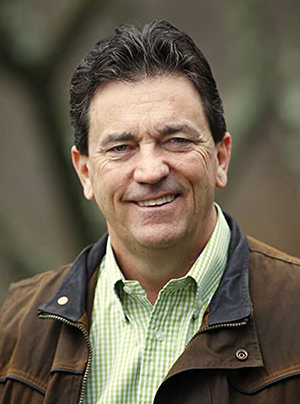 Have you ever wanted to meet an author to discuss a book? Understand where the characters came from? Or know what the inspiration was for the content? GFWC is proud to announce our first Engage Beyond the Page: Meet the Author/Book Review with Robin Yocum. The event will take place on Zoom at 7:00 p.m. ET on November 16.
2022-2024 GFWC Education and Libraries Honorary Chairman Robin Yocum is the Edgar-nominated author known for his fiction set in the Ohio River Valley. He is the author of six works of fiction including The Essay, our choice for the Meet the Author/Book Review, a novel about a young boy who grew up in a rural town in Appalachian Ohio with little hope for success. It's a story of finding the path that leads outside of one's current situation and the opinions of others. For our members who are educators, it will be a walk down memory lane as you remember students who surprised themselves and the adults who believed in them.
Discussing a book with the author is a rare experience to gain more insight about the book, to learn about various inspirations, and to hear about what the author may be working on next.
The Essay by Robin Yocum can be purchased on many online sites. You are encouraged to complete the reading prior to the book review.
Register today to join GFWC and Robin Yocum for this exciting opportunity. A brief questionnaire will be sent to those registered approximately one week prior to the book review.
Volunteers in Action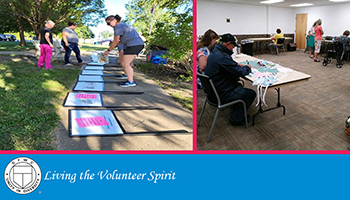 This week's GFWC Blog features GFWC Women's Club of Granger (Iowa) and GFWC Women's Civic League, Inc. (Utah). Read how Iowa clubwomen established a Story Trail for children in their community and how members in Utah sewed Smile Splints for GFWC Affiliate Organization Operation Smile.
Have a success story to tell? Email PR@GFWC.org to have your club project considered for the GFWC Blog.
Inspiration Behind Robin Yocum's, The Essay 
By Robin Yocum, Education and Libraries Honorary Chairman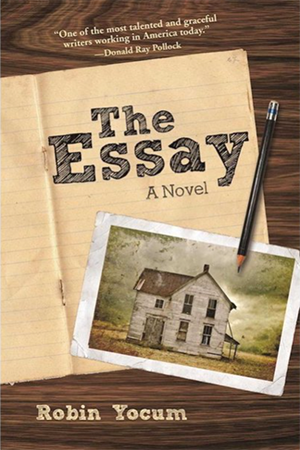 We've all heard the adage, "Sometimes you don't know what you don't know."
That is probably best used when we think about the teachers and people who have had a positive impact on our lives. Sometimes–maybe most of the time–we simply don't realize that impact until years down the road.
I was thinking about that when I was writing my book, The Essay, in which a teacher in a poor, Appalachian high school tries to show a young man from an impoverished and dysfunctional family how to use his writing skills to improve his life and break a cycle of poverty that has long defined his family. This fictional teacher's name is Amanda Singletary.
Rather than say we need more Amanda Singletarys in the world, I think we simply need to recognize those who already exist and are having a positive influence on the lives of young people every day. Too often, those teachers have long passed out of our lives before we realize the positive influence they had.
I certainly didn't realize it when I was in high school. But years later, their influence is obvious to me. Sure, I had teachers who simply mailed it in, but I also had those who were extremely dedicated to their profession and their students.
A few years back, I began reaching out to teachers who I believed had a positive influence on my life. People like my junior high gym teacher, Gene Joseph. To this day, I answer young and old with "Yes, sir," and "No, Ma'am," because Mr. Joseph demanded that respect of us. The wonderful Lillian Hesske and Andrew Suranovich were outstanding English teachers. Other than my father, no man had as much influence on my life as my high school journalism teacher and football coach, Bill McHugh. With the exception of Mr. Suranovich, who died the year after I graduated high school, I was able to get in touch with these people and make sure they were aware of how grateful I was for their dedication to education and putting up with me in high school.
I was at a writer's conference and talking to a college English professor about The Essay. She said that she hoped she'd had that kind of influence over at least one of her students. I could tell just from our conversation that she was a dedicated professor, and I said, "Don't sell yourself short. I'm sure you've had incredible influence over your students."
As former students, we need to reach out and thank these dedicated teachers. They do not teach for the praise, but that doesn't mean we shouldn't make the effort to hand it out to those deserving individuals.
What is #IAMGFWC?
By Becky Bolden, Communications and Public Relations Committee Member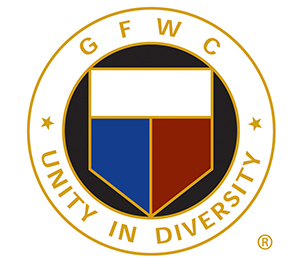 #IAMGFWC is one method that we can all use to communicate and showcase our love for the community and the volunteer work we do through GFWC. The hashtag is a tool that is added to the end of a social media post to help people easily find out more about the Federation. It can be used on many social media platforms, including Facebook, Instagram, Twitter, LinkedIn, and others.
All of us enjoy posting pictures and articles about our club work. Now, at the end of your post, simply add #IAMGFWC. This allows your pictures and articles to go to a central location on the internet. The goal is to spread the news of GFWC to the world by sharing local club projects, spotlighting members, and sharing their accomplishments. Your post might be the one that reaches and inspires the next generation of women to join GFWC.
It is easy to find posts that include the hashtag–go to a search engine, such as Google, type #IAMGFWC in the search bar, and you will see many wonderful posts from clubwomen all over the world. We encourage you to try it–you will be amazed at the inspiring GFWC news found easily at your fingertips.
Other tips include:
Keep posts short and concise.
Post as "public" so they can be shared.
Professional headshots are preferred for image posts versus someone on vacation.
For club projects, highlight the project and members participating.
Edit pictures before posting.
Always be sure to use hashtag #IAMGFWC.
The Communications and Public Relations committee encourages every club to post a picture or article on social media this week on a club project, upcoming event, membership drive, or member spotlight and add #IAMGFWC to the post. Let's spread the word of GFWC and our love of volunteering to the world!
Apply Today: Shot@Life's Mobilize to Immunize Summit 
This fall, join GFWC Affiliate Organization Shot@Life, a campaign of the United Nations Foundation, and supporters across the country to use your voice for global childhood immunization programs. One of the many ways clubwomen can get involved and help give every child a shot at a healthy life is by connecting with advocates during the virtual Mobilize to Immunize Summit on Thursday, October 6. During this fun and educational event, you will develop skills to speak up on the issues you care about, including childhood immunization, and participate in discussions with fellow members and other advocates. Spots are limited, but Shot@Life does save room for GFWC clubwomen. Apply by September 30 to join this event.
In addition to attending the summit, consider getting a flu, COVID-19, or other necessary vaccine at Walgreens as part of the Get a Shot. Give a Shot.® program to help provide a vaccine to a child in need.
State President's Project: Jan Greer, Alabama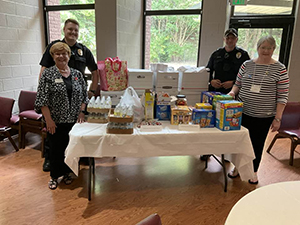 GFWC Alabama State President Jan Greer's theme for the 2022-2024 Administration is Living the Volunteer Spirit – Celebrating Our Everyday Heroes.   GFWC Alabama will be focusing on celebrating and thanking our "Everyday Heroes." These past two years have been devastating for healthcare workers and first responders. These are the men and women who stepped up to the plate to take care of us while most people were sent home on lockdown. We could always depend on them to be there when we needed them most. As Alabama State President, Jan wanted to find a way to let these individuals know how much their support was appreciated. Her goal is to encourage clubwomen from around the state to get out into the community to show their appreciation and take a hands-on approach to letting these individuals know just how much they mean to their communities. This is also a very personal project, as Jan has many family members and numerous friends who work in healthcare and are first responders.
Some examples for service projects are:
Delivering goodie bags with snack items, gift cards, or homemade items to fire stations and police precincts.
Recognize officers or firefighters who are mentioned in local newscasts for acts of heroism with a certificate from a GFWC Alabama club along with a gift card.
Deliver goodie bags to EMTs and emergency rooms for healthcare workers.
The incredible clubwomen of GFWC Alabama will no doubt live up to the Administration theme. They already have begun numerous projects out in their communities with many more planned!
Club Anniversaries and Gold Pin Recipients 
Club Anniversaries
50th
GFWC Saxe Gotha Woman's Club (South Carolina)
70th
GFWC Bowling Green Woman's Club (Kentucky)
75th
GFWC Camas-Washougal Women's Club (Washington)
GFWC Kitsap Peninsula (Washington)
80th
GFWC Woman's Club of Rock Hill (South Carolina)
85th
GFWC Woman's Club of Cayce (South Carolina)
90th
GFWC City Federation of Women's Clubs of Waxahachie (Texas)
GFWC Cosmopolitan Club (Mississippi)
GFWC Richland Woman's Club (Virginia)
95th
GFWC Naperville Woman's Club (Illinois)
100th
GFWC Blytheville Woman's Club (Arkansas)
GFWC Brunswick Woman's Club (Georgia)
GFWC Michigan East Central District (Michigan)
GFWC Woman's Club of Cranbury (New Jersey)
GFWC Woman's Club of Rock Springs (Wyoming)
105th
GFWC PA Bangor (New Jersey)
110th
GFWC Woman's Club of Laurel, Inc. (Maryland)
120th
GFWC Maywood Woman's Club (California)
125th
GFWC Shakespeare Club of Waxahachie (Texas)
140th
GFWC Skowhegan Woman's Club (Maine)
Gold Pin Recipients
Betty Adams
GFWC Wilmington Woman's Club (North Carolina)
Elizabeth Campanello
GFWC Woman's Club of Caldwell (New Jersey)
Sandra Chambers
GFWC Junior Women's Club of Barnesville (Ohio)
Norma Curtis
GFWC Oak View Women's Club (California)
Peggy Earp
GFWC Woman's Club of Clayton (North Carolina)
Sandy Fernstrum
GFWC Menominee Woman's Club (Michigan)
Marge Hatton
GFWC Oak View Women's Club (California)
Audrey Herbison
GFWC Oak View Women's Club (California)
Pat Mahl
GFWC Wilmington Woman's Club (North Carolina)
Sandra Nuccio
GFWC Women's Club of Enfield (Connecticut)
Karen Retzlaff
GFWC Prairie Rose (North Dakota)
Betty Riley
GFWC Tri Club Woman's Club (Virginia)
Carol Rollins
GFWC Poquoson Woman's Club (Virginia)
Willa Stang
GFWC Menominee Woman's Club (Michigan)
Jane Stripling
GFWC Menominee Woman's Club (Michigan)
Iris Swedlund
GFWC Velva Woman's Club (North Dakota)
Joy Taylor
GFWC Stephenville Study Club (Texas)
Gloria Teshkoyan
GFWC Woman's Club of Caldwell (New Jersey)
Edna White
GFWC Phebe K. Warner (Texas)
Mearlene White
GFWC Wilmington Woman's Club (North Carolina)
Betsy Williamson
GFWC Tri Club Woman's Club (Virginia)
Laura Wilson
GFWC Wilmington Woman's Club (North Carolina)
GFWC Marketplace: Living the Volunteer Spirit Sticky Notes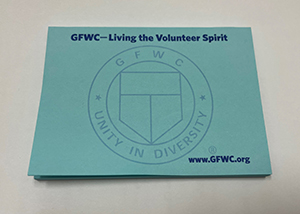 The Living the Volunteer Spirit Sticky Notes are a must-have for every busy GFWC clubwoman. These sticky notes are available in light blue with the white GFWC emblem watermark and feature the GFWC Living the Volunteer Spirit tagline. Each pack contains 50 sheets of 3×4 inch wide sticky notes. Order yours today.
For information on mail service in your area, visit the USPS Service Alerts page. To speed up the processing of your order, we request that you pay for your order at the time of purchase in the Member Portal.
GFWC
www.GFWC.org