September 8, 2022
View our Important Dates page for upcoming events and milestones.
Top Ten Projects Announced!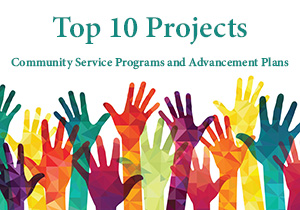 GFWC is excited to announce the Top 10 Projects for all Community Service Programs and Advancement Plans. Visit GFWC's website to see the 2021 club projects chosen in each of these categories for their ingenuity, success, and impact on the community.
The complete list of Top 10 Projects for each Program and Plan is available for download in the Member Portal Digital Library, filed under the "T" Resources folder.
Observing Awareness Months
By Monika Johnson Hostler, Signature Program Honorary Chairman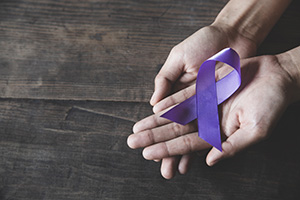 Thank you, GFWC for allowing me to serve as your Honorary Chairman. Throughout the upcoming editions of News & Notes, I look forward to sharing information and resources with you.
Observing awareness months is an opportunity to reflect on the resilience of survivors, perseverance of advocates, and the roles our community can take to support survivors and the efforts of community-based programs. Each month we will provide an overview and the intersections of sexual violence, domestic violence, and human trafficking. We will also highlight the voices of the many courageous survivors who have made tremendous contributions while overcoming trauma. Additionally, we will provide resources, prevalent data, and opportunities to actively participate in generating awareness in your community. It is also a moment to acknowledge sexual assault, domestic violence, and human trafficking survivors and advocates whose voices and leadership have created change and who have dedicated their lives to eradicating gender-based violence.
Gender-based violence refers to multiple forms of harm directed toward a person based on their gender. It is most referenced internationally as a human rights violation, an abuse of power, and rooted in gender inequity. You will also hear the term Violence Against Women, based on the federal Violence Against Women Act. Both terms are also used as a catch-all for sexual assault and domestic violence. These terms are defined in federal statute; however, we will dive deeper into the definitions and public discourse over the next year.
Each of these forms of violence thrive in secrecy and shame. It is important to remember these forms of violence and know that prevention, education, and awareness are fundamental to creating a society free from violence where people can thrive.
Below is a list of the awareness months to mark on your calendar:
January: Human Trafficking
February: Teen Dating Violence
April: Sexual Assault Awareness and Prevention Month
October: Domestic Violence Awareness Month
Volunteers in Action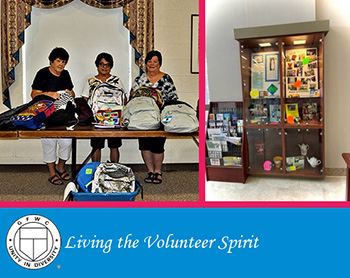 This week's GFWC Blog features GFWC Millville Woman's Club (New Jersey) and GFWC East Peoria Woman's Club (Illinois). Read how New Jersey clubwomen donated backpacks filled with school supplies to the Emmanuel Cancer Foundation and how Illinois members donated several hundred dollars to their local library's summer reading program.
Have a success story to tell? Email PR@GFWC.org to have your club project considered for the GFWC Blog.
Setting the Tone for the First of the Year 
By Jan Hanson, Leadership Committee Member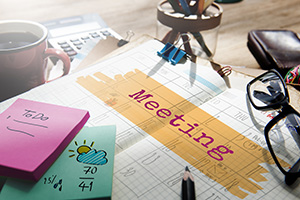 To run a successful meeting and set the tone for the beginning of the year, you first and foremost need a well-written agenda, and you need to follow it. The procedures listed below can also be implemented to enhance your leadership skills.
Start the meeting on time. This shows respect for your members and acknowledges that their time is important. If you start your meetings late, members will arrive late, and eventually you no longer have a set meeting time. When you consistently start meetings at the designated time, your members will arrive on time, ready for the meeting.
Start the meeting with one rap of the gavel. The next time you use the gavel will be to end the meeting.  It is not used as a pointer or to bring order to a meeting by banging it several times. If members are talking amongst themselves during the meeting, one method to get them to quiet down is to stop talking and wait for the silence to sink in. If that does not work, ask for everyone's attention calmly but with authority. Remember, you set the tone for the meeting.
As presiding officer, you must remain neutral in all conflicts between members and on all issues. You represent the entire club and must be diplomatic in resolving problems, putting your personal feelings aside.
Finally, remember to smile–it can reduce stress. A smile makes you look approachable, and interaction with others is more effortless. It is free and easily shared.
So, relax and use your leadership skills to run an efficient and professional meeting.
Bringing the Sparkle Back to Juniorette Service
By Jenny Hinegardner, Juniorette Chairman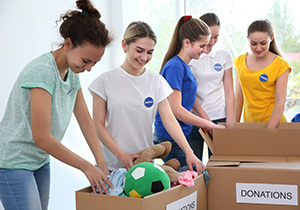 How much Sparkle? As much as you want!
A new school year is here, and Juniorettes are ready to get back to serving and socializing. A club's first meeting can be crucial to setting the path.
Here are some tips to consider for your first meeting:
Review your bylaws and standing rules. Check to see if any need updating.
Elect new officers if appropriate.
Plan an orientation and/or leadership training.
Brainstorm projects that could be completed in the time allotted or on a specified "Service Day."  Make a list of these projects, put them in a basket, and draw one out at every meeting, or simply pick member favorites. It's OK if they aren't the same projects the club usually organizes.
Get to know each other after the summer with ice breakers.
Plan fun activities that incorporate service or self-care.
Revisit the meeting format. Does it still work for the members?
Make new name tags with a ribbon to collect "bling" from projects or activities.
Back to school is the prime time to recruit new members and form new clubs. It's an exciting time for youth coming back and getting to see old friends and meet new ones. Take this opportunity to help members learn about themselves and how to serve others.
Be the glitter that makes their Sparkle.
Apply Now: Shot@Life's Mobilize to Immunize Summit
The application is now open for GFWC Affiliate Organization Shot@Life's fall Mobilize to Immunize Summit! This fun and educational event will occur virtually on Thursday, October 6, and will kick off the organization's six-week fall vaccine advocacy push. Join the event to be inspired by other advocates and hear the latest global health updates.
Acceptance notifications will be sent by Shot@Life on a rolling basis.
Johns Hopkins Webinar September 13
Johns Hopkins Medicine is offering a webinar at 7:00 p.m. ET on Tuesday, September 13, to discuss the growing number of survivors of COVID-19 and their continued symptoms, including shortness of breath, fatigue, headaches, palpitations, and impairments in mental health and cognition. Join rehabilitation physician Alba Azola, M.D., neuromuscular physician Tae Chung, M.D., and pulmonologist Ann Parker, M.D., Ph.D., as they discuss long COVID and how the Johns Hopkins Post-Acute COVID-19 Team Program is working to provide interdisciplinary, standardized care to address the unique needs of COVID-19 survivors. Visit the Johns Hopkins website to register for this event.
GFWC Marketplace: WHRC Collections Book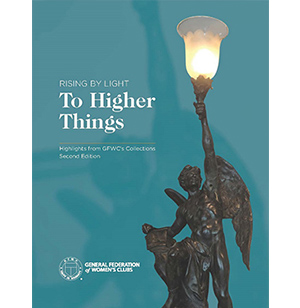 Are you interested in learning about GFWC's inspiring history and museum collection? The WHRC Collections Book, Rising to Light by Higher Things, details 128 years of GFWC history and features salient pieces of the Women's History and Resource Center collection. All proceeds from the book sales go to support the WHRC. Order yours today.
For information on mail service in your area, visit the USPS Service Alerts page. To speed up processing your order, we request that you pay for your order at the time of purchase in the Member Portal.
GFWC
www.GFWC.org