Winter 2021
WHRC COMMITTEE & STAFF
Chairman: Hope Royer
Committee Members: Mary Baird, Carolyn Forbes
International President: Marian St.Clair 
---
Women's History Month Event 
By Hope Royer, WHRC Committee Chairman
The Women's History Month Event will be held remotely on BigMarker at 4:00 p.m. EST on Wednesday, March 3.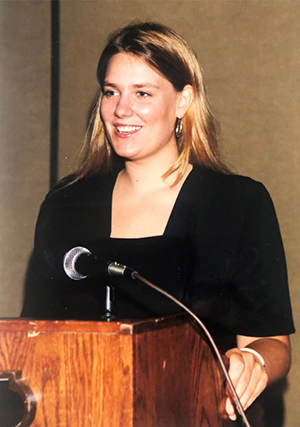 GFWC is pleased to announce the selection of Sara Hammel as the presenter at the Women's History Month Event. Sara is the author of the recently-published book, "The Strong Ones." Her name is well known to GFWC, as she was the first recipient of the Croly Award in 1996. Sara credits the award for prompting her to make an important career decision. "After winning the award, I set forth to write about issues that were important to me," she said.
Sara began to write about the inequalities of women in sports — soccer in particular — and women in the field of technology. In the early 2000s, the inequalities of women in the military became Sara's focus. "I watched as female soldiers were injured, killed, and captured in Iraq and Afghanistan — but were still legally banned from combat roles, which meant they were not compensated, awarded, or promoted in the same way their male comrades were for the same brave acts."
"The Strong Ones" is the compelling story of the women and men who influenced the historic decision in 2016 to allow women in the military to serve in combat roles.
Plan to attend the Women's History Month Event on March 3 to hear Sara speak about her book and experiences. A sneak preview of Sara's book is available in the GFWC Member Portal for clubwomen, located under the "S" Resources folder in the Digital Library. Event registration details will be announced in News & Notes.
The Equal Rights Amendment:  Are we there yet?
By Hope Royer, WHRC Committee Chairman
The answer is a resounding "no!"
The Equal Rights Amendment (ERA) is not a long amendment made confusing by rhetoric. It is a brief, simply worded, three-section proposal:
Section 1. Equality of rights under the law shall not be denied or abridged by the United States or by any State on account of sex.
Section 2. Congress shall have the power to enforce, by appropriate legislation, the provisions of this article.
Section 3. This amendment shall take effect two years after the date of ratification.
The ERA was passed by Congress in 1972 and sent to the states for ratification. It was the culmination of a nearly 40-year fight – a fight that appears to be far from over. When the legislation was passed in 1972, it included a seven-year deadline. The ERA failed to achieve the requisite number of state ratifications by the required deadline, so ERA advocates convinced Congress to extend the deadline until 1982. However, the ERA failed, again, in 1982, just three states short of the 38 needed for ratification. It has been at a stalemate since.
The ERA Coalition and Fund for Women's Equality composed a letter in December 2020, to the incoming administration documenting the urgency of ratification, requesting a pledge from the new administration to encourage publication and certification of the ratification, and removal of the deadline. At the request of the ERA Coalition D.C. Director/Director of Outreach and Advocacy, and in support of the Coalition's effort, GFWC International President Marian St.Clair added the name of the General Federation of Women's Clubs to the list of organizations that support the ERA.
A History of Women on Stamps 
By Carolyn Forbes, WHRC Committee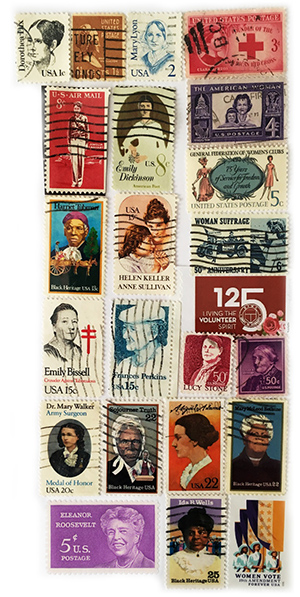 The history of postal services began with the delivery of stampless letters. Stampless letters paid by the receiver and private postal systems were gradually phased out after the introduction of adhesive postage stamps, first issued in 1846. The use of stamps became mandatory in 1855.
Queen Isabella of Spain was the first woman featured on a postage stamp in 1893. Since then, the U.S. has issued hundreds of postage stamps honoring the accomplishments and achievements of women in America. The post honored Martha Washington in 1902 with her very own stamp. In 1907, Pocahontas became the first Native American to be featured on a stamp. In 1978, Harriet Tubman was memorialized; and in 2001, Frida Kahlo became the first Hispanic woman to be honored.
Listed below are some of the famous women pictured on the stamps featured in the above photo.
1936 and 1955: Susan B. Anthony (1820-1906) was a leader of women's rights and the women's suffrage movement, and founder of the National Woman Suffrage Association along with Elizabeth Cady Stanton (1815-1902).
1948: Clara Barton (1821-1912) was the founder and first president of the American Red Cross. She was key in getting the U.S. to sign the Geneva Convention in 1882.
1963: Amelia Earhart (1897-1937) was the first woman to fly solo, nonstop across the Atlantic Ocean.
1963, 1984 & 1998: Eleanor Roosevelt (1884-1962) was an American diplomat, writer, social reformer, and First Lady to Franklin D. Roosevelt. She was a leading activist for women and the poor.
1968: Lucy Stone (1818-1893) founded the American Woman Suffrage Association in 1869. She is thought to be the first American woman to continue to use her maiden name after marriage.
1971: Emily Dickinson (1830-1886) helped pave the way for modern poets and authors by writing poems about problems in society, as well as her beliefs on love, family, death, and nature.
1980: Frances Perkins (1882-1965) was the first woman to be named to the U.S. Cabinet. She was appointed Secretary of Labor by President Franklin D. Roosevelt in 1933.
1980: Emily Bissell (1861-1948) was a leader in the fight against tuberculosis who also introduced Christmas seals in the U.S.
1980: Helen Keller (1880-1968) was a crusader to improve the treatment of people with disabilities. Anne Sullivan, her dedicated personal teacher for many years, is pictured with Keller.
1982: Dr. Mary Walker (1832-1919) was the first woman to receive the Congressional Medal of Honor. A leader in the women's rights movement, Walker promoted women having the right to choose the types of clothes they wanted to wear, regardless of society's expectations.
1983: Dorothea Dix (1802-1887) was a 19th century crusader for the poor and those with mental disabilities.
1985: Abigail Adams (1744-1818) influenced American politics through her letters to her husband, President John Adams. She was an advocate for women's rights.
1986: Sojourner Truth (1797-1883) was the first black woman to speak publicly against slavery.
1990: Ida B. Wells (1862-1931) worked for equal rights for African Americans. She was a founder of the National Association for the Advancement of Colored People in 1910, and a leader in the women's suffrage movement.
Women throughout history have helped influence the story of humanity. Some have been visible while others worked behind the scenes to make this world a better place. Many have been honored with the public distinction of being placed on our postage stamps throughout the years; those mentioned here are only a fraction of the great women in history.
The Dupont Circle Historic District
By Hope Royer, WHRC Committee Chairman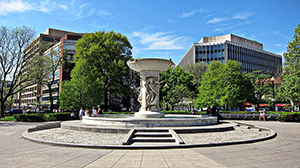 If you've ever visited GFWC Headquarters at 1734 N Street NW, you've no doubt been intrigued by its location in the Northwest Washington, D.C., neighborhood of Dupont Circle. Known as Pacific Circle when its development began in the 1870's, Dupont Circle is a traffic circle, urban park, and historic residential area located at the intersection of Massachusetts, Connecticut, and New Hampshire Avenues, NW, and 19th and P Streets, NW. The Circle is a busy station on the Washington Metro System's Red Line and just a short walk to GFWC Headquarters. Unlike most traffic rounds in D.C., Dupont Circle is also a vibrant, urban park where "people watching" is at its best.
Early in the 1870's, a group known as the "California Syndicate," led by Nevada Senator William Morris Stewart, bought up tracts of undeveloped land in what was then Pacific Circle. Senator Stewart set the style of the neighborhood when his Victorian Mansion was built in the late 1870's. In 1875, Rear Admiral William Radford built a stone and brick five-story mansion following his retirement from the U.S. Navy at 1734 N Street NW. By the late 1880's the area was an affluent neighborhood. Purchased by clubwomen in 1922, GFWC Headquarters was designated a National Historic Landmark in 1991.
In 1882, Congress authorized the construction of a memorial statue of Rear Admiral Samuel Francis DuPont in recognition of his Civil War service. A bronze statue of DuPont was erected in the middle of the Circle in 1884. The Circle became known as Dupont Circle. In 1921, the statue of DuPont was replaced by a double-tiered white marble fountain, paid for by the DuPont family. The fountain, designed by sculptor Daniel Chester French and architect Henry Bacon, features three classical figures, symbolizing the Sea, the Stars, and the Wind.
WHRC Heritage Pin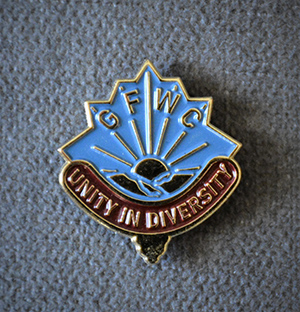 In 1892, the Committee on the Federation Badge Pin was created to design an image that would reflect the aim of GFWC. Appointees included GFWC's founder, Jane Cunningham Croly, and its first president, Charlotte Emerson Brown. The Committee chose the sun's rays and the color blue as elements to symbolize the Federation. The resulting pin, GFWC's original emblem, featured an image of the rising sun in a blue sky above snow-capped mountains with its rays illuminating "GFWC" in block lettering. An upturned, russet-colored banner displayed the motto, "Unity in Diversity."
The WHRC Heritage Pin offers a faithful facsimile of the original emblem on an updated lapel pin with a magnetic back. Proceeds from the sale of the WHRC Heritage Pin will be used to repair or replace portrait frames in GFWC's historic collection of GFWC International Past Presidents' portraits. The pin is available for purchase through the GFWC Marketplace.
From the Archives…
By Hope Royer, WHRC Committee Chairman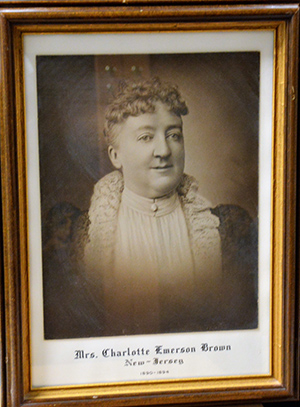 The earliest of the portraits in GFWC's collection is the portrait of Charlotte Emerson Brown. Mrs. Brown, a member of the Woman's Club of Orange, New Jersey, and Ella Dietz Clymer, president of New York's Sorosis Club, were nominated for the office of president from the floor of the 1890 Convention. The name of Jane Cunningham Croly was proposed. However, Mrs. Croly graciously declined the nomination. "The first federation election was held, gloved hands dropping ballots into a box passed among the delegates."
Charlotte Emerson Brown was chosen president of the General Federation of Women's Clubs on April 26, 1890, just three days after the acceptance of its constitution on April 24, 1890. In addition to President, Vice-President, Recording Secretary, Corresponding Secretary, and Treasurer, 63 additional Vice-Presidents were elected, one from each club on GFWC's 1890 membership roster.
Charlotte Emerson Brown, GFWC's First President
By Mary Baird, WHRC Committee  
During Charlotte Emerson Brown's presidency (1890-1894), membership expanded quickly from 63 clubs to several hundred, and grew to representing tens of thousands of women from 29 states. Mrs. Brown believed the exclusion of men in these clubs was helpful in allowing women to develop their own leadership skills. Her motto was "What should be done at all should be done promptly and thoroughly."
Charlotte was born on April 21, 1836, in Andover, Massachusetts, and died Feb 5, l895. At the age of 10, Charlotte could read, write, and speak French fluently. She mastered several other languages and studied abroad for years, learning music and modern languages. Later, Charlotte was a teacher and taught modern languages at Rockford Seminary in Illinois. While there, she became a progressive organizer and started her first clubs—a music and French club. In 1880, she married Rev. William Brown and settled in East Orange, New Jersey.
Arts, Culture, and the Clubwomen
By Marian St.Clair, International President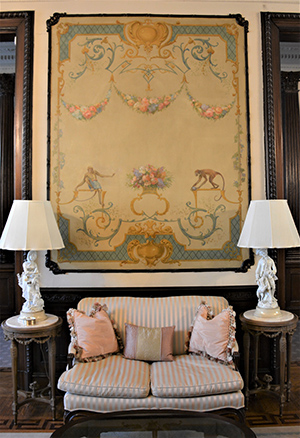 Among the many art treasures at GFWC Headquarters, one of the most prized is the collection of 13 murals that decorate the drawing room of 1734 N Street NW. The murals are appreciated not only for their delicate beauty, but because they give a playful character and genuine warmth to an enormous room, which might otherwise feel dull and indifferent.
The murals are not original to the mansion, however. According to the General Federation News, January – February 1923, the murals were installed during the residency of John Jay White, Jr., and his wife, Grace Hoffman White. In the GFWC archives, the description of the murals is brief, noting, "Thirteen panels of plain weave fabric with thinly applied oil paint by Albert Herter. The panels are attached to the plaster walls of the 1734 N Street Drawing Room (adhesive unknown)."
A more recent historical guide for visitors of Headquarters says that the décor of the drawing room reflected Mr. White's interest in exotic animals and birds like those in the murals, but I think perhaps the lion skin that stretched across the parquet floor spoke more to his interests than the lively cockatoos, squirrels, and monkeys on the walls.
An internet search did not provide significant information on John Jay. A New York Times article identified him as a "wealthy stockbroker," while an account in another publication noted he was "known as a broker but descended from Knickerbockers and lived largely off inherited wealth." A more illuminating clue to his character was discovered in a biographical sketch of his wife, which stated she donated her husband's American Indian artifacts to the Smithsonian following his death in 1923.
Grace, known as a Suffragist, peace activist, and author, is better documented. She was born to missionary parents in Liberia in 1859, and moved to New York with her mother following her father's death in 1866. Grace married John Jay White, Jr., in Manhattan in 1885. While living in Washington, D.C., she became involved with the suffrage movement and was a major fundraiser for the establishment of the National Woman's Party, which broke away from the National American Woman Suffrage Association due to conflicts over tactics. Grace was also a charter member and vice chairman of the Women for Peace Party, later renamed the Women's International League for Peace and Freedom (WILPF).
After purchasing 1734 N Street NW in 1908, the Whites are credited with updating the Victorian facade of the home to a more fashionable design and modernizing the interior. Grace, who published two poetry books in 1909 and a collection of poetry in 1925, is credited with the poetic sentiment that is engraved into the music room mantel and reads, "I cannot warm you if your heart is cold."
An examination of the murals suggests the delicate, ethereal quality of the paintings were in keeping with Grace's personal preferences. The key colors in each painting are various hues of aqua, pink, and gold. Every mural is different but similar. All are enclosed in a carved wooden frame that is also attached to the plaster walls, and all include a painted border that typically (but not always) surrounds floral swags and baskets, and a pair of birds or animals that face one another on individual pedestals.
Documentation suggests that the murals were custom-made for the residence in 1908. The style of the paintings, however, is rococo, a throwback to the mid-18th century. "Rococo" derives from the French word rocaille, meaning a type of garden ornamentation of rocks and shells. Following Louis XIV, when the single purpose of royal art was to glorify the king, the French court embraced a more delicate style characterized by pastel colors, graceful curves, and patterns created from flowers, vines, and shells. Subject matter turned from serious religious and historical depictions to those portraying daily life or enchanted scenes.
One aspect of the murals that draws my admiration, as a horticulturist, is the vining plants that scramble up the painted borders. Each mural features a unique vine. The various species depicted include climbing rose, grape, blackberry, raspberry, morning glory, honeysuckle, Victoria (or Virginia) creeper, trumpet vine, and several types of ivy.
Each of the eight major murals also depict a distinctive pair of birds or animals, some to comic effect. The pairs include owls, hawks, jays, doves, parrots, cockatoos, squirrels, and monkeys.
Albert Herter (1871-1950), of New York City, the named artist, studied at the Art Students League in Paris as a young aristocrat, met his American wife (also an art student) in Paris, and began a family before moving back to the U.S. in 1898. Known as a painter, illustrator, muralist, and interior designer, his works are displayed in many outstanding art museums including the Smithsonian American Art Museum and the Metropolitan Museum of Art. For more information about the life, talent, and work of Herter, read "Albert Herter at Palm Beach," which can be found online in David Patrick Columbia's New York Social Diary.
When I examine art, whether it is a painting or a garden, I first allow myself to react subjectively and then consciously remind myself to consider it dispassionately by asking, "What was the intent of the artist and what do others see that I might be missing?" To answer, it is necessary to put aside personal opinion and cultural bias to have a richer and more comprehensive understanding.
In this particular instance, let's look at the murals objectively in the context of the history shared in this column. The murals were commissioned as a decorative feature of the primary entertaining space of a mansion that was being modernized from a Victorian to an Edwardian home. Edwardian style was characterized by larger windows (also added by the Whites), which provided more light and a greater sense of spaciousness, and was frequently reminiscent of past styles, particularly baroque and rococo. The style chosen for the drawing room, rococo, turned away from serious subjects to glorify felicity – joy, happiness, contentment, and pleasure.
The rococo murals are in perfect agreement with the character of Grace Hoffman White, who was a poet and sentimentalist. They were perhaps also influenced her husband, who cultivated a connection with Native American culture – a culture that often uses animal imagery to tell stories.
Subjectively, I see the murals' colorful depictions of floral swags and baskets, pairs of lively animals, and scrambling vines, as a festive celebration of life. As I noted during the remote Holiday Open House, I'm frequently alone here, but it is simply impossible to feel sad or lonely in the drawing room because the murals exude such cheerfulness.
Throughout the years of GFWC's tenure at 1734 N Street NW, the drawing room has played many roles. The ones I have been a part of, including public events and private gatherings of clubwomen and guests, have been primarily social. In the early part of the 20th century, however, the space was used as an office to coordinate war efforts that supported and assisted our country. Looking back, I hope the murals gave the clubwomen of that difficult time the same sense of hope and wellbeing that they offer me.
GFWC
www.GFWC.org

Featured Member
Minnie Bell Johnson
Minnie Bell Johnson is described by her fellow clubwomen as the happiest person they know, with a smile that brightens the whole room. Having just celebrated her 100th birthday, she has many reasons to smile. During her time with the Portland Woman's Club (Oregon), she has served as both the club treasurer and club president. She's still an active member to this day, voting on issues and club elections, and participating in projects like handing out personal care products to homeless women at the Rose Haven Women and Children's Day Shelter.
Success For Survivors Scholarship
Each year, GFWC awards scholarships to help intimate partner abuse survivors obtain a post-secondary education that offers a chance to reshape their future by securing employment and gaining personal independence.
Featured Club
GFWC Lawrence Classics Club
The GFWC Lawrence Classics Club (Kansas) has 19 members, and it's an incredible mixture: one charter member has been involved since 1997; one member has been part of GFWC since 1960; there are a mother and daughter pair who are 2nd and 3rd generation clubwomen; four members are Boosters; and their youngest member only graduated from college last year. This assorted group shares the same values about volunteerism and puts them into action.