January 19, 2023
View our Important Dates page for upcoming events and milestones.
January: Human Trafficking Awareness Month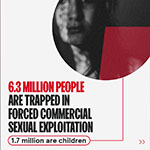 website to learn about the issue, become part of a community of amazing volunteers, make a life-changing donation or download resources. Awareness leads to action, so get involved today!

During January, Hope for Justice is marking the 14th annual National Human Trafficking Prevention Month (also known as "Trafficking Awareness Month"). It is a key time for us as individuals to educate ourselves about human trafficking and to learn to spot the signs. We can share information in our workplaces, our churches, our schools, with our representatives, and everywhere else – so that we may ALL be more informed about the reality of human trafficking. Around the world, there are 50 million people affected, including at least 400,000 right here in the U.S. There are 22 million people trapped in forced marriages, 19 million suffering through forced labor, and 6.3 million people subjected to forced sexual exploitation—and nearly two million of those are children, trapped and alone in the sex trade. But there is hope. You can make a difference by raising your voice, educating others, and saying something if you see something. Throughout January, Hope for Justice is campaigning to raise awareness and take action. Go to the Hope for Justice

February Heart Health Month

By Dale Fisher, Health and Wellness Community Service Program Chairman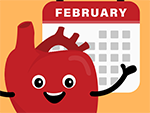 ̶  AnonymousFebruary is American Heart Month. Heart disease encompasses blood vessel issues (coronary heart disease), irregular heartbeat (arrhythmia), congenital defects, diseases of the heart muscle, and heart valve disease, and is the number one killer of women.  According to the American Heart Association Go Red for Women, unfortunately, only 44 percent of women recognize that cardiovascular disease is their greatest health threat.  For a healthy heart — eat, play, and live smart!  Follow the eight health behaviors as determined by the American Heart Association: 1) Eat better, 2) Manage blood sugar, 3) Control cholesterol, 4) Manage weight, 5) Be more active, 6) Manage blood pressure, 7) Quit tobacco use, and 8) Get healthy sleep. Heart disease is preventable!  Let's bring awareness to this concern and increase knowledge by promoting American Heart Month and celebrating Wear Red Day®.What can your club do?  Enjoy a club outing on Wear Red Day® on Friday, Feb. 3.  Make sure to have club information to share when others ask about all your "red." Distribute club-personalized heart-healthy bookmarks, fact cards, or promotional "heart swag" through local businesses or doctors' offices. Wear the American Heart Association's Go Red for Women lapel pin throughout the month. Sponsor a display at your local library or hospital. Post an American Heart Month banner in a prominent spot in your community. Sponsor a Public Service Announcement (PSA) on the local radio station.   Examples may be found at the Centers for Disease Control and Prevention. For more information and Fact Sheets, visit the American Heart Association or Go Red for Women.    The opportunities to bring awareness to this concern and to promote GFWC and your club are endless. Please share your #WearRedDay pictures on social media.  

"With A Healthy Heart, the Beat Goes On" 

Another Year to Make a Difference State President's Project:

By Marianne McCombs, GFWC Indiana President 
The New Year brings about many changes, from forgetting to put the new date on reports to paying dues and convention planning. For others, it's staying warm, safe and keeping a roof over their heads. This year GFWC Indiana started a new initiative with the "Cut it Out" program. This program was started by hair stylists who have heard stories of abuse from far too many people. During the District Conferences, we distributed information about the "Cut it Out" program to all club members to end domestic violence. Window clings with the phone number for Domestic Violence assistance have been placed on stylists' mirrors throughout Indiana, the information cards in both English and Spanish have been placed in bars, doctors' offices, and real estate offices. The Indiana clubs are making sure no stone goes unturned in getting this vital information out to all Hoosiers.  Getting the information out to the people who need it most is something that needs to be done year after year.  Domestic violence doesn't have a calendar. In Indiana alone, just under 200 people go without help every month because of a lack of funds. Women and men experience a variety of forms of domestic violence. Housing is needed to serve the needs of so many. We must do better in contributing to the health, safety, and security of the people who have experienced the worst abuse from those that supposedly love them. The Indiana clubs have really taken this program to heart. Teamwork really does make the Dream work!   Our clubs have each contributed to the local domestic violence shelters in their areas. Hopefully, this awareness will continue as the need for shelters hopefully diminishes.     
Volunteers In Action: Waurika Sorosis Club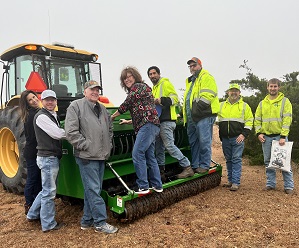 Photo Caption (l to r):  GFWC-OK Waurika Sorosis Club President Lisa Adkins; Waurika City Manager Kyote Dunn; Waurika Development Trust Chairman Roy Bartling; Sorosis Club Co-Vice President Jennifer Aldridge; Martin Villarreal, Oklahoma Department of Transportation (ODOT); City of Waurika Street Department Supervisor Chad Dodson; ODOT Jefferson County Superintendent Billy Martin, and ODOT employee, Blake Latta, meet to discuss this year's wildflower plantings. Spring is a few months away, but several groups gathered on Monday, December 12, 2022, to watch the Oklahoma Department of Transportation (ODOT) plant wildflower seeds that will color the entrances to Waurika with beautiful flowers in late April and continue through July. The Waurika wildflower project is in its fifth year. It is a collaborative project with the GFWC-OK Waurika Sorosis Club, Color Oklahoma, and the ODOT with cooperation from the City of Waurika and Jefferson County. To read more, visit the GFWC Blog. To submit your club's service project activities, please send copy with photo to PR@GFWC.org.
New Year's Resolution for Annual Giving
By Mary Jo Thomas, GFWC Annual Giving Committee Member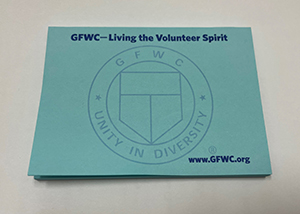 Happy New Year! May 2023 be a year filled with good health, great happiness, safety, prosperity, generosity, learning, love, laughter, and joy!
Some of us begin each year with New Year's resolutions. One of mine is to better manage my annual giving to GFWC. It's made easy with the single form that is now available on the Member portal and allows donors to mark where she wishes the donation to go. Have a plan on how often you will donate and stick with that plan.
On January 1, 2023, the third quarter of the annual giving program to GFWC began. Quarterly acknowledgments add interest in developing or nurturing the habit of regular giving. The first 100 to donate $100 or more will receive multicolored GFWC sticky notes. These should help us to be even better organized!
Philanthropy/Giving is a habit and a good one to have. Let's all get in the habit of regular giving to help GFWC in whatever way(s) you choose. The opportunities are many, and the need is great. Your generosity is greatly appreciated. Your money, your choice of when and where to give, and all on one form, take care of any and all donations.
The GFWC Annual Giving Form makes New Year's resolutions easier to manage supporting GFWC. We hope you will consider being one of the first 100 this quarter to donate and acquire or further develop the habit of regular giving!
The Power of You: A GFWC Training Series – 1st Webinar Tonight, January 19, at 7 pm ET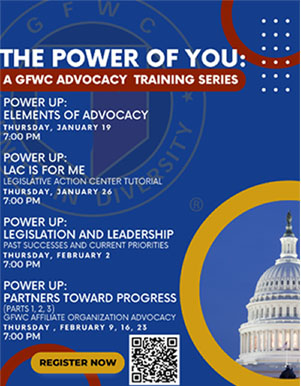 The Power of You: A GFWC Advocacy Training Series, is open! GFWC members will learn civic engagement strategies to influence local, state, and federal government officials. The webinar series starts in January 2023, each Thursday evening at 7 pm ET, starting today January 19. Each episode will be 45 minutes to one hour in length with Q & A, as time allows. You can register for the entire series or single episodes of your choice. To learn more, contact Darrell Jones, GFWC Programs Manager, at DNJones@GFWC.org.

Registration for the GFWC webinar series,

Call for Nominations: GFWC Newsletter & Website Contests

By Jen Nowak, Communications and Public Relations Committee Chairman

Club Websites and Newsletters = Great Communication Tools
Many clubs have fabulous websites and compile wonderful newsletters. They are used as communication tools for their members and for letting the community know about their good work.  If your club is proud of their website and/or newsletter, then consider entering the Communication and Public Relations Contests.  Each club can submit entries for both contests.
The Newsletter Contest
Submit your favorite newsletter copy that was dated and published between January 1 to December 31, 2022.  Mail a hard copy of the newsletter with a cover letter containing: Club president's name, contact information, name and contact details of individual submitting the entry, number of club members, approximate circulation, and a short essay no more than 250 words describing the club's approach to utilizing its newsletter.
The Website Contest
Entries must be submitted via email.  Your private club "members only" section (if applicable) will not be part of the judging process. In the body of the email include club name, website address, president's name and contact information, name and contact details of individual submitting the entry, number of club members, and a short essay no more than 250 words describing why your website is a valuable resource to members and potential members.
For more information about the Newsletter and/or Website contests and for judging criteria, contest rules, submission address, and the specific details of each contest, visit the "Club Manual" subfolder of the "C" Resources folder, Awards and Contests in the Member Portal Digital Library. The deadline is March 15, 2023. 
States can also enter the "GFWC Website and Newsletter Contests." More information will be in the upcoming Let's Talk About It, Communications and Public Relations Committee newsletter.
The committee members look forward to reading and seeing what individual clubs use for their communication tools.
GFWC Short Stories & Poetry Contests 
By Donna Shibley, Writing Contests Chairman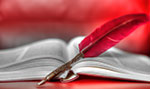 Tips to know when entering the GFWC Writing Contest 
T: Take care to read the contest rules carefully.
I: Individual entries should have required information included before submitting.
P: Please reach out to this Chairman with any questions.
S: Send entries to State Writing Contest Chairman first, and then the state chairman will submit the State award winners to the National Chairman
Member Contest
Authors must be dues-paying members of an active per capita club. One entry per member per category.
Youth Contest
Authors must be amateurs; earnings from writing may not exceed $500 annually. The Six Traits of Writing will be used in the judging of the Youth Writing Contest.
Youth Grade Levels
Category 1: Grades K, 1, and 2
Category 2: Grades 3, 4, and 5
Category 3: Grades 6, 7, and 8
Category 4: Grades 9, 10, 11, and 12
Both Contests
Entries must be written during the contest year January 1-December 31. Entries may not have been published prior to the competition and must be original works by the author. 
GFWC Creative Arts Waiver must be included with each submission. One entry per person per category. Short stories are limited to 2,000 words. Poetry entries can be any style, with a minimum length of eight lines and a maximum of 50 lines.
For more information about the Writing Contests and for judging criteria, contest rules, submission address, and the specific details of each contest, visit the "Club Manual" subfolder of the "C" Resources folder, Awards and Contests in the Member Portal Digital Library.
Use these TIPS to successfully enter the "GFWC Writing Contest." These Important Procedures (will help you) Shine.
Endorsing Candidates for GFWC Office 
By Carol Habgood, Elections Committee ChairmanIt's time once again to start the endorsement process for candidates for GFWC Office.  There are three steps involved in this process:  1) Determining a candidate's eligibility for office. (Bylaws, Article VI, Section 6.2.)  2) Endorsing a candidate for office. (Bylaws, Article VII, Section 7.1 and 7.2)  3) Submitting the required paperwork no later than August 1, 2023. (Bylaws, Article VII, Section 7.2.)  The instructions and forms will be sent electronically to state presidents by January 31.As endorsements are obtained in the odd-numbered year, this means that states will endorse candidates at their state conventions this year. As you plan your convention agenda, please ensure the endorsement is included if you have a candidate for GFWC office. In the absence of such conventions, endorsements are by two-thirds of all active GFWC clubs in the respective states. Forms are included with the electronic mailing to state presidents this month. Endorsements shall be verified by signatures of the state president, recording secretary, and the candidate and sent by certified mail, return receipt, to the Elections Committee Chairman, postmarked by August 1, 2023.  However, you may certainly mail the endorsement packets earlier and are encouraged to do so.Important things to note about your paperwork: 1) It must be sent via certified mail, return receipt requested.  2) It is sent to the Elections Committee Chairman, not to Headquarters. 3) It must be postmarked no later than August 1, 2023.  Please note that the 2023 GFWC Annual Convention is in June. Please do not attempt to hand deliver your paperwork during the 2023 Convention in Kentucky, as that is not the procedure set forth in the bylaws.
Executive Boards/Committees
By GFWC Bylaws CommitteeAll but the smallest societies usually find it helpful to have a group entrusted with the administrative authority and responsibility to conduct the business between meetings.  This group, called the Board of Directors, Administrative Council, Executive Board, etc., usually consists of the officers and chairmen.  There should be a section within the bylaws that specify who the members are, the powers entrusted to them, any special rules, how the board meets, the quorum, and who serves as chairman and secretary.  In the absence of a provision for the presider and secretary, the president and secretary of the club serve in those capacities. In addition, there may be a smaller group within that board consisting of the elected officers called an Executive Committee.  If so, its description, authority, and responsibilities would be in a separate bylaws article immediately following the one for the Board.   A board may never alter a decision of the assembly (club), and an Executive Committee cannot change a decision of the assembly or the board, even by a motion to rescind or amend something previously adopted or by the adoption of a proposal that has been rejected, unless such authorization has been granted in the bylaws. For example, the board or executive committee may be authorized to alter the budget to deal with contingencies that may develop.  The bylaws or the motion to adopt the budget must specifically give the board this power.  Should the club desire to leave the full administrative authority to the board between the club's meetings, it should be authorized in the bylaws. The bylaws should state any classes of business over which the club retains control.  
Now Open: Convention Program Ad Sales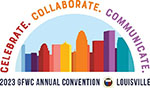 Visit the GFWC Resource Library to download a form.Orders and payment for Convention Program ads must be received by March 30 to guarantee space. If you plan to pay by check, we recommend placing your order early because there have been reports of mail service delays in many communities. For questions, please contact Events Manager Nishu Raina at NRaina@gfwc.org.

Share your love and appreciation for the clubwomen in your life. Whether they're doing a great job as leaders or they've been there for you through difficult times, a 2023 Convention Program ad is a chance to shine a spotlight on them! Design your own full-page, half-page, or quarter-page ad according to the specs on the order form. Or select from one of three designs, available in either full-page or quarter-page sizes.
GFWC
www.GFWC.org