December 9, 2022
View our Important Dates page for upcoming events and milestones.
No Place Like Home for the Holidays!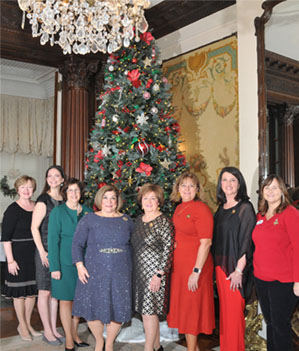 Members of the 2022-2024 GFWC Executive Committee are all smiles as they prepare to welcome guests and give tours. From left to right: Diane Addante, Parliamentarian; Katie Moydell, Director of Junior Clubs; Wendy Carriker, First Vice President; Deb Strahanoski, International President; Suellen Brazil, President-elect; Jolie Frankfurth, Second Vice President; Becky Wright, Treasurer; and Cheri Meyer, COO.  Not pictured: Mary Beth Williams, Secretary.
Appropriately themed, this year's GFWC Holiday Open House took place Wednesday, December 7, from 11 a.m. to 3:30 p.m. (ET) in Washington, DC, with more than 200 guests in attendance. The 2022 theme, "Home for the Holidays," was fully displayed. Guests were treated to timeless, classic decor with two floor-to-ceiling Christmas trees on the main level decorated in the traditional colors of red and green with accents of silver and gold. Also displayed were 33 ceramic holiday homes, courtesy of the State Federations, from Alabama to North Carolina. The remaining state holiday homes will be showcased next year. Much to everyone's delight, the Dining Room was decked out with silver trays full of finger foods and delectable homemade treats.
When asked how this year's theme came to be, International President Deb Strahanoski of Illinois said, "The holidays represent the warmth of family in my home. Because 1734 N Street NW, Washington, DC, serves as a home for GFWC clubwomen near and far, the goal was to replicate the feeling of 'home for the holidays' for anyone who visits our headquarters."
Whether your loved ones are near or far this holiday season, home is a special place that the heart never forgets. Thank you to everyone that joined in the 2022 Holiday Open House festivities. Look for the event photo album in the next issue of News & Notes on December 15.
Cares & Concerns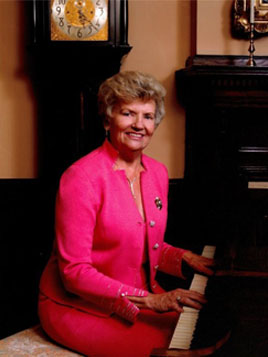 In Memoriam: International Past President Ernestine "Ernie" Shriner 
(June 24, 1936 – December 2, 2022)
With a heavy heart, the GFWC announces the passing of Ernie Shriner, International Past President from 2004-2006, on December 2, 2022. Known for her humility and drive, Ernie approached new experiences and opportunities with passion and a positive attitude.
Ernie joined the Town and Country League Club in Cheyenne, Wyoming, for the fellowship and opportunity to make a difference in her community. Unbeknownst to Ernie, she would rise through the leadership ranks to one day serve as the first GFWC International President from Wyoming.
During her tenure, Ernie's special project was Literacy: Tutoring from the Heart, which facilitated the training of approximately 7,500 new tutors and the tutoring of 10,000 students by the end of her Administration. Clubs nationwide participated in the project to raise awareness about the literacy crisis in their local communities. Ernie also supported GFWC's health programs to educate members and their communities about heart disease and osteoporosis.
GFWC extends its deepest condolences to Ernie's beloved family and friends. To share memories or words of condolence, please visit her Guestbook. Donations in International Past President Ernie Shriner's memory can be made to GFWC 1734 Society, Attn: Deb Strahanoski, 1734 N Street NW, Washington DC 20036, or locally to GFWC Women's Civic League of Cheyenne, PO Box 4062, Cheyenne, WY 82003.
Volunteers in Action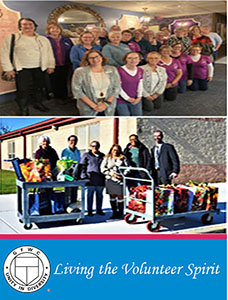 The GFWC Woman's Club of Maquoketa (Iowa) and the GFWC Baldwin Woman's Club (Iowa) recently teamed up to present a program on human trafficking awareness to their community. GFWC Woman's Club of Maquoketa President Lisa Gottschalk said, "the event garnered a phenomenal turnout of 104 attendees from their small town."
Members of the GFWC Millville Woman's Club (New Jersey) helped brighten the holiday of 10 local families by providing complete Thanksgiving meals to those in need. Clubwoman Nancy Hammond explained the meals were distributed to the families by the Silver Run School in Millville, New Jersey. She added that each bag of food included items such as turkey, stuffing, mashed potatoes and gravy, cranberry sauce, vegetables, desserts, and more.
To read more, visit the GFWC Volunteers in Action Blog.
State President's Project: Kim Sekulow, Georgia 
GFWC Georgia's 2022-2024 Administration theme is Purpose + Passion = Power. Georgia members have embraced the theme and have been quick to support President Kim Sekulow in her vision and her special project, Wellspring Living. Wellspring Living's mission is to "transform the lives of those at risk or victimized by sexual exploitation." The organization serves people in need in Georgia and nationwide through its education and mentoring programs.
Georgia members have worked for this cause since May with an inaugural Mother Daughter Tea held in Winder, Georgia. Each month, an activity or event is scheduled to benefit the project. Tina Neese, the GFWC Georgia President's Special Project Chairman, has ensured that the events and activities are scattered around the state to allow all club members to participate in this special endeavor.
Since May, members have participated in hands-on work days at several Wellspring sites, created birthday boxes in honor of Kim's July birthday; collected change in the "Be the Change" challenge at Summer Institute as well as hosted speakers from Wellspring at that meeting; prepared back to school backpacks; supported a day at the Atlanta Braves game benefiting Wellspring; collected and prepared Thanksgiving boxes; and donated time and talents to support the Georgia Festival of Trees, which benefits Wellspring Living, by creating trees, wreaths, centerpieces, and nativity scenes for the festival auction. Some members also worked tirelessly at the Santa's Secret Shop festival, where children can purchase and wrap holiday gifts for their family members with the assistance of "elves!"
GFWC Georgia is well on its way to achieving a two-year goal of $50,000 in donated goods and monies for Wellspring. Showing their Purpose + Passion, members are creating Power for those whom Wellspring Living serves. To date, the collective efforts of their work have generated almost $20,000 in donations. Georgia members are genuinely Living the Volunteer Spirit!
Virtual Leadership: Hosting a Remote Meeting
By Suzanne Simons, GFWC Leadership Committee Member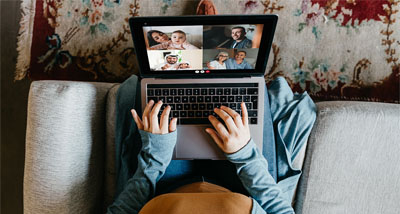 PC Magazine's article, Zoom Alternatives: Best Free Group Video Calling Services for 2022.   One of the most well-known and popular platforms for video conferencing is Zoom. Take the time to learn what you can do with a free account and the benefits of using a paid version. Whichever one you decide to use, you must invest the time and effort to become familiar with the platform, what it offers, and its limitations. For instance, learn to place a video, PowerPoint slides, or a picture into the presentation. What do you do if you need to take a vote, how to do it anonymously and print out the tally for your club minutes, and does your chosen platform allow this without a paid membership?  There are many tutorials online and in books. You can also sign up for virtual lessons from the company. Stretch yourself and learn new things. Remember to do your homework, investigate, research, and try it out. It also helps to gather a small group together when trying something new. Sparkle and Glitter On!

Video conferencing is here to stay. There are many available sites to use for a virtual meeting. For a list of sites with pros and cons, check out

Registration Open: GFWC Advocacy Training Series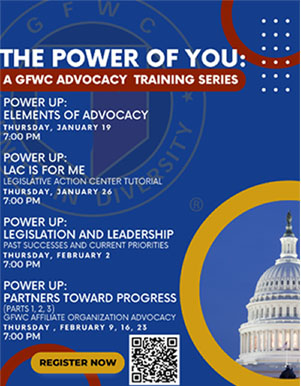 The Power of You: A GFWC Advocacy Training Series is open! GFWC members will learn civic engagement strategies to influence local, state, and federal government officials. The webinar series will start in January 2023, each Thursday evening at 7 pm ET, with the first on January 19. Each episode will be 45 minutes to one hour in length with Q & A, as time allows. You can register for the entire series or single episodes of your choice. To learn more, contact Darrell Jones, Programs Manager, at DNJones@GFWC.org.

Registration for the GFWC webinar series,

GFWC Member Portal FAQs and How-To Videos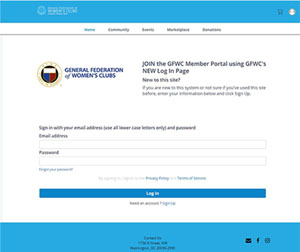 Clubwomen have access to a wealth of information, resources, GFWC merchandise, and fun and informative events through the GFWC Member Portal. Whether you are wondering how to sign up for an account of your own, register for events, purchase items from Marketplace, or want to learn more about GFWC Community Service Programs in the Club Manual, you can find answers to these questions and more by checking out the Member Portal FAQs page. This useful tool, which is published within the GFWC Resources section of www.GFWC.org, includes sections on general GFWC Member Portal inquiries, navigating the Digital Library, registering for GFWC events, placing orders with Marketplace, making donations, and more. The step-by-step answers will help guide you through many common questions and concerns regarding the GFWC Member Portal, from resetting your account password to accessing GFWC logos, emblems, and icons. Along with these instructions, GFWC has created helpful how-to videos you can watch on YouTube for additional assistance. If you can't find the answer you are looking for in the Member Portal FAQs, please don't hesitate to email GFWC@GFWC.org, and someone will assist you with your inquiry.
GFWC Marketplace: Two Pocket Folders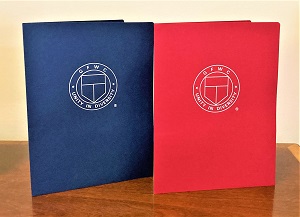 A great folder to have all your essential information about GFWC! The beautifully crafted foil stamped, letter size, two pocket folders features a portrait orientation, GFWC emblem foil stamped on the front cover, rounded corners, standard business card slot in right pocket, and two 4 1/4″ v-split pockets. GFWC's Facebook, Twitter and website are featured on the back cover to help members find GFWC online. Available in classic red or navy.
For information on mail service in your area, visit the USPS Service Alerts page. To expedite the processing of your order, please complete your purchase via the GFWC Member Portal.
GFWC
www.GFWC.org

---
If you no longer wish to receive these emails, click on the following link: Unsubscribe
---
This message was sent by General Federation of Womens Clubs using MemberSuite, Inc.
General Federation of Womens Clubs 1734 N St NW Washington, DC 20036-2990