February 9, 2023
View our Important Dates page for upcoming events and milestones.
The Registration Derby Begins Here  
By Dara Bergdoll, GFWC Credentials Chairman

AND THEY'RE OFF!Get ready for the 2023 GFWC Annual Convention on June 10–12 in Louisville, Kentucky!  The Credentials Committee members: Karen Leach, Andrea Lilly, Marianne Maynard, Marianne Potter, Marjean Sizemore, Carol Waters, and I anxiously await your arrival at the starting gates, aka the registration desk. We plan on a fast track to get you past the quarter pole and help you obtain your credentials. Then you'll be on your way down the backstretch to food, racing, bourbon, Federation, and fun with your best friends across the board! Before post time, the Credentials Committee members will verify the voting status of all attendees. If we have any questions, we might call you.  Not sure if you can vote? Voting privileges are granted only to those registered for the entire Convention. Attendees paying daily registration do not have voting privileges. Grab the reins and check out the Credentials and Voting page in the "Call to Convention," which will be made available online. All levels of voting eligibility are explained to help you identify your status: • National Organization or International Affiliate • GFWC National or International Club • Region Level • State Level • State Board Level • Club Level The Early Bird Registration ends on April 1, and registration closes May 15. Break out of the starting gates and register for the 2023 GFWC Annual Convention today and let us help you cross the finish line! Registration Hours at ConventionWednesday, June 7:   3:00 p.m. – 7:00 p.m. Thursday, June 8:   8:00 a.m. – 11:00 p.m. and 2:00 p.m. – 5:00 p.m. Friday, June 9:   7:00 a.m. – 11:00 a.m. and 3:00 p.m. – 6:00 p.m. Saturday, June 10:   8:00 a.m. – 9:30 a.m. and 3:00 p.m. – 5:00 p.m. Sunday, June 11:   2:00 p.m. – 4:00 p.m.  

They're in the starting gates…

Leadership L.O.V.E.

By Suzanne R. Simons and Candi Aubin, GFWC Leadership Committee Members
"Love is Leadership; lead people with love." -Dolores Gonzalez

L.O.V.E  ̶  Let's break down this word into the characteristics of a leader.L – Listen: Everybody needs to be heard, no matter who they are, your loved ones, or your club members. Showing that you pay attention to their voice shows you value their work. O – Open: A true leader has a genuine open-door policy. Besides being approachable, you also should open your mind to new ideas, suggestions, or feedback. V – Value: Are you a values-based leader? Does your style of leadership reflect a selfless attitude? Great leaders show others that they are valued and appreciated. When others feel valued, they work more productively, hold themselves accountable, and are less likely to leave. E – Empowerment: Include your team in decision-making and give them the space and role to capitalize on their expertise, strengths, and judgment. As a result, empowering your team will increase their worth and commitment.

Did you know that Saint Valentine's Day first occurred in Paris on February 14, 1400?  One hundred forty-five million greeting cards are exchanged yearly for Valentine's Day. That's just in the United States alone, according to Hallmark. Eight billion candy conversation hearts are manufactured annually. Approximately 250 million roses are grown for Valentine's Day! As women of the General Federation of Women's Clubs (GFWC), we can use Valentine's Day to show our leadership skills. What comes with the thought of Valentine's Day?

Cares & Concerns 

GFWC extends its deepest condolences to GFWC North Dakota President Karen Retzlaff on the passing of her daughter, Katherine A. Carlisle, 42, of Fargo, North Dakota, on January 14, 2023. A Celebration of Life is scheduled for 11:00 a.m. on Saturday, February 11, 2023, at Sundahl Lutheran Church in Aneta, North Dakota. To offer words of sympathy, please visit Katherine's guest book. Cards can be mailed to the family at 11995 19th Street, Aneta, ND 58212.

Region President's Projects: Supporting Special State Projects in New York, New Jersey, Delaware, and Pennsylvania 

By Mary Pat Marcello, GFWC Middle Atlantic Region President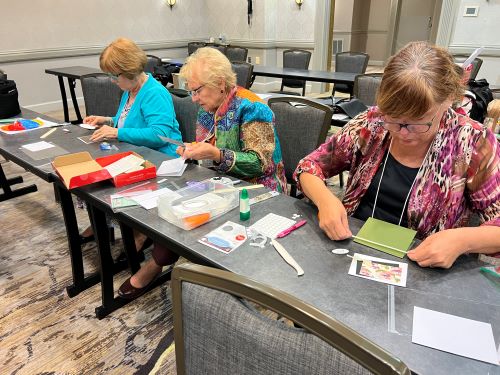 "thinking of you" greeting cards to share with NAMI clients. This fun activity enabled members to share in the positive outreach provided by NAMI.  Additionally, 73 postcards were written to the eight U.S. Senators who represent the four MAR states urging passage of The Family Violence Prevention and Services Act (FVPSA). Members were also invited to write personal notes of support and encouragement to women whose journey through breast cancer is ongoing, using templates developed by "Girls Love Mail," a project reported during the GFWC Board of Directors meeting in August 2022.   Members attending the 2023 GFWC Middle Atlantic Region Conference in Atlantic City, New Jersey, will be encouraged to support the GFWC New Jersey Special State Project Emmanuel Cancer Foundation, that provides direct services to families dealing with pediatric cancer. GFWC MAR members from New York, New Jersey, Delaware, and Pennsylvania have HEART!
In October 2022, 95 GFWC Middle Atlantic Region (MAR) clubwomen made a difference! Because GFWC MAR has not named one single agency on which to focus efforts during this administration and Conference weekend, we will support the Special State Project of our host state. Members from New York, New Jersey, Delaware, and Pennsylvania came together to learn, share, and have fun while supporting GFWC New York's Special State Project, National Alliance on Mental Health (NAMI-NY). NAMI-NY provides advocacy, education, support, and public awareness so that individuals and families affected by mental illness can build better lives. Mary Bartlett, Chairman and President of the Board of Directors of NAMI NY, shared her story and the work of the many dedicated staff members and volunteers who provide public education and information activities, peer education, and support and strive to raise awareness and fight the stigma of mental Illness. In support of that mission, MAR members assembled more than 100 individually created
State President's Project: The Welcome Mat is Out 
By Susette Redwine, GFWC Kentucky President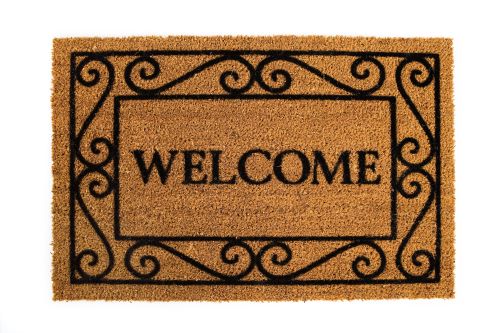 In October 2022, GFWC Kentucky rolled out its welcome mat to receive its Southeastern Region (SER) sisters to Lexington, Kentucky. State Night Banquet.  GFWC Kentucky was excited to receive the first GFWC Southeastern Region President's Special Project Award for tornado and flood relief.  To date, and with the assistance of others in GFWC, $18,400 has been donated to our friends and clubwomen in Eastern Kentucky.   The welcome mat is staying out as it will soon be time to welcome many more of you to Louisville during the 2023 GFWC Annual Convention, June 10-12.  Louisville is a city that doesn't sleep.  Come early or stay a day or two after the convention.  There is lots to do and see in Derby City.  Don't forget your Derby Hat for State Night!   Many clubs have increased in membership during this Administration by being welcoming to new members and welcoming back returning members.  GFWC Kentucky is using the welcome mat to increase membership, and it's working! 

One of the highlights was attending races at Keeneland Racetrack.  Some of our friends took home green cash while others, well, others took home nice souvenirs from the track.  The weekend was so fun spending time together and previewing Derby Hats at the

Volunteers in Action: GFWC Woman's Citizenship Club of Alamosa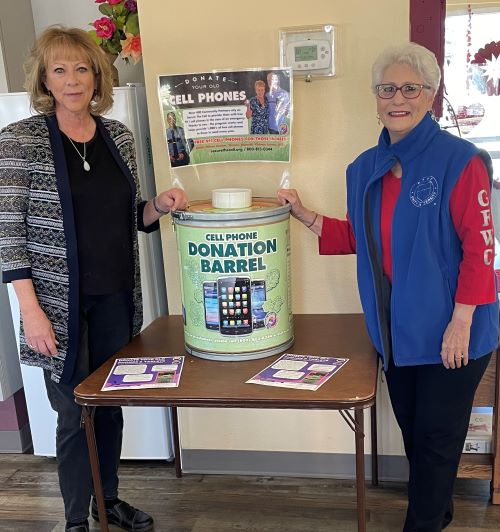 Photo Caption: Lynette Cotton, Director of Alamosa Senior Citizens, Inc., and Theresa Rudder, member of GFWC Woman's Citizenship Club filling the barrel with used cell phones.

Many clubs have enthusiastically joined with GFWC in our work with Secure the Call, a national 501(c)(3) organization that repurposes old cell phones and tablets into free emergency call phones, distributing them to local organizations that serve and assist victims of domestic violence. The GFWC Woman's Citizenship Club of Alamosa in Colorado recently partnered with the Alamosa Senior Center to collect devices. February 28. Our thanks to the many clubs who are participating, helping GFWC to reach its goal of collecting 7,500 phones and tablets! To read more on GFWC Volunteers in Action, visit the Blog. To submit your club's community service activities, please send an activity summary with a photo to PR@GFWC.org.

These drives end on

Robert's Rules of Order Newly Revised (RONR) and Meetings 

By Diane Addante, RP, GFWC Parliamentarian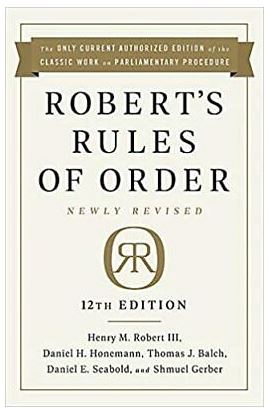 "First Wednesday of the month, September through June."  A Standing Rule should fix the place and time of your meetings. Business not completed at the end of a meeting may be carried over to the next regular meeting as "Unfinished Business."  If planning to consider that business beyond the next regular meeting, RONR suggests referring the topic back to the committee for a future report.  Saving anything beyond the next meeting is discouraged.  Special Meeting: A special meeting is called when something arises between regular meetings requiring action, or if a session is needed for particular matters.  Special meetings can only be called if authorized by the bylaws or the assembly.  This authorization should state by whom the meeting may be called and how much notice must be given beforehand.  Generally, the only business at a special meeting should be that for which it was called.  RONR specifies how to determine notice:  Unless otherwise stated in bylaws, the number of days is computed by counting all calendar days, excluding the day of the meeting, but including the day the notice was sent.  Adjourned Meeting: This is a continuation of the previous regular or special meeting.  It is scheduled for a particular time and place by the assembly's "adjourning until" that time and place.  This allows a club to complete its work at a convenient time before the next regular meeting.  This is accomplished by moving to "fix the time to which to adjourn" or to "adjourn until the specified time."  The adjourned meeting resumes at the point where the order of business was interrupted, except that the minutes of the preceding meeting are read first. RONR (12th ed.) 9:1-19      

We are all familiar with meetings!  If you meet on a regular schedule, that should be in your Bylaws, for example,

The "Power Up: Partners Toward Progress – GFWC Affiliate Organization Advocacy, (Part 1 of 3)" on Thursday, February 9, at 7 p.m. ET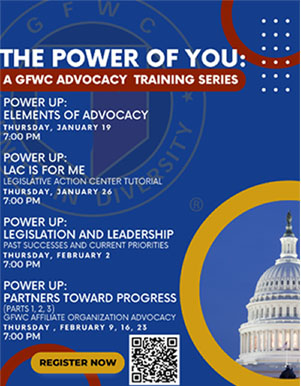 "Power Up: Legislation and Leadership" webinar turned out a record number of attendees. The GFWC Legislation/Public Policy Committee is pleased to report that when polled, participants indicated that they see the importance of GFWC's policy work and the majority of members are willing to participate in the legislative process when a "Call to Action" is needed. Debra Bryant, president of Unified Solutions and GFWC Public Policy Consultant, reviewed the legislative successes of the 2020-2022 Administration and outlined legislative priorities moving forward. Bryant underscored the importance of GFWC clubwomen participating in the Legislative Action Center (LAC) by quoting Ann Richards, former Governor of Texas from 1991 to 1995, "If you aren't at the table, you are on the menu." She explained to participants that GFWC's role within the Legislative Branch is legendary, as she shared the story of her mother, GFWC Past International President Juanita Bryant's (1982-1984) presenting testimony before the North Carolina General Assembly regarding the Equal Rights Amendment. Next up is the "Power Up: Partners Toward Progress – GFWC Affiliate Organization Advocacy (Part 1 of 3)" tonight at 7 PM ET. Please join us to hear from GFWC Affiliate Organizations: Shot@Life, Hope for Justice, and Canine Companions.

Last week's

2023 Success for Survivors Scholarship – Deadline for Submission Friday, February 10, 2023
GFWC Signature Program: Domestic and Sexual Violence Awareness and Prevention, the GFWC Success For Survivors Scholarship was created in 2012 to lend a helping hand to those impacted by intimate partner violence who are pursuing higher education. The scholarship aims to provide survivors with a means to achieve both financial and personal independence. Since its inception, GFWC has awarded more than $97,500 in scholarship funds.

As part of the

For more information, download the "2023 GFWC Success for Survivors Scholarship" form.

GFWC Learning Gateway Webinar Series: March 22, April 18, and April 25 – Mark Your Calendar

By Jolie Frankfurth, GFWC Second Vice President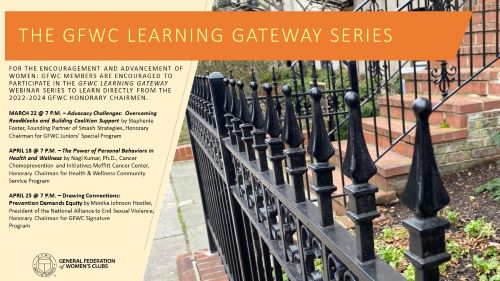 "centre of unity" that had neither a charitable nor socio-economic purpose but sought what she termed the "collective elevation and advancement of women." As women's clubs began forming across the country, they became a center of educational encouragement and a sort of college for women who wanted to learn.  To celebrate Women's History Month, GFWC invites you to participate in the GFWC Learning Gateway webinar series to learn directly from the 2022-2024 GFWC Honorary Chairmen. The first three offerings include Signature Program Honorary Chairman Monika Johnson Hostler, President of the National Alliance to End Sexual Violence; Juniors' Special Program Chairman Stephenie Foster, Speaker, Author, Women's Advocate, and Co-Founder of Smash Strategies; Health and Wellness Chairman Nagi Kumar, Ph.D. Director of Cancer Chemoprevention at Moffitt Cancer Center.  Visit the GFWC Member Portal to register today.

When Jane Cunningham Croly was denied entrance to hear Charles Dickens speak in New York City, she formed the first women's club, Sorosis — meaning a

A Woman's Journey – Conversations that Matter Webcast: Sex Differences in Stroke Recovery, February 21, at 7 p.m. ET 

A Woman's Journey  ̶  Conversations that Matter Webcasts" takes place the second Tuesday of each month with a live discussion, including Q&A moderated by Kelly Geer Ripken, A Woman's Journey national chair. GFWC club women are invited to participate in this free webcast series. The next one is scheduled for Tuesday, February 21, at 7 PM ET:  Sex Differences in Stroke Recovery. Learn about the many differences between men and women, particularly regarding stroke prevention and recovery. Join Elisabeth Marsh, M.D., cerebrovascular neurologist and director of the comprehensive stroke center at Johns Hopkins Bayview Medical Center, as she explains differences in stroke etiology and recovery, and what women can do to help prevent a stroke.  Early registration is recommended for this free webinar. 

The Johns Hopkins Medicine "

UNICEF Virtual Field Trip: Ukraine War, One Year On – Livestream February 22 at 11 a.m. – 12 p.m. ET

It has been 365 days of violence, trauma, loss, destruction, and displacement for the children of Ukraine. This war has robbed them of 365 days of birthdays, school memories, time with friends. But it has also been 365 days of children demonstrating incredible strength, courage, support, and love. Support must continue to make sure that it doesn't rob them of their futures.

Join UNICEF in an exclusive trip to the field, assessing the impact of the war and the resulting refugee crisis. We will show how partners' overwhelming financial and non-financial support of UNICEF's work has greatly impacted the lives of millions of children during this crisis. We will speak live to colleagues involved in the management of Blue Dots and Spilno centers, which contribute to keeping education ongoing for children, and we will see how UNICEF provides children and their families shelter and how UNICEF supports the health system. We will understand the challenges that the winter brings to the country. Our journey will also take us to the neighboring nations, where Ukrainian families were welcomed, and their children successfully enrolled and integrated in local schools.livestream on Wednesday, February 22, from 11:00 am – 12:00 pm ET.

  Please be sure to tune in for the
GFWC
www.GFWC.org