July 14, 2022
View our Important Dates page for upcoming events and milestones.
Celebrating the Volunteer Spirit in The Big Easy
GFWC clubwomen celebrated the volunteer spirit during the 2022 GFWC Annual Convention, when Federation members from around the world gathered in New Orleans, Louisiana.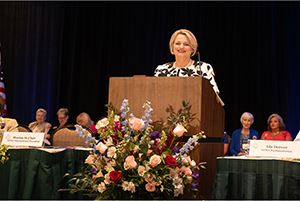 The good times started rolling in The Big Easy with pre-Convention tours of the National World War II Museum and the Oak Alley Plantation as well as a cooking class at the New Orleans School of Cooking. Along with other pre-Convention activities, the first evening in New Orleans brought the "Saints Marching in" at the Mardis Gras-themed Celebration Banquet. Hearing from Keynote Speaker Aimee Everrett, Curator of the Williams Research Center with the Historic New Orleans Collection, who shared notable stories about influential women in New Orleans history, was another highlight of the day.
On the morning of June 25, the day began with the Opening Ceremony Processional and 2020-2022 GFWC International President Marian St.Clair officially welcoming the membership to the Convention during the Saturday Morning Business Session.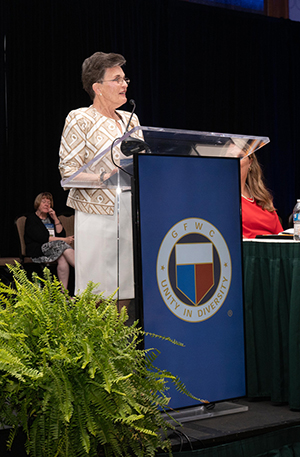 Throughout the Convention, the Business Sessions demonstrated members' interest and commitment to the Resolutions process. Delegates participated in the consideration of Resolutions with questions, discussion, proposed amendments, vote(s) of opposition and approval, and votes to refer back to committee.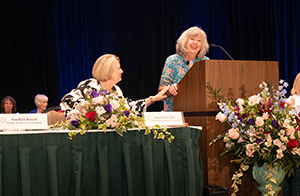 In addition to passionate discussion during the Resolutions process, the Business Sessions were filled with smiles during the various keynote speeches. Speakers included Carol Reese, a columnist for several gardening nature newspapers and a recently retired Extension Horticulture Specialist with the University of Tennessee's West Tennessee AgResearch and Education Center in Jackson; Seconde Nimenya, an Award-Winning Author and Diversity and Inclusion Consultant; and Karen White, a New York Times best-selling author.
After spending the days at Business Sessions, workshops, and other exciting activities, members had the opportunity to enjoy the "Pennies from Heaven" Junior Awards Banquet, "Putting on the Pearls" Junior Fun Night Fashion Show, and the "All That Jazz" GFWC Gala Banquet.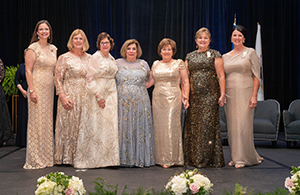 Among the highlights of the 2022 GFWC Annual Convention was the beautiful Installation Ceremony for 2022-2024 GFWC International President Deb Strahanoski, President-elect Suellen Brazil, First Vice President Wendy Carriker, Second Vice President Jolie Frankfurth, Secretary Mary Beth Williams, Treasurer Becky Wright, and Director of Junior Clubs Katie Moydell.
Convention Photos
Thanks to our Official Convention Photographer Laura Bergman with LoloB Designs, GFWC is able to offer you many professional-quality photos of Convention at no cost. To view photos, visit our 2022 GFWC Annual Convention photo album.
Click on the arrow in the lower right corner of each photo to download individual images. To download an entire folder, click the arrow in the upper right corner of the screen. You will be prompted to enter your email address, which you will need to verify by clicking on a link when receiving an email. After doing so, you will receive a second email with an option to download the entire photo album.
In addition to this free album, visit LoloB Designs to purchase other photos from the event.
We hope to see you in Louisville on June 10-13, 2023!
Operation Smile Offers Families a New Beginning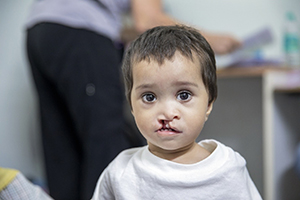 July is National Cleft and Craniofacial Awareness and Prevention Month and GFWC clubwomen can recognize this observance by learning more about the work Affiliate Organization Operation Smile is doing to provide children with new beginnings and brighter futures.
Among the many people this organization has helped are Tasheen and her daughter, Dilfa, who was born with cleft lip. When Dilfa was born, Tasheen had never seen or heard of anyone with a cleft condition before, and immediately began to blame herself and a lack of access to nutritious foods throughout her pregnancy for her daughter's condition.
It's currently difficult to identify the exact cause of a specific person's cleft condition, but potential causes can be hereditary, environmental, or a combination of both factors. Despite her concerns, Tasheen wasn't at fault.
Tasheen's uncertainty about how to help her daughter turned to hope shortly after Dilfa's birth when doctors told the family that surgery could repair her cleft condition. They were referred to a hospital–unaffiliated with Operation Smile–in Banaras, India, for further evaluation.
Read more about Tasheen and Dilfa's story in Operation Smile's Stories You Make Possible Blog.
Operation Smile extended their gratitude to clubwomen for their support and advocacy throughout the years. Thanks in part to this support, the nonprofit was able to raise more than $70,000 in monetary donations and Gift in Kind Service Project items in the past year.
For more information about how your club can support Operation Smile, email GFWC Liaison Lizzy Plumb at lizzy.plumb@operationsmile.org.
Cares & Concerns
GFWC extends its sympathies to 2022-2024 Annual Giving Program Chairman Shelli Fehr whose father-in-law, Eldon Fehr, passed away on July 12. Please keep Shelli and her family in your thoughts.
Ann Durall, GFWC Tennessee Past State President (2006-2008) and 2016 Jennie Award Winner, passed away on July 10. Cards may be sent to her husband and family at: Jim Bob Durall, 937 Marlin Circle Jupiter, FL 33468.
It is with great sadness that we announce the passing of Reverend Marguerite "Peggy" Gutt, GFWC Michigan Past State President (1994-1996), on June 25. Peggy also served as State Parliamentarian for many Administrations.
Volunteers in Action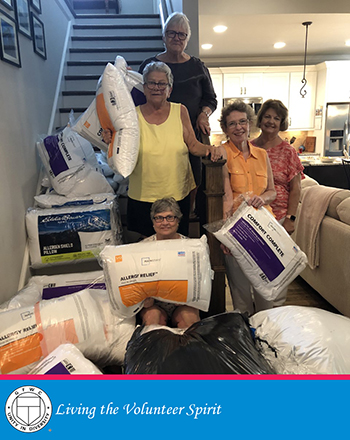 This week's GFWC Blog features GFWC Millville Woman's Club (New Jersey) and GFWC Valamont Woman's Club (Tennessee). Read how clubwomen supported a program to offer a "mini college experience" to local high school students and donated new pillows to an area nonprofit that offers housing and other services to women and children experiencing homelessness.
Have a success story to tell? Email PR@GFWC.org to have your club project considered for the GFWC Blog.
GFWC Celebrates Passage of Bipartisan Safer Communities Act at the White House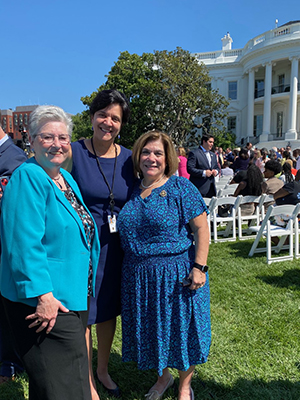 (From left) Debby Bryant, GFWC Legislative Consultant; Rosie Hidalgo, Special Assistant to the President and Senior Advisor on Gender-Based Violence; and GFWC International President Deb Strahanoski
On July 11, GFWC International President Deb Strahanoski attended the White House celebration with President Joe Biden of the passage of the Bipartisan Safer Communities Act, the most significant gun safety bill enacted by Congress in decades. Attendees included survivors, victims' families, members of Congress, governors, mayors, advocates for domestic violence prevention and services, law enforcement, education officials, mental health advocates, and advocates against gun violence including Everytown for Gun Safety, Moms Demand Action, Brady Campaign, and Giffords. A pediatrician from Uvalde, Texas, spoke of the trauma paralyzing his community and the son of a Buffalo grocery store shooting survivor shared his family's experience. President Biden and Vice President Kamala Harris praised Congress for action but acknowledged there is more to do to make communities safe from gun violence.
View our photo album of the visit.
Introducing GFWC's Annual Giving Program: Honor the Legacy, Inspire the Future
By Shelli R. Fehr, Annual Giving Program Chairman
GFWC members have always been generous with their time and money, and now is the time to Honor the Legacy and Inspire the Future by making a significant annual investment in GFWC. To simplify giving, GFWC introduces the Annual Giving Program. Now, donors can contribute to any GFWC area and their donations will be combined, tracked cumulatively, and recognized when certain levels of giving are reached!
To kick off this new program, Quarterly Giving Recognitions have been established. During the first quarter–July to September–a "thank you" recognition is sent to the first 100 donors who make a $100 or more contribution. To be one of the first 100, complete the Annual Giving Program Donation Form, available in the "A" Resources folder in the Member Portal Digital Library. Then mail the form to GFWC Headquarters with your check, including "Annual Giving Program" on the memo line, or call GFWC Headquarters at 202-347-2937 with your credit or debit card information and email the form to AnnualGiving@GFWC.org. The Donation Form must accompany every monetary donation to GFWC so that a donor's contributions can be tracked accurately.
Look for more details about this exciting new program in upcoming News & Notes and the Fall GFWC Clubwoman Magazine. The complete Annual Giving Program description can be found in the Club Manual in the Digital Library as well. Honor the Legacy and Inspire the Future of GFWC by giving today!
Engage with Your Local Libraries
By Sandy Hauenstein, Education and Libraries Chairman
Bring Sparkle to Public Libraries is the Education and Libraries Community Service Program's Community Connection Initiative for this Administration, and we are excited to have clubwomen take a significant role in working with their local libraries. The opportunities are endless! You can start this adventure by establishing a working relationship with your local librarian, discussing ways clubwomen can volunteer and advocate for the library, and planning activities sponsored by your club to expand the awareness in the community of the many benefits available at the library.
Do you know the history of your library? Was it started by a women's club? This can be an interesting project for your club, and you can send the history you learn to this chairman to be included in a newsletter article or PR@GFWC.org to be considered for the GFWC Blog.
Let's not forget about our public schools and their needs, including books on STEM. Consider a Little Free Library or a Laundry Library to get books in the hands of everyone in your community.
Are you an ESO member? Do you enjoy reading and sharing in discussions about the books you read? Consider joining this worthwhile group and check us out on Facebook.
Are you a published author? We are compiling a list of clubwomen authors to add to the ESO reading list. Please send your name, contact information, and book titles to sandygfwc@outlook.com.
Check out the 2022-2024 Club Manual in the "C" Resources folder of the Member Portal Digital Library for many sparkling ideas.
GFWC Leadership Committee Is Here for You
By Susan Gettys, Leadership Chairman
The GFWC Leadership Committee is excited to share its goals for this Administration. Goal number one is to build or enhance LEADS at the state level to provide leadership training for all members. LEADS at the Annual Convention can then become Level Two training for leadership. Members of the GFWC Leadership Committee represent each of the Regions and will be reaching out to State Presidents and Directors and State Leadership Chairmen to offer assistance in creating or enhancing state LEADS programs.
Goal number two is to add resources to the Leadership Toolkit in the Member Portal Digital Library. A fourth section has been added to include Resources for Developing State LEADS Programs. Currently, there are sample agendas for 90-minute, two- or three-hour, half-day, and full-day programs. More resources will be added soon to include PowerPoint Presentations, scripts, and handouts for topics that can be delivered within your states.
Members from all states are encouraged to reach out to the GFWC Leadership Committee with ideas for additional resources that need to be added to the toolkit. If topics need to be researched and presentations developed, please contact one of the committee members, and the presentation and accompanying materials will be created. We want your feedback to ensure the toolkit has the resources that you need to be effective in your leadership roles.
GFWC Leadership Committee members include Susan Gettys, Chairman, GFWC Mississippi Valley Region; Candi Aubin, GFWC Southern Region; Deb Brossard, GFWC Great Lakes Region; JoAnn Calnen, GFWC New England Region; Jan Hanson, GFWC Middle Atlantic Region; Ann Landis, GFWC Southeastern Region; Betty MacMaster, GFWC Western States Region; and Suzanne Simons, GFWC South Central Region. Contact information is listed in the Leadership Advancement Plan in the Club Manual found in the "C" Resources folder of the Digital Library. Please feel free to contact your representative for any of your leadership needs.
GFWC Marketplace: GFWC Bling Pin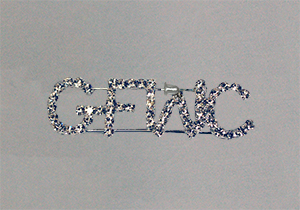 Show off your GFWC spirit in style with the GFWC Bling Pin! The rhinestone pin measures 3/4" by 2-1/2" and includes a pin and clasp. This pin will be the perfect way to add a bit of sparkle to any outfit or bag this spring. Order yours today.
For information on mail service in your area, visit the USPS Service Alerts page. To speed up processing of your order, we request that you pay for your order at time of purchase in the Member Portal.
GFWC
www.GFWC.org