October 6, 2022
View our Important Dates page for upcoming events and milestones.
Recognize Domestic Violence Awareness Month this October
By Monika Johnson Hostler, Signature Program Honorary Chairman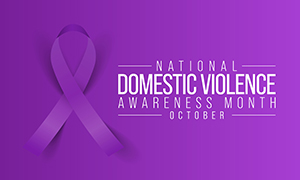 In a previous edition of News & Notes, I discussed the importance of acknowledging and promoting awareness months. This month's article highlights Domestic Violence Awareness Month (DVAM), which is recognized each October. In October, people easily recognize the pink ribbon for Breast Cancer Awareness Month. However, in 1989, October was declared DVAM, and since then the violence against women movement began to use purple ribbons to promote awareness.
Domestic violence is a pattern of controlling and coercive behavior that includes physical, emotional, financial, and sexual violence in the context of a relationship.
Observing awareness months is an opportunity to reflect on the resilience of survivors, perseverance of advocates, and the roles our community can take to support survivors and the efforts of community-based programs. Each quarter we will provide an overview and the intersections of sexual violence, domestic violence, human trafficking, and child abuse. We will also highlight the voices of the many courageous survivors who have made tremendous contributions while overcoming trauma. Additionally, we will provide resources, prevalence data, and opportunities to actively participate in generating awareness in your community. It is also a moment to acknowledge sexual assault, domestic violence, and human trafficking survivors and advocates whose voices and leadership have created change and who have dedicated their lives to eradicating gender-based violence.
Gender-based violence refers to multiple forms of harm directed toward a person based on their gender. It is most referenced internationally as a human rights violation, an abuse in power, and rooted in gender inequity. You will also hear the term Violence Against Women, based on the federal Violence Against Women Act. Both terms are used as a catch-all for sexual assault and domestic violence. These terms are defined in federal statute; however, we will dive deeper into the definitions and public discourse over the next year.
Each of these forms of violence thrive in secrecy and shame. It is important to remember that prevention, education, and awareness are fundamental to creating a society free from violence and one where people can thrive.
For helpful resources and information, visit the Centers for Disease Control and Prevention, National Coalition Against Domestic Violence, National Domestic Violence Hotline, National Network to End Domestic Violence, National Resource Center on Domestic Violence, and the National Sexual Violence Resource Center.
Organize a Cell Phone Drive to Support Secure the Call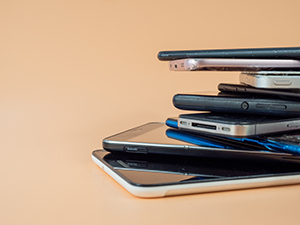 This year, in recognition of October as National Domestic Violence Awareness Month, GFWC has partnered with Secure the Call, a 501(c)(3) organization, to aid them in their mission to provide free emergency devices to domestic violence shelters throughout the U.S.
For the past 20 years, Secure the Call has been asking people across the U.S. to donate their old, unwanted devices, which they repurpose into free emergency call phones. These life-saving devices can call 911 without a service contract and ensure that help is never out of reach for individuals in abusive relationships.
From October 1 to February 28, we're inviting all GFWC clubs to hold a drive to collect the devices they need for their program. We aim to help Secure the Call collect 7,500 phones and tablets to meet their expected demand for 2023.
Holding a drive is easy and Secure the Call will provide marketing materials and pay all shipping charges to send them the devices your club collects.
To get started on planning your cell phone drive, visit www.securethecall.org/GFWC.
Help Support Relief Efforts in Florida after Hurricane Ian
Members of GFWC Florida are staying strong as they endure trying times in light of the devastation left by Hurricane Ian. GFWC Florida State Leaders explained that an Emergency Disaster Fund has been established with the purpose of helping those in need. If you would like to donate, checks can be mailed to GFWC Florida's Headquarters at 4444 Florida National Drive, Lakeland, Florida 33813. Please write "Emergency Disaster" in the reference line of the check.
They have heard from many of their fellow clubwomen and appreciate all the thoughts and prayers and they can feel the GFWC love. Additional information may be made available as GFWC Florida continues to identify areas of need.
Cares & Concerns 
It is with great sadness that we announce the passing of Bessie May Stevenson, GFWC Wyoming Past State President (2008-2010) and GFWC Wyoming LEADS Candidate (2004), earlier this year. Bessie loved to volunteer and was always ready to help others in need.
Volunteers in Action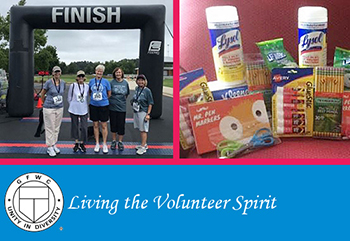 This week's GFWC Blog features The Woman's Club of Clayton (North Carolina) and GFWC North Central Junior Alumnae Club (West Virginia). Read how North Carolina clubwomen are volunteering their time and funds to support a local home and counseling center for girls and how West Virginia members put together gift bags of school supplies for area teachers.
Have a success story to tell? Email PR@GFWC.org to have your club project considered for the GFWC Blog.
Commemorate the International Day of the Girl on October 11 
By Kathryn Sowers, International Liaisons Committee Chairman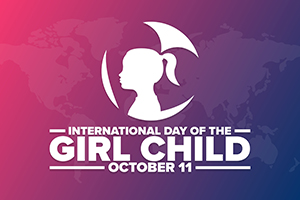 As we commemorate the 10th anniversary of the International Day of the Girl, we are reminded that when given the skills and opportunities, the world's 600 million adolescent girls can be the changemakers who drive progress in their communities. The International Day of the Girl focuses attention on the need to address the challenges girls face while promoting girls' empowerment and the fulfillment of their human rights.
On December 19, 2011, the United Nations successfully adopted the resolution of recognizing October 11, 2012, as the inaugural International Day of the Girl.
GFWC Affiliate Organization UNICEF USA states, "It is an opportunity to galvanize the international community, not only to celebrate the advances we have seen in girls' rights over the last decade, but also to take stock of where we must do more and renew our commitment. It is an occasion to allow us to put the voices of girls and young women at the center, providing space for them to lead the discussions and share with decision-makers their key messages for change."
Internationally, the GFWC Belize City Juniorettes have completed a wide variety of projects. One of these was Gift Giving to the Elderlies, which involved members giving presents to 49 residents at the Sister Cecilia Home for Elderly. Gifts included clothing, books, and puzzles. Another project consisted of members donating personal hygiene products to children with autism.
GFWC Belmopan Juniorettes have also helped with arts and crafts at a local foster home and donated books, jewelry, and craft supplies.
Be purposeful with including Juniorettes, children, grandchildren, and friends in your next community project. You can help these young people to be the changemakers of today and tomorrow.
Teal Pumpkin Project Promotes Inclusive Trick-or-Treating 
By Dale Fisher, Health and Wellness Chairman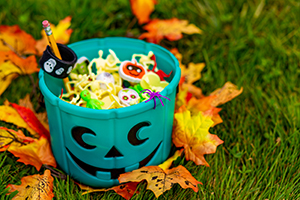 Did you know that according to Food Allergy Research and Education (FARE), one in 13 children live with food allergies, with peanuts and tree nuts, cow's milk, eggs, fish and shellfish, soy, and wheat being the most prevalent? For children with allergies, Halloween may be a sensitive time. Since both Advocates for Children's Week and Halloween are recognized at the end of October, consider participating in the Teal Pumpkin Project to make trick-or-treating safer and more inclusive.
Placing a teal pumpkin outside your home indicates that you are offering non-food goodies, such as spider rings and glow sticks–safe for all the little ghosts and goblins. Or participate in a community Trunk-or-Treat, which involves decorating the trunk of a member's car (of course using teal as an accent color) and filling it with an array of food alternative treats. Don't forget to include club information in your display. Make this holiday a treat for all children!
Visit FARE's website for more ideas and resource materials.
New Member Orientation Packet
By Nancy Ames, Membership Chairman
Autumn is here and many clubs are starting up again after the summer break. Although anytime is a good time to invite friends to club meetings and events, does your club hold a dedicated meeting to invite potential new members? Now is the time to have a New Member Orientation Packet handy.
Start with a basic folder–it doesn't have to be anything fancy–that you can pick up at most stores, a spiral binder, or simply an oversized envelope. Be sure to include your club's name and the GFWC logo on the front, which you can download from the GFWC Member Portal. You can also purchase folders in the GFWC Marketplace with the GFWC emblem already on them to give it a more professional look.
What should go inside this folder?
Start with club bylaws, which should be reviewed by the club's Bylaw Committee at the start of each administration.
A copy of the club's program for the year, including officers, club members, contact information, meeting dates, programs, and speakers. Also include all dates and locations for District, State, Region, and GFWC Conferences and Conventions.
A copy of the Collect and/or the Junior Pledge, if not already in the club program.
Include a state brochure in your packet if your state has one so potential members can see the impact your clubs have on the state level.
Encourage your club to use club brochures as an opportunity to share accomplishments in the local community and how the funds raised have been distributed. As a side note, clubs can also leave copies of their brochure at local chamber offices, doctors' offices, real estate offices, and other places of employment. Include contact information for follow up.
Always have several New Member Orientation Packets available at each meeting. You want to be prepared when a potential new member inquiries about your club!
Register Now for the Engage Beyond the Page: Meet the Author/Book Review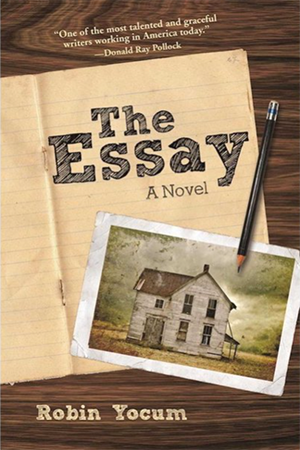 Register today to join GFWC for our first Engage Beyond the Page: Meet the Author/Book Review with Robin Yocum. The event will take place on Zoom at 7:00 p.m. ET on November 16. Registration for the event will also take place directly through Zoom. 2022-2024 GFWC Education and Libraries Honorary Chairman Robin Yocum is the Edgar-nominated author known for his fiction set in the Ohio River Valley. He is the author of six works of fiction including The Essay, our choice for the Meet the Author/Book Review, a novel about a young boy who grew up in a rural town in Appalachian Ohio with little hope for success. It's a story of finding the path that leads outside of one's current situation and the opinions of others. For our members who are educators, it will be a walk down memory lane as you remember students who surprised themselves and the adults who believed in them. Discussing a book with the author is a rare experience to gain more insight about the book, to learn about various inspirations, and to hear about what the author may be working on next.by Robin Yocum can be purchased on many online sites. You are encouraged to complete the reading prior to the book review. The Essay Register today through Zoom to join GFWC and Robin Yocum for this exciting opportunity. A brief questionnaire will be sent to those registered approximately one week prior to the book review.
Trick-or-Treat for UNICEF this October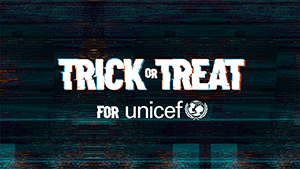 Add some meaning to your "Halloween-ing" this year by participating in GFWC Affiliate Organization UNICEF USA's Trick-or-Treat for UNICEF. Throughout the month of October, you will be able to make a difference through using the spooky QR code below to raise life-saving funds for children around the world! All you have to do is scan the QR code with your phone using the camera app and click on the link that appears. You can print out the QR code as a poster and hang it up on your door, in your window, or approved spaces in your community, email it to friends and family, or have it ready as you go door to door this Halloween.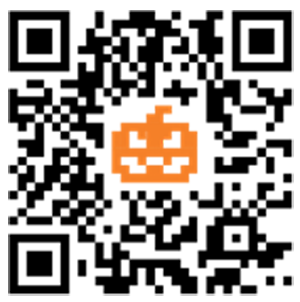 Those who still want to collect coins and dollars at club events, in your office, or in your community can download a printable canister wrapper. Don't forget to check out www.unicefusa.org/GFWC for more resources and post on your social channels!
How does your support make a difference?
$19 buys a tarp of heavy-duty plastic to provide protection from the cold winter wind.
$32 buys five thermal fleece blankets to keep five babies warm.
$55 buys a family in Ukraine an emergency family hygiene kit with a month-long supply of hygiene essentials for a family of five.
$60 provides one child with a two-month supply of ready-to-use therapeutic food, which can bring a malnourished child back to health in just weeks.
Johns Hopkins Webinar October 11
Johns Hopkins Medicine is offering a webinar at 7:00 p.m. ET on Tuesday, October 11, to reveal how computerized tomography, better known as CT or CAT scan, will impact a physician's ability to diagnose cancer during its early stages. Join Johns Hopkins radiologist Elliot Fishman, M.D., as they discuss how the use of three-dimension texture mapping and Artificial Intelligence will transform cancer diagnosis, treatment, and survival in the future. Visit the Johns Hopkins website to register for this event.
State President's Project: Grace Kobojek, Arizona
GFWC Arizona State President Grace Kobojek's Administration theme is The Value of One, the Power of Many Makes a "WE Can Do It!" Attitude. The theme is based on the World War II slogan, "We Can Do It!" and the Westinghouse Electric & Manufacturing "work-incentive" poster by artist Howard Miller. This theme sparked eight "We Can Do It! Actions" and several "GFWC Easy Do's" as part of the President's theme.
Inspired by GFWC International Past President Mary Ellen Brock's (2018-2020) Seven Grand Initiatives, Grace developed eight Actions that include recycling, assisting GFWC Affiliate Organizations, helping veterans, giving funding to help build a statue of an Arizona suffragist, increasing club membership, aiding animals, and increasing literacy. Lastly, the eighth Action is the cornerstone to the theme and involves giving an American flag to as many children in Arizona as possible and teaching about its importance as a symbol of the United States.
Thirty flags were given to each Arizona club to give to children along with a poem that describes why the flag is an important symbol of the U.S. The goal is for clubs to continue giving flags out throughout the Administration to see how many can be distributed. Clubs are encouraged to partner with a school or organization and work with the administration to instruct the children about this important symbol in a creative way. Support materials will be given to assist with this goal.
The "GFWC Easy Do's" are Actions that are simple to do within each club. A few examples are signing up for the GFWC Member Portal, GFWC News & Notes, and the Legislative Action Center alerts.
Grace's overall goal is to accomplish projects that positively impact communities in as many of the Community Service Programs as possible.
GFWC Marketplace: GFWC Notecards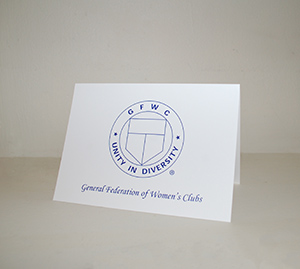 Saying "thank you" makes a difference, and these GFWC notecards featuring the Federation's logo on the front and mission statement on the back are the quintessential stationary to show your appreciation to your dedicated volunteers for all their accomplishments. Each pack includes 10 cards and 10 envelopes. Order yours today.
For information on mail service in your area, visit the USPS Service Alerts page. To speed up the processing of your order, we request that you pay for your order at the time of purchase in the Member Portal.
Update Your Member Portal Profile 
Please visit your profile in the Member Portal and verify that your name, contact information, and home address are correct. If these fields are not correct, select the pencil icon to make edits. If your primary club is incorrect, please email GFWC@GFWC.org for assistance. Past positions are currently being archived by GFWC staff.
GFWC
www.GFWC.org