February 23, 2023
View our Important Dates page for upcoming events and milestones.
Register Today for the 2023 GFWC Women's History Month Celebration — Wednesday, March 8, at 2-4 p.m. ET, in Washington, DC!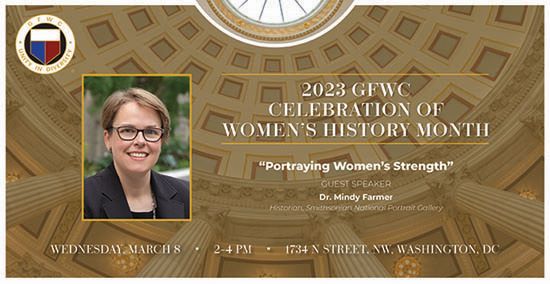 GFWC's 2023 Women's History Month Celebration! If you have not registered for this year's event, please do so soon. As previously mentioned, Dr. Mindy Farmer, historian, of the Smithsonian National Portrait Gallery will speak about "Portraying Women's Strength" through portraiture. Please note registration is limited to the first 100 attendees. Also, the event is in-person at GFWC Headquarters in Washington, DC. 

Join us for

"Power Up: Partners Toward Progress (Part 3 of 3)" Webinar — Tonight, February 23, at 7 p.m. ET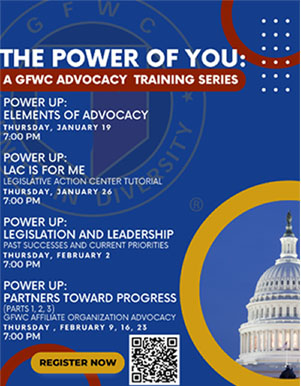 Register now to attend and receive the webinar recording. 

Last week, "Power Up: Partners Towards Progress—GFWC Affiliate Organization Advocacy (Part 2 of 3)" featured our affiliate organization's representative from UNICEF, who shared advocacy efforts and how you and your clubs can get involved.  During tonight's webinar attendees will hear from March of Dimes and St. Jude Children's Research Hospital.

GFWC Learning Gateway Webinar Series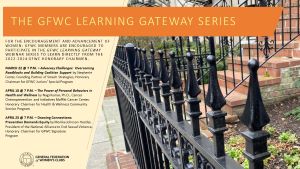 Member Portal, click on "Quick Links" for a drop-down tab "Webinars" to register.

To celebrate Women's History Month, GFWC members are invited to participate in the GFWC Learning Gateway webinar series to learn directly from the 2022-2024 GFWC Honorary Chairmen.  The first three offerings include Signature Program Honorary Chairman Monika Johnson Hostler, President of the National Alliance to End Sexual Violence; Juniors' Special Program Chairman Stephenie Foster, Speaker, Author, Women's Advocate, and Co-Founder of Smash Strategies; Health and Wellness Chairman Nagi Kumar, Ph.D. Director of Cancer Chemoprevention at Moffitt Cancer Center. Visit the

Early Bird Registration Open for 2023 GFWC Annual Convention  

Early bird registration is officially open! Click on the register for the 2023 GFWC Annual Convention. (To help you register, GFWC created a "Registration: How To Guide," which provides step-by-step instructions.) For complete information on the 2023 GFWC Annual Convention, see the "Call to Convention." GFWC is accepting ads for the "Convention Program." If you would like to place an ad, please complete the form and send it back to Nishu Raina at NRaina@GFWC.org. Please note that ads are due by Thursday, March 30.Also, the GFWC Fundraising Committee is collecting donations for the "Race to the Finish" fundraiser. Please sign up to donate. The deadline for submission is Monday, May 1. See you in Louisville!
Welcome Candice to GFWC 
GFWC is pleased to announce the newest addition to the team – Candice Gill as Design and Publications Manager. We look forward to making use of her creative skill set in graphic design and production. Welcome Candice, we're glad to have you!
President's Gem
By Deb Strahanoski, GFWC International President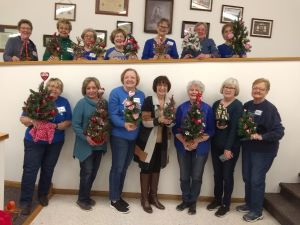 Living the Volunteer Spirit! With great honor, I'm delighted to recognize the GFWC Illinois Woman's Club of Bismarck for completing two Community Service Projects (CSP) this month. The first was for the Alzheimer's Unit at the Danville VA Medical Center by decorating 15 Valentine's Day trees for patients. The clubwomen took on this year long CSP to lift patients' spirits during significant holidays.  The club also gifted 23 adults and 15 children Valentine treat bags at Crosspoint Human Services's Y Domestic Violence and Transitional Shelter. The director of Y Programs, Cher Pollock, expressed  gratitude for brightening the residents' day. Thank you, GFWC Illinois Woman's Club of Bismarck, for making a difference in your community! I invite all clubs nationwide to continue sharing your good works within your communities by submitting stories and photos to GFWC National at PR@GFWC.org.
It's that time of month again to recognize one of GFWC's own that exemplifies our motto
Cares & Concerns 
It is with a heavy heart that GFWC extends its sincere condolences to International Past President Carlene Garner (2010-2012) on the loss of her son, Brent Arthur Garner, on February 4. You can send cards of sympathy to Carlene at 1874 North Hawthorne Drive, Tacoma, WA 98406. On February 16, sadly, GFWC Virginia Past President (1998-2000) and Southeastern Region Past President Jean Burcher (2006-2008) passed. Jean's family will receive friends at 9 a.m. on Friday, February 24, followed by a service at 9:30 a.m. at Altmeyer-Riverside Funeral Home. GFWC extends its deepest condolences to Jean's family. Condolences may be sent to Jean's children: Beth Pereira, 113 Benjamin Terry, Hampton, VA 23666-2265, and Rusty Burcher, 2720 Villa Lona Drive, Colorado Springs, CO 80917-4041.
Region President's Project: The Jewels of the Federation 
By Bev Lassiter, GFWC Southeastern Region President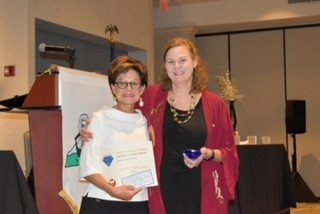 "The Need is Great and The Need is Now" is the GFWC Southeastern Region President's Special Project. This Region President realized after Covid 19 the struggle that women, children, and families continue to have in our communities. Many children's education fell behind due to homes without technology, food insecurity, and domestic and partner violence increased. These are just several areas of concern for the Region President.  During each of the Region's annual conferences, members were challenged to make a difference in the lives of those most vulnerable their community. State leaders were encouraged to support this President's Special Project by submitting a written report of a meaningful project that defines "The Need is Great, The Need is Now."  These entries were read and judged, and a check for $500 was presented to one State President and one State Director of Junior Clubs. The awarded funds are to be distributed in support of their entry. The communities of each of our six states and the District of Columbia were all winners due to the impact of their projects.   Importantly, this Southeastern Region President initiated the first Region Newsletter, "The Southeastern Region Scoop," which is emailed to region members and GFWC counterparts. Each month pertinent information has been enthusiastically received by clubwomen across the country. Together, this Southeastern Region President and its members continue to make an impact. This President applauds the clubwomen who make a difference in their communities for their neighbors in need while supporting their journey toward financial and personal growth. The Region President's Special Project, "The Need is Great and The Need is Now" will continue as members work to bridge the gap for those whose lives are most fragile.
State President's Projects: "Soaring to New Heights!" 
By Maureen Provencal, GFWC Maine President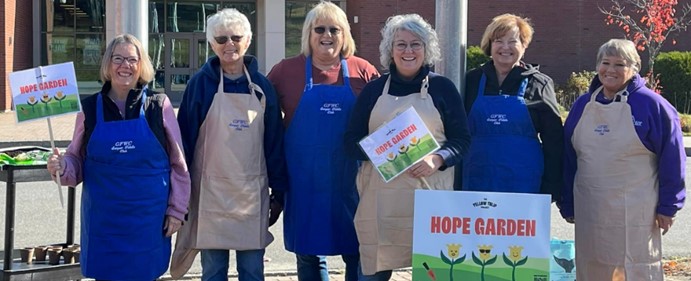 "Soaring to New Heights!" Using Kites as our signature imagery, Kites have been around for centuries and are a favorite pastime of all ages. Like Kites, clubs are comprised of various kinds of people who bring diverse skills, talents, and abilities to an organization. A kite needs a breeze to soar high into the sky.  The President's project for the 2022-2024 Administration focuses on "Raising Awareness of Mental Health" and incorporating these issues through all the GFWC programs. GFWC Maine is working to raise public awareness of mental health by breaking the stigma attached through the efforts of the Yellow Tulip Project, Mental Health First Aid, NAMI, and Crisis & Counseling Suicide Prevention. Our Clubs continue to be active and engaged. The Yellow Tulip Project was received with great success with all Clubs participating across our state planting "Hope Gardens" in their communities. Spring celebrations are planned with the emergence of waves of yellow tulips.   GFWC Maine recognized the emotional support of animals by providing pet food to homebound recipients of the "Meals on Wheels" program offshoot, "Animeals," and many Maine clubs are incorporating "Friendsgiving" events in their future planning.  GFWC Maine recognizes the needs of its membership and the daily challenges of mental health and well-being they may encounter with themselves or others. Incorporating humor and positive affirmations is reflected in the messages sent to GFWC Maine members. GFWC's Health and Wellness Program will be highlighted throughout this Administration. Members can expect upcoming conferences and conventions to be full of surprises, laughter, and peace.

GFWC Maine is

Volunteers In Action: GFWC Tellico Village Woman's Club (TN)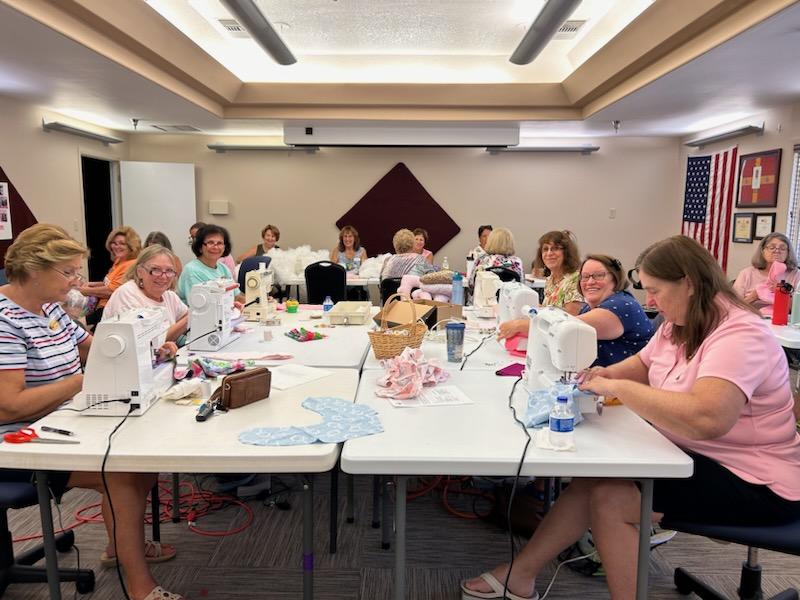 GFWC Tellico Village Woman's Club in Tennessee for breast cancer patients. The club started the CSP "By Women—For Women" last January, sewing breast cancer pillows. What initially started as a CSP turned into a membership drive, which has reaped the club 16 new members. During Martin Luther King Jr. Day this year, the clubwomen were able to distribute 200 pillows that included an inspirational message, "A strong woman knows she has strength enough for the journey – but a woman of strength knows it is on the journey that she will become strong."GFWC commends these clubwomen for all the heart and love they have extended to other women battling cancer!   To read more about Volunteers in Action, visit the Blog. Please share your club's activities with us by sending a photo and story to PR@GFWC.org.

A noteworthy Community Service Project (CSP) is presently underway by the

Club Anniversaries & Gold Pin Recipients 

50GFWC Clayton Valley Woman's Club (California)60GFWC Sun City Center Woman's Club, Inc (Florida) GFWC Lake Mary Woman's Club, Inc (Florida) St. Andrews Woman's Club (South Carolina)70Lakewood Women's Club (California)75GFWC Orlando Junior Woman's Club (Florida)80GFWC Fort Smith Junior Civic Club (Arkansas) GFWC Spencer Woman's Club (North Carolina)90Goddard Woman's Club (Kansas)100Elizabeth City Woman's Club (North Carolina) Anderson Valley Unity Club (California) Woman's Club of Bellfower (California) Barstow Women's Club (California) Durham Woman's Club (North Carolina)110GFWC Tempe Woman's Club (Arizona) GFWC Tampa Woman's Club (Florida) Woman's Club of Fort Pierce, Inc (Florida) GFWC Dade City Woman's Club (Florida) GFWC Woman's Club of Panama City, Inc (Florida)120The Miami Woman's Club, Inc (Florida) The Woman's Club of Coconut Grove (Florida) GFWC Gainesville Woman's Club, Inc (Florida)125GFWC Woman's Club of Palatka, Inc. (Florida) GFWC Oklahoma (Oklahoma)Gold Pin RecipientsJean Marie Hyman The Contemporary Club, Redlands (California) Kim Hathaway Grand Terrace Woman's Club (California) Joann C. Johnson Grand Terrace Woman's Club (California) Ann Knoche Coronado Woman's Club (California) Helen Alexander Coronado Woman's Club (California) Jean Watson Coronado Woman's Club (California) Pearl Szymanski Coronado Woman's Club (California) Sharon Mitchum Athenaeum Club of Geneva (Alabama) Marie Johnson Women's Club of Milton (Delaware) Constance Fisher Women's Club of Milton (Delaware) Cynthia Ockels Women's Club of Milton (Delaware) Kay Willey Women's Club of Milton (Delaware) Jane Carver Konnaheeta Woman's Club (North Carolina) Karen A. Atreed Bel Air Woman's Club (Virginia) Marge Heeren Contemporary Club of Hasbrouck Heights (New Jersey)

Membership in Motion 

By Nancy Ames, GFWC Membership ChairmanGFWC Club membership provides a perfect opportunity to get closer to the community in which you live. Volunteerism broadens your horizons by helping you understand the needs of the population you are helping. Reading or hearing about issues is not the same as getting personally involved. Involvement brings you closer to the families and organizations by giving you first-hand experience and understanding of their needs.  So, why do we volunteer? According to an article written by Stacey Buttel, a career facilitator with Goodwill, and Amber Kosel, an editor, and volunteer in a non-profit animal welfare organization, volunteerism: • Creates a sense of purpose, becoming something greater than yourself. • Connects you with others, allowing you to learn other perspectives. • Sharpens social skills, which benefits both personal and business relationships. • Improves self-esteem and self-confidence; when you do something worthwhile and valuable for your community, it gives you a sense of accomplishment that is very fulfilling. • Teaches you valuable skills and builds on ones you already have; for example, when you advocate, raise funds, and raise awareness in any of the GFWC Program areas, you gain communication, public speaking, and marketing skills. You can use these skills to move into a leadership position within your club, district, state, GFWC levels, work, and personal life. • Gets you out of your comfort zone – a personal challenge for almost everyone. • Brings fun and happiness to your life – you can pursue your hobbies while making a difference in others' lives. GFWC can give you the tools needed to be happy and well-rounded. Building bonds and connections with your GFWC sisters will help you build closer, lifelong relationships. This is why we do what we do – who wouldn't want to be a member of GFWC!

Legislative Corner 

To encourage participation in the democratic process, this monthly column aims to inform members about current legislation and programs that are germane to the GFWC Resolutions. It also highlights important actions of Congress and the White House and provides follow-up information about GFWC Legislative Action Alerts.Advocacy in ActionBy Juliet M. Casper, Legislation/Public Policy ChairmanThe Power of You: A GFWC Advocacy webinar series wraps up tonight with GFWC Affiliate Organizations, March of Dimes and St. Jude Children's Research Hospital. As a follow-up to this series, the Legislation/Public Policy committee will present an interactive workshop at the 2023 GFWC Annual Convention in Louisville, Kentucky titled, "The Power of Us: Club Advocacy."   Today we shine a spotlight on GFWC-GA, and congratulate its President Kim Sekulow and Legislation Chairman Lois Wolfe on a successful advocacy campaign to support victims of domestic violence.   Coinciding with the Georgia Legislature's first day in office, GFWC-GA held a Fellowship Zoom meeting which highlighted projects and resources to promote civic engagement and legislative advocacy.  GFWC Legislation/Public Policy Chairman Juliet Casper spoke about the Legislative Action Center and the Legislation/Public Policy Scavenger Hunt.  In February, GFWC-GA members then participated in a two-day advocacy event sponsored by the Georgia Coalition Against Domestic Violence.  The first day of the event featured a virtual webinar on advocacy to prepare attendees for the second day, which was a visit to the state's capitol to meet with legislators.  Fifteen members representing five clubs proudly wore their GFWC attire and name tags, took photos with elected officials, and presented their state legislators with leave behind sheets on domestic violence and GFWC.  Four of the nine Scavenger Hunt items were completed by GFWC-GA, Morrow Civic Woman's Club, LaFayette Woman's Club, Lilburn Woman's Club, Gainesville Phoenix Woman's Club, and Stone Mountain Woman's Club.  And lots of bonus points were scored. As GFWC advocates, we dream big, we sparkle more, and we shine bright.
GFWC
www.GFWC.org

---
If you no longer wish to receive these emails, click on the following link: Unsubscribe
---
This message was sent by General Federation of Womens Clubs using MemberSuite, Inc.
General Federation of Womens Clubs 1734 N St NW Washington, DC 20036-2990