June 2, 2022
View our Important Dates page for upcoming events and milestones.
It's Time for You to VOTE! 
By Linda Crish, GFWC Elections Chairman 
Candidates have met all requirements, been introduced to the Board of Directors and featured in the GFWC Clubwoman Magazine, and bios have been written…it's time to vote. Elections will take place at the GFWC Annual Convention, which will be held in New Orleans, LA, June 25-28, 2022. To be eligible to vote, a delegate shall register and receive her election credential no later than 6:00 p.m. on the day preceding the election. The election will be held on Monday, June 27, with voting to take place in the Grand Salon, and the results will be declared that evening at the Gala Banquet.
Voting is a formal expression of a member's choice and is fundamental to our leadership process. A resume has been prepared by each candidate who is running for an office. Please take the time to read each document and realize that your vote matters. Your selection of officers is important to the future of the General Federation of Women's Clubs.
Thank you to the members of the Elections Committee for their work. If you have questions regarding the election process, please do not hesitate to contact this Chairman.
Caribbean American Heritage Month
By Angela Cutrera, Arts and Culture Community Service Program Chairman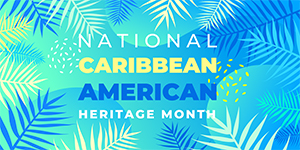 America's diversity is recognized in June as we celebrate Caribbean Americans. Throughout history, Caribbean Americans have made significant contributions to the United States. A Presidential Proclamation in 2006 by President George W. Bush declared June as National Caribbean American Heritage Month and proclamations are issued each year by the White House.
Let's have a look at a few Caribbean facts to spark your interest and inspire further study.
Caribbean countries include Aruba, Bahamas, Barbados, Cuba, Dominican Republic, Haiti, Jamaica, Saint Kitts and Nevis, and Trinidad and Tobago. Can you name the other Caribbean countries?  Do you know their locations, their sovereignty, their languages, and traditions?
Alexander Hamilton, the first Secretary of the Treasury and one of the Founding Fathers of the United States, was a Caribbean American. Harry Belafonte, Celia Cruz, Sidney Poitier, Colin Powell, Al Roker, and Cicely Tyson are other well-known Caribbean Americans. Research these individuals to learn more about their Caribbean heritage and accomplishments in the United States.
Look up Caribbean food and recipes. Their dishes have African, Asian, Creole, European, Latin American, and Middle Eastern influences and include foods such as rice, beans, sweet potatoes, tomatoes, coconut, plantains, and cassava.
The most popular sport in most Caribbean countries is football (soccer). Other sports include cricket, horse racing and auto racing, baseball, polo, and goat and crab racing.
Many of us recognize some types of Caribbean music such as calypso, reggae, and salsa. But have you heard of bachata, cadence rampa, chutney, compas (kompa), dancehall, Latin trap, merengue, parang, rapso, or zouk?
Celebrate Caribbean American Heritage Month by studying their history, traditions, cuisine, sports, and music, and discover how Caribbean Americans have helped to shape the culture of the United States.
Cares & Concerns
GFWC extends its sympathy to GFWC Massachusetts State Director of Junior Clubs Katie Robey, whose father, John (Jack) Robey, passed away on May 23. Please keep Katie and her family in your thoughts.
GFWC is sad to announce that Evelyn Bachman, GFWC Ohio State President 2010-2012, passed away unexpectedly on May 24 at the age of 84. Anyone wishing to express sympathy in memory of Evelyn is asked to please honor her by furthering the theme of her state presidency: "Give a Book, Share a Book, Help Your Libraries."
Volunteers in Action
This week's GFWC Blog features Carrizozo Woman's Club (New Mexico) and The Woman's Club of Clayton (North Carolina). Read how clubwomen raised money to give children the opportunity to enjoy the local pool throughout the summer and donated 83 book bags to first grade classrooms.
Have a success story to tell? Email PR@GFWC.org to have your club project considered for the GFWC Blog.
GFWC International President Marian St.Clair Visits U.S. Senator Tim Scott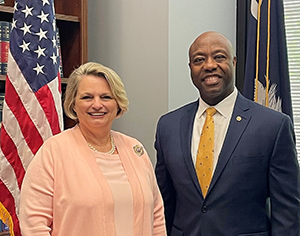 On May 25, GFWC International President Marian St.Clair visited Capitol Hill to meet with U.S. Senator Tim Scott (R-SC). After meeting with his staff in April to discuss the Senator's Child Care and Development Block Grant reauthorization bill and the Child Tax Credit, St.Clair was invited back to the office to speak with the Senator about advocating for children.
Countdown to Convention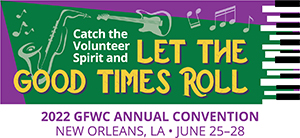 The 2022 GFWC Annual Convention is only a few weeks away and we can't wait to celebrate the successes of the past year and prepare for the Federation's future with you in New Orleans, Louisiana! Before you start packing your suitcase, there are a couple of things to keep in mind.
Keep Your Vaccination Card On-Hand
To ensure everyone's health and safety, all Convention attendees will be required to provide a physical COVID-19 vaccination card, a photo/photocopy of their vaccine card, or a negative COVID-19 test. You will be asked to provide this proof of vaccination at the Registration Counter. Please be aware that fully vaccinated requires that the final dose of the vaccine was administered at least 14 days prior to the event.
For more information on how GFWC is keeping attendees safe during the ongoing pandemic, visit the Convention FAQs page.
Know What to Wear
Business Sessions: Business or business casual
Friday Banquet, Monday Gala, Tuesday Installation: Formal gowns, separates, or chic cocktail
Saturday Junior Banquet, Junior Fun Night, Region Banquets: Cocktail or dressy separates
Download the Hilton Honors App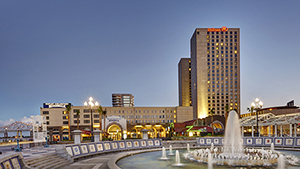 To make the most of your stay at the Hilton New Orleans Riverside, you can participate in the Hilton Honors program by downloading the Hilton app for your phone or mobile device. This program allows you to bypass waiting in line at the front desk to check in and also offers free Wi-Fi to its members. You can also view and manage your room reservation, take advantage of late check out, use your mobile device as a room key, and more.
Have Raffle Items Ready for Drop-Off
If you donated a prize for the Big Easy Raffle and you have not already sent this prize to GFWC Headquarters, please plan to drop-off the raffle item to a GFWC staff member at the Registration Counter once you arrive at the Hilton New Orleans Riverside.
Reminder: Convention Cancellation Deadline
If for any reason you are unable to attend Convention after registering, notices of cancelations should be received by the following dates:
June 13: 50% refund
June 14 and after: No refund
Please note that the tours, Service Project, and Friends of Convention donations cannot be canceled.
For more information, read GFWC's full cancelation policy.
Heifer International to Offer Engaging Workshop at Annual Convention 
Join Affiliate Organization Heifer International at the 2022 GFWC Annual Convention and attend their workshop on Sunday, June 26, to learn how your club can support women in Nepal, Cambodia, and Bangladesh. In addition to hosting one of the informative and engaging workshops being offered at Convention, Brianne McNamara and Jill Kilty Newburn can also be visited at the Heifer International booth, where you can discover more about the organization's mission to end hunger and poverty in sustainable ways around the world.
To learn more about Heifer International, visit www.heifer.org.
GFWC Marketplace: Folder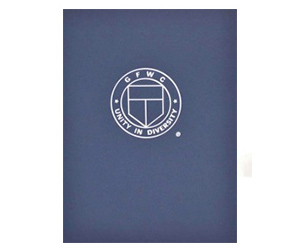 The GFWC folder is a great way to store all your essential information about GFWC! The beautifully crafted folder is letter sized and features a portrait orientation, GFWC emblem foil stamped in white on the front cover, standard business card slot in right pocket, and two 4 1/4″ v-split pockets. GFWC's Facebook, Twitter, and website are featured on the back cover to help members find GFWC online. Order yours today.
For information on mail service in your area, visit the USPS Service Alerts page. To speed up processing of your order, we request that you pay for your order at time of purchase in the Member Portal.
GFWC
www.GFWC.org