November 17, 2022
View our Important Dates page for upcoming events and milestones.
President's Gem 
By Deb Strahanoski, GFWC International President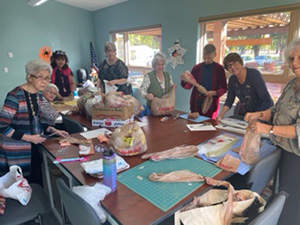 As the weather continues to cool down across the country, the opportunity for planting gardens and participating in outdoor trash clean up days are dwindling, but one club is continuing to find unique ways to improve our environment. This month's President's Gem is the GFWC Woman's Citizenship Club of Alamosa, in Colorado, for their efforts to turn recycled plastic bags into durable sleeping mats.
Club member and GFWC Colorado Communications and Public Relations Chairman Theresa Rudder explained that several clubwomen are in the process of crocheting plastic sleeping mats to donate to people experiencing homelessness and to area nursing homes. These mats, made from "plarn," are waterproof, easy to clean, and good for insulation. Plarn is plastic yarn made from cutting up plastic grocery bags.
Theresa said it takes about 500 plastic bags to make one mat, and members hope to make three to four mats out of the plastic bags they currently have but added that this would be an ongoing project.
In addition to being a great way to help people in need in the community, this project helps protect our environment as well.
"Since we are using all the bags, they aren't filling up the oceans and landfills," Theresa said.
Congratulations to the clubwomen of the GFWC Woman's Citizenship Club of Alamosa on this wonderful environment-focused project!
GFWC Recognized for Excellence in Historic Preservation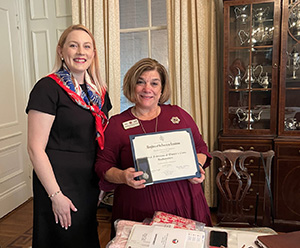 On behalf of the Daughters of the American Revolution (DAR), Rachel Norman, a member of the Emily Nelson Chapter of the DAR, presented GFWC International President Deb Strahanoski with a certificate and medal for Excellence in Historic Preservation.
This past weekend, GFWC was honored to receive a certificate and medal for Excellence in Historic Preservation from the Daughters of the American Revolution (DAR). The award was presented to GFWC International President Deb Strahanoski by Rachel Norman, who is a member of the Emily Nelson Chapter of the DAR and the GFWC District of Columbia Woman's Club.
"It was an honor to accept this outstanding acknowledgment from the Daughters of the American Revolution (DAR) on GFWC celebrating 100 years of owning our GFWC Headquarters," said President Strahanoski.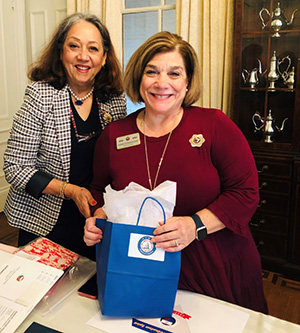 GFWC District of Columbia President Mohra Gavankar and her fellow Washington, DC, clubwomen visited GFWC International President Deb Strahanoski at Headquarters on November 12.
GFWC was presented with the certificate from the DAR during the GFWC District of Columbia Woman's Club meeting at the Federation's Headquarters in Washington, DC.
Cares & Concerns 
It is with great sadness that we announce the passing of Jean Brown, GFWC Connecticut Past State President (2002-2004), on November 11. Jean was an exemplary member and friend and she will be missed by many.
Volunteers in Action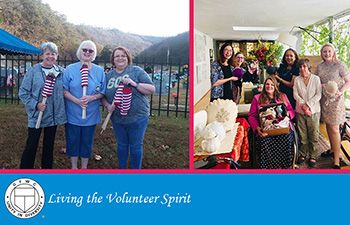 This week's GFWC Blog features the GFWC Prestonsburg Woman's Club (Kentucky) and GFWC District of Columbia Club (Washington, DC). Read how Kentucky members placed American flags at the graves of veterans in their local cemetery and how clubwomen in Washington, DC, are working with an organization to provide bras and period products to those in need around the world.
Have a success story to tell? Email PR@GFWC.org to have your club project considered for the GFWC Blog.
Remember GFWC During This Season of Giving 
By Shelli R. Fehr, Annual Giving Program Chairman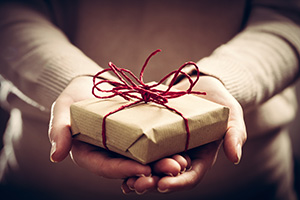 If you watch TV, you have inevitably seen commercials from St. Jude Children's Research Hospital, Operation Smile, ASPCA, and others asking for a nominal monthly contribution to save or improve the lives of children and animals. These are all causes worthy of your hard-earned money. However, please remember another organization that accomplishes what those groups do; GFWC is dedicated to community improvement by enhancing the lives of others through volunteer service.
Every day, members give their time and money to improve their communities, and GFWC is the national organization that anchors them all together. Its success is attributed, in part, to generous donations from its members, clubs, states, and Regions.
During this season of generosity, GFWC asks to be included in your year-end giving. Any amount is welcomed and appreciated. GFWC is a 501(c)(3) nonprofit organization, so any contribution can be claimed as a charitable donation on your taxes. Earmark your monetary donation for any fund listed on the Annual Giving Program Donation Form, located in the "A" Resources folder or the "Club Manual" subfolder in the "C" Resources folder of the Member Portal Digital Library. You can also make your donation a gift by naming a person it is made in honor of. What a wonderful present for family and friends!
Please Honor the Legacy, Inspire the Future of GFWC with your gift today!
Canine Companions Puppy Sims Continues Her Journey to Service Dog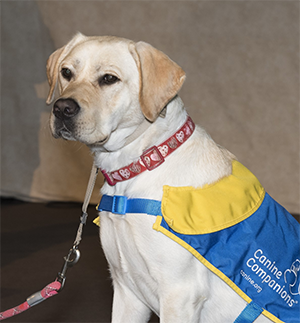 Canine Companions® puppy Sims, named in honor of GFWC 2020-2022 International Past President Marian Simmons-St.Clair, is taking the next step on her journey to becoming a service dog! After spending more than 15 months with her volunteer puppy raiser and learning basic obedience and socialization skills, Sims has enrolled at the organization's northeast region campus on Long Island to begin her professional training with a Canine Companions instructor. canine.org.

Sims is settling in nicely as she gets to know her roommate and her trainer. Her days will be filled with learning new skills to help someone with a disability, as well as lots of fun with her canine friends, and cuddles and love from her trainer.  To learn more about GFWC Affiliate Organization Canine Companions or to become a puppy raiser, visit

Let's Talk About Email Marketing Platforms 

By Jill Passaretti, Communications and Public Relations Committee Member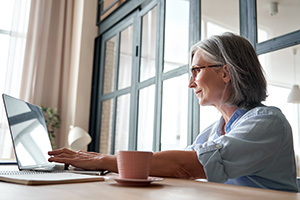 There are several email marketing platforms available for clubs to use to communicate with their members. Although you can send emails and distribute newsletters via Gmail, Outlook, or Apple Mail, using an email marketing platform helps support a professional, branded appearance. It can also supply reports that will help optimize your club's efforts.
Best practices for sending email blasts include:
Create an email template that fits your organization's style and use it for all your mailings.
Write a short subject line telling recipients exactly what's inside.
Keep your emails short and easy to read. Most people are bombarded with emails, so keep yours to the point.
Add photos to bring your members to life.
Ensure it is mobile friendly.
Use a recognizable sender name (GFWC or club name) since contacts are more likely to open an email when they know who sent it.
When looking for an email marketing vendor, check that:
They have good delivery rates. No one wants their email to end up in a spam folder.
The account is secure. You want your emails sent via encrypted Secure Sockets Layer (SSL) connections over HTTPS.
They have customizable templates for creating newsletters or email blasts.
There's a management tool for tracking who opened your email and who unsubscribed.
They support social media integration on platforms like Google, Facebook, and Instagram.
Below are five email marketing platforms that have a variety of templates to send professional looking emails as well as reports that provide statistics. Pricing varies, but there are free versions available.
Happy Thanksgiving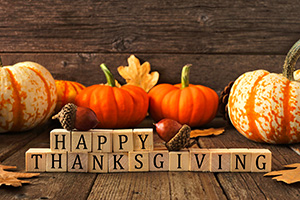 There will be no issue of News & Notes next week in observance of Thanksgiving, and GFWC Marketplace orders placed after today will not be shipped until the week of November 28. Enjoy the holiday, and stay tuned for the December 1 issue of News & Notes.
Bylaws: Officers
By 2022-2024 Bylaws Committee
What is contained in the club bylaws article that identifies the officers of the organization?
Every officer of the society should be specified in this article of the bylaws, including honorary ones. This article should state how they shall be elected or appointed and ranked in order, from the president down. Directors should be classed as officers. Usually, all that needs to be mentioned about the duties of these officers can be included in this article, to the effect that "These officers shall perform the duties prescribed by these bylaws and by the parliamentary authority adopted by the Society." If the duties are extensive, a separate article titled "Duties of Officers" may follow this article, treating each office in a separate section. Care should be taken not to omit any duty since it may be interpreted as "not my job." It is wise to conclude the section on each officer with a clause such as "…and such other duties as prescribed by the society and its parliamentary authority."
A method of nominating officers may be explained in a section of this article or a separate article, depending on its complexity. If a nominating committee is provided for in the bylaws, they shall nominate "candidate(s) for each office" depending on the limitation the society wishes to impose. The method of election, terms of office, when the terms begin, and the number of times that may be served in that office are usually prescribed in a section. Careful thought should be given to how and why an officer may be removed from office. The method of filling vacancies should also be noted.
Club Anniversaries and Gold Pin Recipients 
Club Anniversaries
60th
GFWC Muskego Woman's Club (Wisconsin)
100th
GFWC Woman's Club of Booneville (Mississippi)
110th
GFWC Women's Club of Farmingdale (New York)
Gold Pin Recipients
Judy Archibald 
GFWC Peninsula Hills Women's Club (California)
Jeanne Dowdle
GFWC Women's Club of Duquesne (Pennsylvania)
Charlene Ellsworth 
GFWC Mira Mes Women's Club (California)
Romanza Johnson
GFWC Bowling Green Woman's Club (Kentucky)
Margaret Klamerus
GFWC Women's Civic Club of Carmichaels Area (Pennsylvania)
Vaunda Wilkerson
GFWC La Habra Woman's Club (Colorado)
Ann Yarish
GFWC Women's Civic Club of Carmichaels Area (Pennsylvania)
GFWC Marketplace: Living the Volunteer Spirit Sticky Notes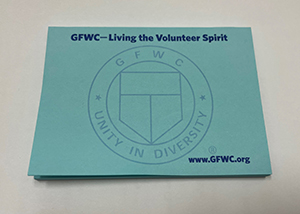 The Living the Volunteer Spirit Sticky Notes are a must-have for every busy GFWC clubwoman. These sticky notes are available in light blue with the white GFWC emblem watermark and feature the GFWC Living the Volunteer Spirit tagline. Each pack contains 50 sheets of 3×4 inch wide sticky notes. Order yours today.
For information on mail service in your area, visit the USPS Service Alerts page. To speed up the processing of your order, we request that you pay for your order at the time of purchase in the Member Portal.
GFWC
www.GFWC.org