October 20, 2022
View our Important Dates page for upcoming events and milestones.
Meet Arts and Culture Honorary Chairman Jocelyn Russell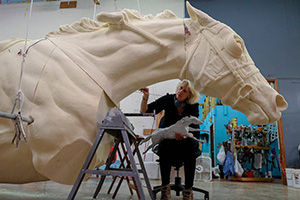 GFWC's Arts and Culture Community Connection Initiative: Creating a Path to Community Gems encourages clubwomen to bring to life the historical buildings, architecture, monuments, local artists, and other locations in their community. GFWC had the exciting opportunity to sit down with Jocelyn Russell, Arts and Culture Honorary Chairman and Artist of the Year Dallas Safari Club 2022, to learn more about her passion for creating gems in bronze metals.
How did you become aware of the bronze casting process?   
Russell: I originally was not interested in sculpture because it seemed boring compared to the vibrant and challenging options of color and perspective on a flat panel. I had watched a fellow artist work on a sculpture, and I thought it would enhance my anatomy studies to try a 3D piece. I was hooked.
What does your fieldwork consist of when you take on a new project?  
Russell: I immerse myself in every detail of the project. With the recent monument of Secretariat, I traveled to all four corners of the U.S. with the clay maquette (a small version of the monument) to garner approvals from anyone who knew the horse, including the jockey who lived in Canada.
How do you accomplish the "life-size" bronze? 
Russell: I start with a 3-dimensional scan of the maquette. This information is then plugged into a CAD (computer-aided design) program that allows enlarging and milling my design in foam pieces, which are then refined and covered in a thin layer of clay and "tooled" for final detail. The bronze casting process is very complicated and best told in another article!
Do you have any advice for aspiring artists?  
Russell: Yes. Never give up on your dream. Find something you love to do and figure out how to make an income from it and it will seldom feel like work. I always try to glean a positive outcome from adversity, and there is plenty of that in the art world. I love my job!
GFWC Florida Clubwomen Join Forces to Offer Support After Hurricane Ian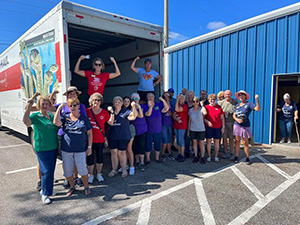 Members of GFWC Florida are staying strong and lending a helping hand to their friends and neighbors as communities work to rebuild after the devastation left by Hurricane Ian. One way that clubwomen have been helping is by sending much needed supplies to impacted areas of the state.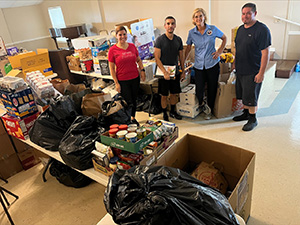 After a week of collecting donations at Tampa-Hillsborough County Public Library branches, county resource centers, and the County Center for Hurricane Ian relief efforts, the Hillsborough County Office of Emergency Management searched for a crew of volunteers to organize the donations and transport them to southwest Florida. Almost two dozen women from GFWC clubs across Hillsborough County joined forces at the GFWC Tampa Woman's Club to organize and load hundreds of boxes and bags of food and water. The donations were driven to Englewood, Florida, and sorted and dispersed from there by area volunteer organizations.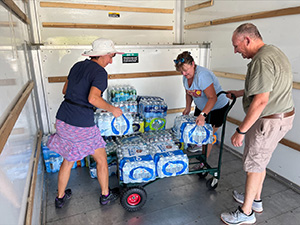 GFWC Tampa Woman's Club First Vice President Diania Pimenta was the initial contact organizing the donations, and Club President Michele Small drove the 26-foot U-Haul of supplies with GFWC Second Vice President Jolie Frankfurth to the Englewood/Port Charlotte area, where they were met by District 12 Director Kathryn Gallagher and other members throughout the District. The truck was unloaded, and items were placed directly into waiting trucks and cars for delivery to the hardest hit areas. Remaining items were brought into the Lions Club, who donated the use of their building, to be sorted. A continuous caravan of clubwomen throughout the day delivered the remaining items.
This project is one example of how clubwomen come together to live the volunteer spirit and help those most in need.
Volunteers in Action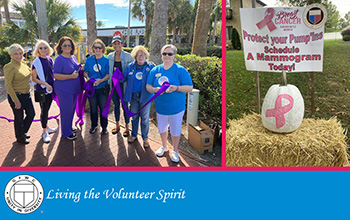 This week's GFWC Blog features the GFWC Jacksonville Beaches Woman's Club (Florida) and the GFWC North Central Junior Alumnae Club (West Virginia). Read how Florida clubwomen put up purple ribbons in their community to raise awareness about domestic violence and how West Virginia members are painting pumpkins pink for Breast Cancer Awareness Month.
Have a success story to tell? Email PR@GFWC.org to have your club project considered for the GFWC Blog.
Consider GFWC this Season of Giving 
By Shelli R. Fehr, Annual Giving Program Chairman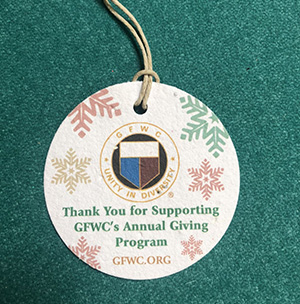 "A year from now you may wish you had started today." – Karen Lamb
To all who participated in the first Quarterly Giving Recognition period (July-September), thank you for taking the first steps to securing the future of GFWC! GFWC received almost $17,000 in contributions from 73 members, clubs, states, and/or Regions. This was a great way to kick off the new Annual Giving Program!
While it was a great start, we can do more! During the second Quarterly Giving Recognition period (October 1 through December 31), GFWC challenges its members to double the number of donors and donations. During this season of giving, GFWC would like you to earmark a portion of your charitable contributions for the organization that gifted you with volunteer opportunities, leadership skills, and lifelong friendships. What a wonderful way to pay back the organization that gave you so much!
While any amount is greatly appreciated, the first 100 donors to give at least $100 during the second Quarterly Giving Recognition period will receive an environmentally safe plant-able ornament, pictured above. Donors who qualify can display the ornament all winter long and then watch the flowers emerge after it is planted in the spring.
Complete the Annual Giving Program Donation Form, located in the Member Portal Digital Library under "C" for Club Manual and "A" for Annual Giving. Send the completed form with your check to GFWC or call Headquarters with your credit/debit card information at 202-347-3168. GFWC thanks you in advance for your contribution!
If you have not considered a gift to GFWC yet, why not contribute during this season of giving? Your donation Honors the Legacy and Inspires the Future of GFWC, so give today!
Best Practices When Using Email Communication
By Penny Peterson, Communications and Public Relations Committee Member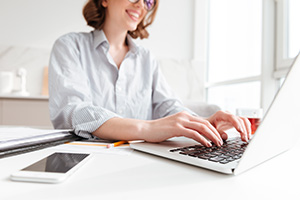 Electronic mail, or email, is the most common use of the internet as a means of communication. Email etiquette and good habits in answering, writing, and sending emails are especially important when exchanging messages. Familiarize yourself with some of the following suggestions for enhancing the overall "email" experience.
Decide whether it is necessary to display the addresses of all the recipients publicly in the "To" field. Consider using the "BCC" field to list your recipients to eliminate unwanted messages, especially if a "Reply All" was sent unnecessarily or accidentally. It also prevents an email address from being published to those they do not know.
Be as specific as possible in your "Subject Line" and consider the words you use. The recipient may show caution by not opening your email, or your word selection may trigger spam filters.
Always include an email signature. It is the perfect opportunity to brand every message that is sent. Include the GFWC emblem and website, along with the mission statement: "GFWC-Dedicated to Community Improvement by Enhancing the Lives of Others through Volunteer Service."
If your email will have an attached file, it is a good habit to add the attachment before you start composing your email. It will save you from having to send a follow-up email with an apology for forgetting to attach the file.
Be considerate when forwarding emails. Edit anything unnecessary from the email, such as previous forwarding information, other email addresses, subject lines, and commentary from all the other forwarders.
Email etiquette not only involves the writer but the reader. Managing your incoming emails may be an overwhelming task, but always reply, file, delete, or create a to-do task for all emails.
It is best to respond with a reply to emails within a 24-hour period. You may set up an autoreply (out of office) if you are unable to respond in a timely manner.
For additional information, view the Communications and Public Relations Toolkit within the "C" Resources folder of the Member Portal Digital Library.
Who Are the Members?
By 2022-2024 GFWC Bylaws Committee
Membership is core to any organization's success, and one of the first articles in any bylaws addresses the organization's members. There are usually several sections to this article addressing the classes of members (active, sustaining, provisional, etc.) along with any distinctions between them, the rights of each class, any limitation on the number of members in each class, the qualifications or eligibility for membership, and any minimum requirements to retain membership (active members may need to attend at least two meetings and participate in at least two projects, as an example). Each class of membership should be addressed in separate sections for clarity. During any review of the organization's bylaws, it is encouraged to consider if the current membership classes are inclusive enough to attract all potential members. Membership requirements may also be reviewed to ensure they are still relevant and realistic.
The member's dues and any other financial obligations are addressed in a section of this article. This article section includes information on the dues structure, required fees, when these items are payable, the time and method of notifying members of delinquency, and when members may be removed from membership for nonpayment of financial obligations. Members cannot be assessed any additional fees other than dues unless provided for in the bylaws. If the financial obligations section is complicated, it may be moved to a separate article immediately following the article on membership.
Unless otherwise stated in the bylaws, a member delinquent in the responsibilities of membership retains any voting privileges until removed from membership. Members cannot be required to attend meetings and participate in projects unless provided for in the bylaws. The article on membership may also address resignation from membership, honorary members, and the application and acceptance procedures for membership in any of the membership classes within the organization.
For additional information, review the Start with Sample GFWC Club Bylaws document located in the Leadership Toolkit within the "L" Resources folder of the Member Portal Digital Library.
Techie's Tips: Clearing Your Computer Cache
Many of us spend several hours each week browsing the internet, downloading documents, and shopping online. However, each time we visit a new website, our computer browser stores information from the sites we visit, downloads, and cookies. Since these files are being stored in our browsers, it is necessary to regularly clear your computer's cache so that you are not mistakenly viewing old forms or webpages that have been updated since you lasted visited the page.
Follow the below steps for clearing your cache on various common web browsers.
Google Chrome:
On your computer, open a Google Chrome browser.
At the top right of the screen, click "More," which looks like three vertical dots.
Click More Tools and then Clear Browsing Data.
At the top, choose a time range. To delete everything, select All Time.
Next to "Cookies and other site data" and "Cached images and files," check the boxes.
Click Clear Data.
Firefox:
On your computer, open a Firefox browser.
Click the menu button, which looks like three vertical lines, and select Settings.
Select the Privacy & Security panel.
In the Cookies and Site Data section, click Clear Data.
With Cached Web Content check marked, click the Clear button.
Close the page and any changes you've made will automatically be saved.
Internet Explorer:
On your computer, open an Internet Explorer browser.
Select the Tools button, point to Safety, and then select Delete Browsing History.
Choose the types of data or files you want to remove from your computer, and then select Delete.
Safari:
On your computer, open a Safari browser.
Click the menu button, and then select Clear History.
In the Clear field, choose All History.
Click Clear History.
Regularly clearing your cache will ensure you see only updated webpages and will help your computer run faster and more efficiently.
State President's Project: Barbara Briley Beard, California
GFWC California State President Barbara Briley Beard's special project is Advocates for Children. This project will focus on programs such as Bikers Against Child Abuse, court-appointed special advocates, Operation Smile, Prevent Child Abuse America, cyberbullying, and foster or residential care.
One definition of child advocacy is to provide "support for children who are in a vulnerable position in society or in a vulnerable situation." GFWC members try to make a difference in the lives of children by being their advocates. Barbara said clubwomen and others must be the voices for children who cannot be the voice for themselves and that members must try to teach and encourage parents and caregivers to be an advocate for a child at the grassroots level. Members can also try to make sure children are protected from harmful situations by educating themselves and others about helpful medical resources and organizations.
One of GFWC California's projects related to child advocacy is their "Just One" project, led by Domestic Violence Chairman Marcia Willet. As part of this project, Marcia sells decals that feature the National Domestic Violence Hotline number, 1-800-799-7233, for $1.00. The Federation then gets permission at schools, hotels, and restaurants to put the decal on the inside of bathroom stall doors, so that if someone needs help, the number is there to call. The goal is to have 10,000 decals placed by June 2024, and hundreds are being sold at every area meeting in October and at special presentations across the state. Barbara offered her thanks to Marcia for leading this wonderful program.
Other ways clubwomen can be advocates for children include supporting Heifer International by buying animals like cows, goats, and chickens to feed children and by supporting Shot@Life's Get a Shot. Give a Shot program to help give vaccines to children for free.
GFWC Marketplace: GFWC Bracelet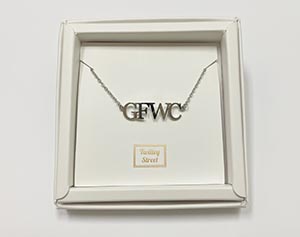 Show off your Federation pride with this gorgeous and delicate new bracelet! Custom made for GFWC, this silver bracelet is perfect as a treat for yourself or as a gift to a fellow member! Order yours today.
For information on mail service in your area, visit the USPS Service Alerts page. To speed up the processing of your order, we request that you pay for your order at the time of purchase in the Member Portal.
Update Your Member Portal Profile
Please visit your profile in the Member Portal and verify that your name, contact information, and home address are correct. If these fields are not correct, select the pencil icon to make edits. If your primary club is incorrect, please email GFWC@GFWC.org for assistance. Past positions are currently being archived by GFWC staff.
GFWC
www.GFWC.org