September 29, 2022
View our Important Dates page for upcoming events and milestones.
President's Gem
By Deb Strahanoski, GFWC International President
With so many wonderful and inspiring club projects to choose from each month, it can be nearly impossible to select just one volunteer effort to recognize as the President's Gem. This month, I have selected two outstanding clubs as the winners of this exciting recognition, the GFWC Women's Civic League, Inc. (Utah) and the GFWC East Peoria Woman's Club (Illinois)!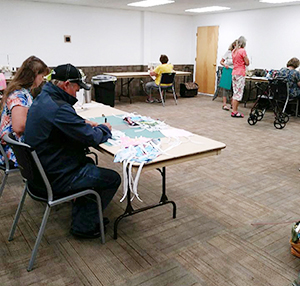 The GFWC Women's Civic League, Inc., participated in a National Day of Service on September 11 to make Smile Splints for GFWC Affiliate Organization Operation Smile. Smile Splints are comfortable armbands that prevent children from bending their arms and touching their faces, which helps keep surgical incisions clean and promotes the healing of a child's new smile. As of mid-September, volunteers with the club prepared 75 Smile Splints to send.
As Operation Smile prepares to celebrate its 40th anniversary as an organization that impacts lives around the world, it is fantastic to see clubwomen continuing to support their efforts.
Club President Tonya Woodruff said members and guests were all excited to participate in this project.
"Operation Smile is a great organization that changes lives," she said.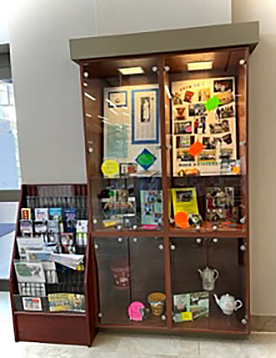 The GFWC East Peoria Woman's Club donated $300 to their local library's summer reading program to encourage children to foster a love of reading. Club President Phyllis Yerby said supporting programs such as this has always been important to the members, and they were thrilled to be able to donate to the Fondulac District Public Library in their city.
"Our club is into making sure kids are educated," she said.
In addition to supporting the various library programs, the club was given the opportunity to set up a display case at the library featuring information about the club's history and recent successful club projects. The display featured projects such as hosting a food drive, donating more than 200 books for the Head Start program, selling flowerpots to raise money for GFWC Affiliate Organization St. Jude Children's Research Hospital, and more.
Congratulations to the clubwomen of the GFWC Women's Civic League, Inc., and the GFWC East Peoria Woman's Club on these heartwarming and impactful community service projects!
Register Now: 2022 GFWC Holiday Open House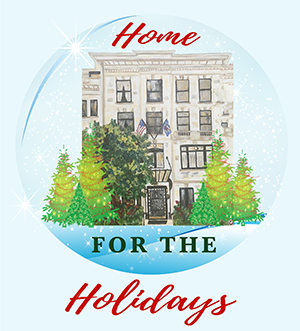 Celebrate the holiday spirit this year by attending the in-person 2022 GFWC Holiday Open House hosted by GFWC International President Deb Strahanoski on Wednesday, December 7. Register to attend one of two scheduled receptions from 11:00 a.m. to 1:00 p.m. ET and from 1:30 p.m. to 3:30 p.m. ET at GFWC's historic Headquarters at 1734 N St. NW, Washington, DC. During each reception, attendees will be able to enjoy viewing ceramic holiday villages provided by the State Federations that will be on display in recognition of this year's theme, Home for the Holidays.
Register today through the Member Portal and enjoy the giving season with Federation friends. If you would like to register a group for the reception, please email Events@GFWC.org.
Cares & Concerns
It is with great sadness that we announce the passing of Mike Davis, GFWC Arizona Booster Club President. Condolences can be sent to Mike's wife, Luanne Davis, 2022-2024 Fundraising and Development Committee Member and GFWC Arizona Past State President (2020-2022), at 651 W. Strahan Drive, Tempe, AZ 85283.
Volunteers in Action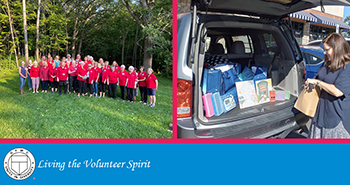 This week's GFWC Blog features Amery Woman's Club (Wisconsin) and GFWC Wake Forest Woman's Club (North Carolina). Read how Wisconsin clubwomen donated funds to GFWC Affiliate Organization Canine Companions and how North Carolina members donated school supplies and books to the local Boys and Girls Club for after-school activities.
Have a success story to tell? Email PR@GFWC.org to have your club project considered for the GFWC Blog.
Recognize Advocates for Children Week October 23-29 
By Katie Robey, Juniors' Special Program Chairman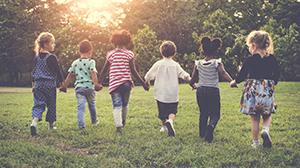 GFWC continues to celebrate the fourth week in October as Advocates for Children Week with projects to support children everywhere. All GFWC Woman's, Junior Woman's, Juniorette, and International Affiliate Clubs are part of the GFWC Sparkle Squad with the goal of making a difference in the life of children through your advocacy. Clubs are urged to start planning now for the projects they will complete during the week of Sunday, October 23, through Saturday, October 29, 2022. Have you requested a proclamation from your city, county, or state to have the week recognized? Remember to send a photograph of the proclamation for possible recognition in a future edition of News & Notes.
This special week provides all GFWC clubwomen an opportunity to be creative as they work together to improve the life of a child through their unique projects. For this Administration, it is suggested that the club projects completed during Advocates for Children Week have an emphasis on children whose lives are impacted by being removed from their homes due to unsafe conditions. You can help these children through a collection of personal hygiene items, clothing, and blankets that can be delivered to local organizations. Include some sparkle in your donation and take a photo to submit to GFWC at PR@GFWC.org. You may even be featured in the GFWC Blog or recognized as a President's Gem! 
A resource to find specific-to-your-state organizations that may need donations can be found on the Child Welfare Information Gateway through its National Foster Care & Adoption Directory.
Recognizing Breast Cancer Awareness Month this October
By Nagi Kumar, Ph.D., Health and Wellness Honorary Chairman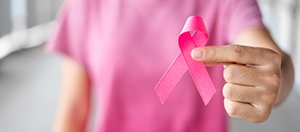 About one in eight U.S. women (about 13%) will develop invasive breast cancer over the course of her lifetime. In 2022, it is estimated that more than 320,000 new cases of breast cancer will be diagnosed in the US and 43,250 women are expected to die in 2022 from this disease. However, the good news is that as a result of advances in the diagnosis and treatment of breast cancer, breast cancer survival rates have increased. Additionally, the number of deaths associated with breast cancer is steadily declining, largely due to our better understanding of the disease as well as early detection and treatment strategies.
Some risk factors for breast cancer include advanced age, gender (women more than men), personal history of breast cancer, genetic and reproductive risk factors, and hormone use.
What are the strategies to prevent breast cancer?
When breast cancer is found early, the chance of treating the disease successfully is the greatest. The recommendation is for women to follow these guidelines:
Age 25 to 39: Get a clinical breast exam every one to three years.
Age 40 and older: Get a mammogram and clinical breast exam every year.
Breast exams by a qualified medical professional and regular mammograms can detect breast cancer early.
Women should be familiar with their breasts. Report any changes such as  new lumps or masses to your doctor without delay.
Women at higher risk based on their family or personal risk may need to be tested more often and as recommended by their doctor.
Other strategies that may reduce the risk of breast cancer include:
Avoid being overweight, especially after menopause.
Select a healthy diet with whole grains, vegetables, fruits, lean meats, poultry, fish, and nuts rich in omega-3 fats.
Engage in moderate to vigorous physical activity. Your goal should be 150 to 300 minutes of moderate intensity or 75 to 150 minutes of vigorous intensity activity each week or a combination of these.
Avoid or limit alcohol to one drink per day.
Breastfeed as long as six months and even after other foods are introduced.
If you are starting hormone replacement therapy for treatment of menopausal symptoms, consult with your doctor.
If you have a strong family history of breast cancer, it may be important to get genetic testing done. Several strategies for treating exceptionally high-risk women are in place and continues to emerge.
Headquarters Staffing Update 
GFWC would like to thank Anna Barcus, Executive and Finance Coordinator, for her dedication and service to the Federation. Her last day with us will be Friday, October 7. Please join us in wishing her success in her next position!
For questions during this staffing transition please contact, Chief of Operations Cheri Meyer at CMeyer@GFWC.org.
Join Shot@Life's Mobilize to Immunize Summit
Clubwomen still have one more day to apply to join GFWC Affiliate Organization Shot@Life's fall Mobilize to Immunize Summit! Apply by September 30 to join this fun and educational event, which will occur virtually on Thursday, October 6, and will kick off the organization's six-week fall vaccine advocacy push.
Join the event to be inspired by other advocates and hear the latest global health updates.
Legislative Corner 
To encourage participation in the democratic process, this monthly column aims to inform members about current legislation and programs that are germane to the GFWC Resolutions. It also highlights important actions of the House, Senate, and White House, and provides follow-up information about GFWC Legislative Action Alerts.
Congress is completing its work in September and will turn their total attention to campaigning for re-election in November. In late November, Congress will return to complete its business before the end of the year. A new Congress will convene in January and bills will have to be reintroduced.
GFWC Needs Your Help in Advocating for Online Safety for Children and Teens
GFWC launched a Legislative Action Alert in support of the EARN IT Act (S. 3538, H.R. 6544), which is bipartisan and has been approved unanimously by the Senate Judiciary Committee. However, because there are few legislative working days remaining before the end of this congressional session, advocates must let their legislators know this bill is important and urge Congress to act. If not, we will have to start all over in January. If you have not yet joined the GFWC Legislative Action Center or acted on this child sexual exploitation prevention legislative alert, now is the time to act! Acting on an Alert is Item No. 3 on the GFWC Scavenger Hunt. The GFWC Scavenger Hunt can be found in the Member Portal Digital Library in the Legislation and Public Policy section of the Club Manual in the "C" Resources folder or in the Legislation/Public Policy Toolkit in the "L" Resources folder. The scavenger hunt includes a fillable form for you to list the items completed, and items may be completed multiple times.
This bill removes immunity for social media and technology companies that knowingly facilitate the distribution of child sexual abuse materials on their platforms. Currently, the technology industry maintains a liability protection shield for third-party content. This bill removed liability protection and holds tech firms accountable. GFWC proudly joins the National Center on Sexual Exploitation, the National Children's Alliance, the Child Rescue Coalition, and others to support this bill.
Meet Your Elected Officials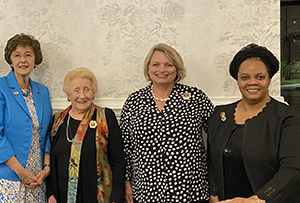 On September 14, The Woman's Club of Raleigh was honored to host North Carolina Secretary of State Elaine Marshall as the keynote speaker for its Founders Day Dinner to discuss the lessons learned in tenacity and perseverance. Congratulations on 118 years of community service! North Carolina Secretary of State Elaine Marshall, GFWC International Past President Juanita Bryant (1982-1984), GFWC International Past President Marian St.Clair (2020-2022), and The Woman's Club of Raleigh President Penny Lauricella are pictured above. This special occasion was featured on the official North Carolina Secretary of State Facebook Page. These members and their club completed Item No. 2 on the Legislation and Public Policy Scavenger Hunt by having their photo taken with an elected official. Plus, they scored bonus points for wearing their GFWC club name tag.
State President's Project: Keiko Torgersen, Alaska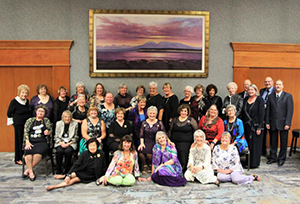 GFWC Alaska State President Keiko Torgersen's Administration theme is Rebuild, Refresh, Renew – rebuild lives/clubs, refresh the old, and renew attitudes/membership. She selected the symbol of a turtle for her theme, as it represents persistence, endurance, perseverance, strength, and longevity. Keiko's two projects are The Hope Center and increasing membership. Inspired by the love of God, The Hope Center provides a hand up and out of homelessness, especially for trafficked women, and the center relies 100% on private donations of food, money, or clothing to meet the needs of their "guests." The organization is also unique in that they teach the women a trade. Their Feed Me Hope Bakery is a job training program that also supports a food truck. They also manage a culinary school, a garden, a shower house, and clothing room. The guests take life skills, job skills, and spiritual growth classes prior to going to the culinary school. The amazing thing is that they have an 85% graduate/job procurement rate in the culinary field! Keiko's goal is to have other clubs in the state find a similar organization where they can provide their support as well as education in their communities on resources available to trafficked women. Membership has been Alaska's nemesis for years. Up until the 1990's Alaska had 20 clubs, but that number has decreased to only six. Keiko hopes to increase the state membership by 20%. She plans on visiting the current clubs and spending time with their members to see how she can help, as well as visiting other cities with women's organizations to see how they can be influenced to start a new club or transition over to GFWC.  Keiko's goal is to do whatever she can to see that GFWC Alaska is here for the next 116 years.
GFWC Marketplace: Club President Pin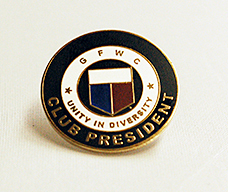 Show off your Federation pride with the GFWC Club President Pin. This pin features the full-color GFWC emblem on a black background set on a gold one-inch diameter pin. The pin comes with a butterfly backing, allowing it to attach to any of your clothes. Order yours today.
For information on mail service in your area, visit the USPS Service Alerts page. To speed up the processing of your order, we request that you pay for your order at the time of purchase in the Member Portal.
Update Your Member Portal Profile 
Please visit your profile in the Member Portal and verify that your name, contact information, and home address are correct. If these fields are not correct, select the pencil icon to make edits. If your primary club is incorrect, please email GFWC@GFWC.org for assistance. Past positions are currently being archived by GFWC staff.
GFWC
www.GFWC.org