August 25, 2022
View our Important Dates page for upcoming events and milestones.
Introducing GFWC Friendsgiving  
By Nancy Ames, Membership Chairman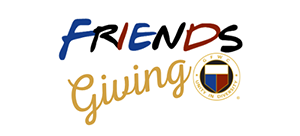 In our communities, in our states, in our country, and in our world, GFWC clubwomen are there for you. For our elderly, veterans, survivors of abuse, children who have experienced neglect, people impacted by natural disasters, abandoned animals, GFWC clubwomen have their sleeves rolled up and are ready to go to work, no matter the challenge. But we can't always do it alone, and it is important to recognize the individuals, businesses, and organizations that lend us a helping hand.
GFWC is pleased to introduce a GFWC National Event – GFWC Friendsgiving.
Friendsgiving is the blend of the words Friends and Thanksgiving, and it refers to a large meal shared with friends either near or on Thanksgiving. But why should we make this concept of a meal with friends just for Thanksgiving time?
GFWC Friendsgiving will help to build the GFWC brand in your community; will gather and thank community leaders, individuals, and businesses who have participated in some way to club projects by their donations of items, time, gift cards, and or sponsorship; and enlighten potential members to the vast reach of club philanthropy and dedication.
The goal is to get together for fun and fellowship. Whether scheduled for November or for GFWC Federation Day, the GFWC Friendsgiving "Box of Gems" has all you need to host a wonderful event. This valuable resource is available in the "F" Resources folder of the Member Portal Digital Library.
The "Box of Gems" provides just a few ideas that could be used, but GFWC clubs are creative–we encourage you to create your own GFWC Friendsgiving event.
GFWC Friendsgiving is a wonderful opportunity to let our communities know all the work we do and perhaps gain a few new members in the process!
President's Gem
By Deb Strahanoski, GFWC International President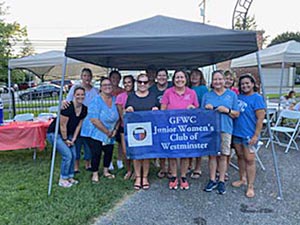 As a member of a law enforcement family, National Night Out has held a special place in my heart and been one of my family's favorite events to attend for years. From what I have seen on social media and heard from friends and fellow clubwomen, many clubs around the country participated in this year's annual National Night Out. One of these clubs and the winner of this month's President's Gem is the GFWC Junior Women's Club of Westminster (Maryland)!
National Night Out is a national community-building campaign that takes place in August each year to strengthen relationships between local police and residents of neighborhoods throughout the country.
Club member and GFWC Maryland Director of Junior Clubs Mimi French explained the club has been a cosponsor of this event in their city for the past 10 years, and the clubwomen always look forward to getting together with their friends and neighbors. This year, multiple local organizations and sponsors provided food, games, music, face painting, community support resources, and door prizes to the 150 attendees from the surrounding area.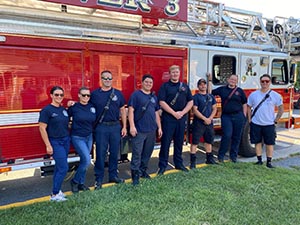 Mimi said in addition to being a fun way to strengthen community ties, the event is always a great way to share information about the club to area residents.
"It's important to get our name out and show our commitment to our community and our partners who are also involved," she said.
Congratulations to the clubwomen of the GFWC Junior Women's Club of Westminster on this inspiring volunteer service project and their commitment to building stronger communities.
Cares & Concerns 
It is with great sadness that we announce the passing of Sheri Jeter, GFWC Oklahoma Past State President (2002-2004), on August 18. Sheri was a dedicated clubwoman for many years.
Volunteers in Action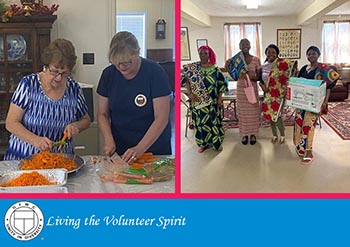 This week's GFWC Blog features GFWC Clarksville Women's Club (Tennessee) and Woman's Club of Spokane (Washington). Read how Tennessee clubwomen baked 10 trays of homemade lasagna for families in need in their community and how Washington clubwomen organized sewing classes for women refugees.
Have a success story to tell? Email PR@GFWC.org to have your club project considered for the GFWC Blog.
A Wonderful Federation Celebration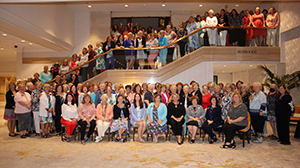 Clubwomen from throughout the country gathered for a weekend of networking, making new friends, and Federation fun in Washington, DC, from August 18-21 for the 2022-2024 GFWC Board of Directors Meeting. From our inspiring keynote speakers to hearing reports from our hardworking chairmen and committees, this event was a wonderful celebration of the volunteer spirit.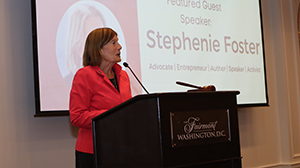 The weekend began with a rousing opening ceremony on Thursday evening as clubwomen enjoyed being back together once more. The evening culminated with a speech from Stephenie Foster, a speaker, author, women's advocate, and founding partner of Smash Strategies. Foster spoke to attendees about her book, Take Action: Fighting for Women & Girls, and how this toolkit offers readers and GFWC members valuable information about specific issues related to women and gender equality.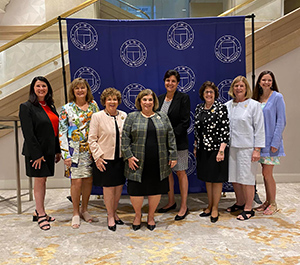 Friday morning began with the second keynote speaker of the weekend, Rosie Hidalgo, Special Assistant to the United States President and Senior Advisor on Gender-Based Violence. Hidalgo, who has worked to end gender-based violence for more than 25 years as a national policy advocate and a public servant, spoke to attendees about the strides policy makers have made on Capitol Hill in the last several years to end violence against women and girls, as well as how far we still need to go. She also spoke to members about how GFWC's advocacy efforts have helped make a difference for people everywhere.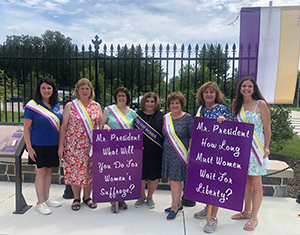 Another highlight of the Board of Directors Meeting was a visit to the Turning Point Suffragist Memorial in Occoquan Regional Park, Fairfax County, Virginia. The Memorial, which opened last May, was built to honor the work of millions of suffragists who fought for the right for women to vote. Clubwomen enjoyed taking in the sites while learning about the rich and impactful history connected to the Memorial.
In addition to these exciting activities, members of the Board of Directors completed Federation business and shared reports on how clubwomen are working to advance society by improving ideas and actions within their communities.
GFWC Photo Album
GFWC is excited to share with you many gorgeous photos from the 2022-2024 GFWC Board of Directors Meeting at no cost! To view the photos, visit our Board of Directors, August 2022 photo album.
Click on the arrow in the lower right corner of each photo to download individual images. To download an entire folder, click the arrow in the upper right corner of the screen. You will be prompted to enter your email address, which you will need to verify by clicking on a link when receiving an email. After doing so, you will receive a second email with an option to download the entire photo album.
Visit GFWC's New Legislative Action Center 

To better serve you, GFWC has relaunched and redesigned our Legislative Action Center (LAC). The new platform is a more modern approach with features to keep members connected to what's happening on the Hill. This change became necessary when the old platform was purchased by a new owner, Fiscal Note, which phased out the previous program and moved customers to its new platform, Voter Voice. Legislative Action Center and sign-up for alerts.  With many new features such as surveys, petitions, and the ability to search for both state and federal legislation, our new LAC will make your club's legislation/public policy efforts more convenient, efficient, and easier. You can visit the new Legislative Action Center at www.votervoice.net/GFWC/home or through the Legislation/Public Policy page on GFWC's website.  Stay tuned for updates as we continue to improve the LAC!

To ensure that you do not miss an alert, please visit the new LAC and confirm that your contact information is correct. Members who have not been receiving GFWC's legislative alerts should visit the new

GFWC Welcomes the 2022-2024 Honorary Chairmen

By Jolie Frankfurth, GFWC Second Vice President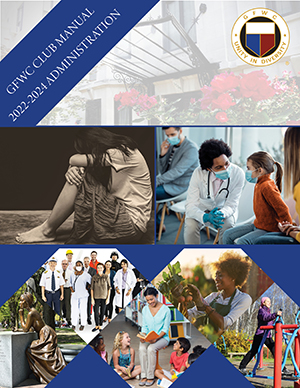 GFWC is pleased to introduce its 2022-2024 Honorary Chairmen, whose expertise will bring new and innovative ideas to their respective areas. This Administration's Honorary Chairmen include Monika Johnson Hostler (Signature Program), Stephenie Foster (Juniors' Special Program), Jocelyn Russell (Arts and Culture), Robin Yocum (Education and Libraries/Juniorettes), and Nagi Kumar, PhD (Health and Wellness). These individuals are testaments to their fields of study, passionate about their work, and can offer an insight that will be invaluable to GFWC clubwomen.
Learn more about these inspiring Honorary Chairmen by visiting the Member Portal Digital Library. Information is available in the full 2022-2024 Club Manual and as an individual section in the "Club Manual" subfolder in the "C" Resources folder.
September is Childhood Cancer Awareness Month 
By Dale Fisher, Health and Wellness Chairman
Recognize Childhood Cancer Awareness Month this September by wearing or displaying a gold ribbon. Why gold? This color symbolizes how precious children are and illustrates the resiliency of childhood cancer heroes.
Due to treatment advances, the survival rates of childhood cancers have increased from 10% in the 1960s to almost 80% today. However, after accidents, cancer is the second leading cause of death in children ages 1 to 14, according to the American Cancer Society. Unlike adult cancers that often result from lifestyle and environmental risk factors, childhood cancers are more likely the result of changes in the cell's DNA, which happens very early in life or within the womb.
GFWC members can help by supporting Affiliate Organization St. Jude Children's Research Hospital, which treats children with cancer and other pediatric catastrophic diseases.
Consider organizing or participating in a Walk/Run for St. Jude. Partner with a local school and collect "Caring Coins" for St. Jude. Sponsor a party for the classroom that collects the most money. Encourage the students to dress up as healthy heroes, provide snacks, and offer activity sheets. Make Waiting Room Fun Bags, dedicate a brick on the St. Jude campus pathway, or purchase a little red wagon. The options are endless!
Is there a child in your community facing a cancer diagnosis? Let them know you are thinking of them by providing puzzles, books, or video games.
Help families with children undergoing treatment by shopping for groceries, preparing meals, or babysitting. Offer to provide transportation between home and the hospital. Make a care package for the parents and include a gift card for a restaurant near the hospital. Help with gardening, housework, dog walking, or errands or do some fundraising to show your support.
As St. Jude founder Danny Thomas said, "No child should die in the dawn of life." Give a sparkle of hope to a child with cancer.
UNICEF Continues to Support Ukrainian Families Six Months into War Crisis 
August 24 marked exactly six months since the ongoing war crisis began in Ukraine. Around 182 days–approximately 4,368 hours of childhood–have been stolen from Ukraine's children. Almost two out of every three Ukrainian children are displaced internally and abroad, 5.2 million children are in need of humanitarian assistance, and nearly one thousand children have been killed or maimed in the conflict.
GFWC Affiliate Organization UNICEF USA is continuing to provide essential services to vulnerable children and families affected by the conflict. UNICEF has worked with its partners to provide critical health and learning supplies to help keep families safe and allow children to engage in formal and informal education.
In times like these, while we may witness the most heartbreaking side of humanity, we also see and feel the most uplifting side. Thanks to support from GFWC and other partners, in Ukraine:
Nearly 4 million people have been able to access health care because of supplies distributed, either directly by UNICEF or in partnership with implementing organizations.
More than 3.4 million people were provided access to safe drinking water and nearly 455,000 people received critical water, sanitation, and hygiene supplies.
More than 1.4 million children and caregivers were reached with UNICEF-supported mental health and psychosocial support interventions.
UNICEF and UNHCR are operating 33 Blue Dot centers in six countries, reaching thousands of children with integrated services, including child-friendly spaces, psychosocial support, family reunification services, education, and child protection.
You can contribute to this humanitarian response by donating to support UNICEF's efforts.
For continuous coverage on this war crisis, visit apnews.com.
Honoring the 2022 Jennie Award Winners
It has been our pleasure to shine a light on the eight 2022 GFWC Jennie Award honorees who have dedicated countless hours of their lives to their communities, schools, and other local organizations, on top of their Federation work. Throughout August, GFWC has featured two of these inspiring awardees in each News & Notes. Congratulations again to the 2022 Jennie Award winners!
Southern Region: Anne Redlus
For 39 years as a resident of New Jersey, Anne Redlus was involved in Federation serving as club president, New Jersey State President, State Junior Director, and more. When her family moved to South Carolina and learned there was no nearby club, the GFWC Woman's League of the Lowcountry was chartered with Anne installed as its first president. She has served South Carolina as Coastal District President and held several chairmanships. For GFWC, she was Community Impact Program Chairman, Jennie Award Chairman, and President's aide.
Anne volunteers with several other organizations, including Girl Scouts, PTA, church soup kitchens, vacation Bible School, Caring Committee, Bridge of Hope, Backpack Buddies, Staying Connected, and Canine Companions.
Other projects Anne worked on included fundraising through poinsettia sales, St. Jude Children's Hospital walks, apron sales for the Women in Military Service for America Memorial, establishing a GED scholarship, and much more.
In addition to her volunteer work, Anne helped her husband build a successful veterinary business and raised three children.
Western Region: Pamela J. Crochet
Long before she was a clubwoman, Pam Crochet served her country in the U.S. Air Force for more than 22 years, retiring as Chief Petty Officer. After "landing" in a woman's club, her ensuing 18 years have been filled with community service through GFWC and groups such as Kiwanis and Optimist clubs.
Pam's club activities include Martin Luther King Jr. Day of Service, Hope Bags, Trees for Troops, Valentine's Day Cookies for Airmen, Wreaths Across America, and the Christmas Stocking Project. As Chairman of the Christmas House, the club realized a net profit of $75,000 in 2011 and $55,000 in 2019.  She has served many offices in the Federation, including club president, Wyoming State President, and Western Region Treasurer.
Pam is a wife and mother, and an entrepreneur. She enjoys embarking on adventures and learning new skills. Her latest business venture is a meal entrée service through which she helps others by feeding those who are hungry out of her own pocket.
Congratulations Anne and Pam for being selected as Jennie Award recipients for 2022!
Legislative Corner
To encourage participation in the democratic process, this monthly column aims to inform members about current legislation and programs that are germane to the GFWC Resolutions. It also highlights important actions of the House, Senate, and White House, and provides follow-up information about GFWC Legislative Action Alerts.
Members of Congress have completed their summer work session with the passage of the Inflation Reduction Act of 2022 and are in the district/state until they return to Washington, DC, after Labor Day for approximately two and a half weeks of legislative session. Congress then will recess again in late September for members to campaign for the November elections. They plan to return to Washington, DC, after the election to finish FY 2023 appropriations and any remaining leadership priorities. A new Congress will begin January 2023.
The Inflation Reduction Act of 2022
This Act provides funding for energy, climate, and health care programs, plus additional funds for drought-stricken western states facing wildfires and limited water supply. Not just a spending package, the Act should raise $740 billion in revenue over 10 years. The non-partisan Congressional Budget Office estimated the bill would reduce the deficit by more than $300 billion and reduce near-term inflation. While the bill is more than 700 pages, these are several provisions of interest to clubwomen based upon our GFWC resolutions.
Energy and Climate: The Inflation Reduction Act is the single biggest investment in fighting climate change that Congress has ever passed, extending tax credits and providing new ones. Each state's energy office will receive a funding allocation to implement a "Home Owner Managing Energy Savings" (HOMES) rebate program for energy savings retrofits. Ten years of consumer tax credits should encourage homeowners to make homes more energy efficient with better and more affordable heat pumps, rooftop solar, electric HVAC, high-efficiency electric stoves, and water heaters. The bill provides significant funding to the Environmental Protection Agency to provide financial and technical assistance on projects to reduce greenhouse gas emissions. Funding is provided to the Energy Department to provide grants for domestic production of efficient hybrid, plug-in electric hybrid, plug-in electric drive, and hydrogen fuel cell electric vehicles. School systems will receive funds to replace heavy duty vehicles with zero-emission vehicles. The Department of Agriculture will receive funds to promote conservation and tree planting by state, local, and tribal governments, and nonprofit organizations, and funds to support climate-smart agricultural practices for farm producers. The National Oceanic and Atmospheric Administration (NOAA) will receive funding to assist coastal state, tribal, and local governments that are working to conserve coastal and marine habitats and resources. There are investments in manufacturing by providing production tax credits to accelerate U.S. manufacturing of solar panels, wind turbines, batteries, and critical minerals processing. There are also tax credits to build clean technology manufacturing facilities that make electric vehicles, wind turbines, and solar panels, bringing educational opportunities and jobs to the U.S.
Health Provisions: The measure will extend through 2025 the temporary expansion of Affordable Care Act health insurance premium tax credits, and allow Medicare to establish a Drug Price Negotiation Program to negotiate a maximum price of high-cost prescription drugs beginning in 2026 for Medicare Part B and Part D. The bill also caps the out-of-pocket cost of prescription drugs under Medicare Part D for beneficiaries at $2,000 a year starting in 2025. The Legislation would require coverage of vaccines with no cost-sharing or deductible under Medicare Part D beginning January 1, 2023. The bill includes a $35.00 cap per month for insulin copayments for Medicare plans from 2023 through 2025, and provisions for a cap for 2026 and subsequent years, but it does not include a $35.00 cap on insulin for beneficiaries with private insurance coverage.
Taxes: The bill creates a new minimum tax rate of 15 percent on the income large corporations report on their financial statements. The minimum tax would apply to corporations with more than $1 billion in average annual income over a three-year period. Corporations would pay the larger of the minimum tax or the statutory corporate tax which is currently 21 percent.
GFWC Marketplace: New Orleans Convention T-Shirt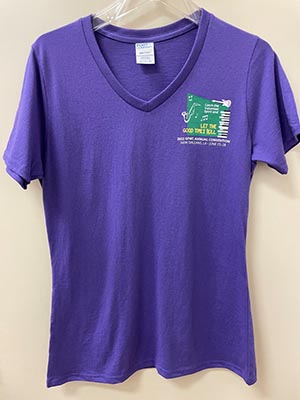 GFWC clubwomen let the good times roll in New Orleans during the 2022 GFWC Annual Convention, and now you can bring the Big Easy to your wardrobe with the New Orleans Convention T-Shirt. This gorgeous purple T-shirt is a short sleeve V-neck, made from 5.3 oz, pre-shrunk cotton. It features the 2022 GFWC Annual Convention logo on the front and GFWC emblem on the back. Order yours today.
For information on mail service in your area, visit the USPS Service Alerts page. To speed up processing of your order, we request that you pay for your order at the time of purchase in the Member Portal.
GFWC
www.GFWC.org