December 1, 2022
View our Important Dates page for upcoming events and milestones.
Winter Magazine Available for Download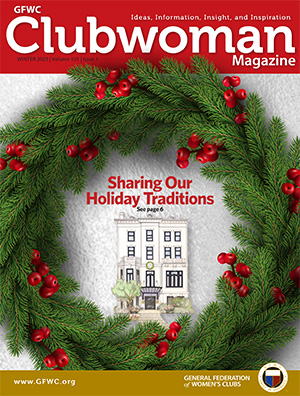 The 2023 Winter GFWC Clubwoman Magazine is now available to all members digitally in an easy-to-print, single-page format. The issue is available on www.gfwc.org under the News & Publications drop-down menu and will be archived with all other digital issues in the GFWC Member Portal's Digital Library, under "C" in the "Clubwoman Magazine" folder.
Download the 2023 Winter Magazine and join us in celebrating the holiday season! This issue features a look at the holiday traditions of GFWC International Clubs around the world, an inspiring feature from Starfish Project, a look inside the Women's History and Resource Center, previews of the 2023 GFWC Annual Convention in Louisville, Kentucky, and the 2023 Women's History Month Event, and so much more.
The Power of You: A GFWC Advocacy Training Series

GFWC is proud to offer a remote webinar series, The Power of You: A GFWC Advocacy Training Series. As part of GFWC's Strategic Plan Public Awareness efforts to raise visibility through program connections, maximize general advocacy efforts, and train the Board of Directors and general membership in civic engagement strategies with government officials, the 2022-2024 Legislation and Public Policy Committee will offer the advocacy series dedicated to creating an arena for promoting advocacy in communities large or small.
The webinar series is scheduled for each Thursday evening at 7 p.m. ET beginning January 19, 2023. Each episode will be 45 minutes to one hour in length with Q & A as time allows. Register for the entire series or the episodes of your choice.
Jan. 19: Power Up: Elements of Advocating is presented by Juliet Casper, Chairman
Topics to include: Basics of advocacy and connections to GFWC Resolutions, supporting issues, and advocating at the local level activities.
Jan. 26: Power Up: Legislative Action Center (LAC) is for Me is presented by Darrell Jones, GFWC Programs Manager; and moderated by Juliet Casper, Chairman
Topics to include: Using the LAC to advocate for GFWC and Affiliate Organizations and utilizing the LAC for individual state advocacy.
Feb. 2: Power Up: Legislation and Leadership is presented by Deb Bryant, GFWC Legislative Consultant; Juliet Casper, Chairman; and Committee members
Topics to include: Highlighting GFWC legislative successes in 2020-2022 and the 2022-2024 GFWC legislative priorities and alerts.
Feb. 9, 16, and 23: Power Up: Partners toward Progress (Part 1), (Part 2), and (Part 3) are presented by GFWC Affiliate Organizations and moderated by Darrel Jones, GFWC Programs Manager
Topics to Include: Putting GFWC Resources to work for Affiliate Organizations and the Affiliate Organizations share advocacy efforts on behalf of their organizations.
Cares & Concerns 
Leslie Apostalon, GFWC Connecticut Past State President (2018-2020), passed away on November 27. Leslie's passion and dedication to GFWC's efforts will be missed by many.
Joan Isham, GFWC Vermont Past State President, passed away on November 17. Joan will be remembered fondly by her family, friends, and fellow clubwomen.
Volunteers in Action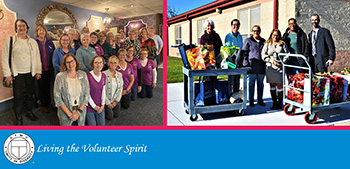 This week's GFWC Blog features the GFWC Woman's Club of Maquoketa (Iowa), GFWC Baldwin Woman's Club (Iowa), and GFWC Millville Woman's Club (New Jersey). Read how Iowa clubwomen organized a human trafficking awareness event for their community and how New Jersey members provided Thanksgiving meals to families in need.
Have a success story to tell? Email PR@GFWC.org to have your club project considered for the GFWC Blog.
Last Chance to Register for the 2022 GFWC Holiday Open House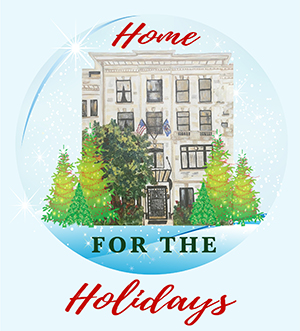 Today is the last chance to register for the 2022 GFWC Holiday Open House on December 7! Hosted by GFWC International President Deb Strahanoski and GFWC Director of Junior Clubs Katie Moydell, the event will include two scheduled receptions from 11:00 a.m. to 1:00 p.m. ET and from 1:30 p.m. to 3:30 p.m. ET at GFWC's historic Headquarters at 1734 N St. NW, Washington, DC. Registration closes today, December 1, at 3 p.m. ET.
During each reception, attendees will be able to enjoy viewing ceramic holiday villages provided by the State Federations that will be on display in recognition of this year's theme, Home for the Holidays.
Register today through the Member Portal and enjoy the giving season with Federation friends. If you would like to register a group for the reception, please email Events@GFWC.org.
Register Today: Shot@Life's Advocate to Vaccinate Summit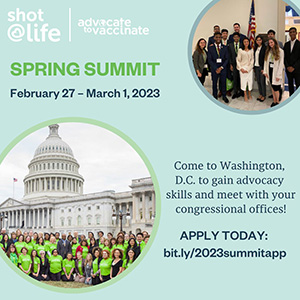 The United Nations Foundation's Shot@Life campaign is hosting its first Advocate to Vaccinate Summit since the COVID-19 pandemic back in Washington, DC, on Feb. 27 – March 1, 2023. Join this GFWC Affiliate Organization for the three-day event to learn how to be a vaccine advocate and champion equitable access to immunizations during an essential time for global health. You will learn from interactive workshops, attend meetings with congressional offices, and hear from renowned global health experts. The application form includes travel scholarship opportunities as well.  Apply by 11:59 p.m. ET on Thursday, December 8, at bit.ly/2023summitapp.
Headquarters Staffing Updates
Please join us in welcoming Stacy Mayuga as GFWC's new Communications Director! With more than 20 years of communications experience, Stacy will be an excellent addition to the Federation's team. Stacy's email is SMayuga@GFWC.org.
GFWC would also like to thank Taylor Fussman, Publications and Project Manager, for her dedication and service to the Federation. Her last day with us will be tomorrow, December 2. Please join us in wishing her success in her next position!
Johns Hopkins Webinar December 13
Johns Hopkins Medicine is offering a webinar at 7:00 p.m. ET on Tuesday, December 13, to discuss common myths and answer questions about eating disorders. Join clinical psychologist Colleen Schreyer, Ph.D., as she shares the signs, symptoms, treatment, and prevention of eating disorders. Visit the Johns Hopkins website to register for this event.
Legislative Corner
To encourage participation in the democratic process, this monthly column aims to inform members about current legislation and programs that are germane to the GFWC Resolutions. It also highlights important actions of the House, Senate, and White House, and provides follow-up information about GFWC Legislative Action Alerts.
Congress returned to Washington, DC, after the elections to prioritize legislation to be considered in the "lame duck session," as this time is known, since many of the elected officials are approaching the end of their tenure and can vote their conscience without repercussion from voters.
The new Congress will begin on January 3, 2023. The House of Representatives will be controlled by a slim Republican majority, while the Senate will remain a slim Democratic majority. For the next two years, legislation must have strong bipartisan support to be enacted.
A record-breaking number of women were elected governor and will take office in 2023. Incumbent women governors in eight states, Alabama, Iowa, Kansas, Maine, New Mexico, New York, Michigan, and South Dakota were reelected. Arkansas, Massachusetts, and Oregon elected women for the first time. While there are political differences in the candidates, issues surrounding childcare and violence against women often take priority when women are serving in such powerful executive offices. Thank you to all members and clubs that assist with voter registration drives, candidate forums, and poll watching activities in their communities. Every vote counts.
Advocate for Online Safety for Children and Teens
GFWC launched a Legislative Action Alert in support of the EARN IT Act (S. 3538, H.R. 6544), which has bipartisan support, but it is unsure if there is time for consideration on the Senate floor. Working with the National Center on Sexual Exploitation, GFWC also supports the Kids Online Safety Act.
Family Violence Prevention and Services Act Reauthorization
GFWC launched a Legislative Action Alert urging Congress to pass the Family Violence Prevention and Services Improvement Act (FVPSA), which provides resources and funding for local domestic violence shelters, state coalitions, hotlines, and prevention programs. The Senate bill (S. 1275) is pending, while the House of Representatives passed H.R. 2119 in 2021.
GFWC Urges Congress to Approve Anti-Trafficking Bills 
GFWC joined a coalition in support of a package of four bills supported by the anti-trafficking and anti-exploitation community reauthorizing essential programs to support survivors and combat human trafficking in all forms, both domestically and internationally. These include S. 4171, the International Trafficking Victims Protection Reauthorization Act; S. 3946, Abolish Human Trafficking Reauthorization Act; S. 3949, Trafficking Victims Prevention and Protection Reauthorization Act; and H.R. 6552, Frederick Douglass Trafficking Victims Prevention and Protection Reauthorization Act.
Congress Approves Sexual Harassment Bill 
Congress enacted the Speak Out Act (S. 4524), a bipartisan, bicameral bill that will prohibit pre-dispute non-disclosure agreements (NDAs) in instances of sexual harassment or sexual assault. The Senate passed the bill by unanimous consent on September 29 and the House of Representatives passed the bill by a vote of 315-109 on November 16. These are important workplace protections. Under previous law, organizations could use NDAs to prevent survivors of sexual harassment or assault from speaking publicly about these incidents. The threat of legal retaliation creates and enables a culture of silence that allows predators to continue their illegal conduct, while their victims are forced out of their careers and denied justice.
State President's Project: Mohra Gavankar, District of Columbia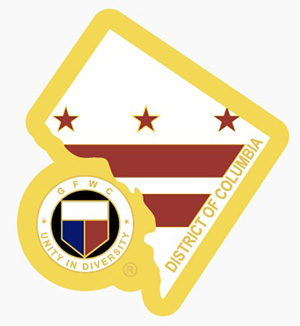 GFWC District of Columbia President Mohra Gavankar's Administration theme is Opportunity, with an emphasis on Unity. Each club member has been given a mandate to find, research, and roll-out a unique project that unites DC members in action. The first year-long program implemented, with huge success, was a collection drive for I Support My Girls, which distributes essential items such as bras and menstrual hygiene products to women experiencing homelessness and other challenges. Being the home of several veteran's organizations and national cemeteries, the DC club has also united in service by sponsoring and laying Wreaths Across America, specifically at the often-overlooked Soldiers and Airmen's Cemetery and Retirement Home. Building on the symbolism of wreaths, DC members have also donated 10 handmade fall-themed wreaths and 10 Christmas-themed wreaths to women veterans at the nursing and retirement home. Winter clothes have also been donated to women veterans experiencing homelessness.  DC members are also supporting the Young Playwrights' Theater, an organization focused on empowering unique voices of DC, and Casey Trees, a group that aims to restore, enhance, and protect the area's environment.  Lastly, DC members are focused on creating projects that will ensure area residents and policymakers recognize the GFWC brand in the nation's capital and growing membership. A conscientious effort to partner with legacy and like-minded organizations was recently recognized by the Emily Nelson Chapter of the Daughters of the American Revolution, with a "Women in American History" Medal.   Through all these projects and goals, GFWC DC members will continue to find the Unity in each new Opportunity.
State President's Project: Linda O'Toole, Florida
GFWC Florida State President Linda O'Toole's special project focus is Camp Boggy Creek. Founded in 1996 by Florida residents Paul Newman and retired General H. Norman Schwarzkopf, the camp celebrated its 25th anniversary last year. The camp has served more than 85,000 campers and family members, and its mission is to foster a spirit of joy by creating a free, safe, and medically-sound camp environment that enriches the lives of children with serious illnesses and their families. The medical facility is staffed with volunteer doctors and nurses and is known as "the patch," where kids can get "patched up."
Each group of children attends with other kids who have the same illnesses, which teaches them that they are not alone in their struggles. One camper said she was never singled out as the "sick kid;" instead, she felt like she belonged. Camp Boggy Creek is a place where kids can just be a kid. Activities include swimming, singing, arts and crafts, fishing, or horseback riding, just to name a few. In the spring and fall, families attend a weekend where they bond with other families dealing with the same challenges. All services are free for the children and their families.
GFWC Florida members are raising awareness of Camp Boggy Creek through fundraising, sewing and stuffing teddy bears, and creating afghans for each child to take home. At Fall Board meetings in September, 80 afghans and 130 cuddly bears were handmade for the children. In addition to these small gifts, campers also go home with new friends, laughter and joy, and the experience of going to camp.
Many Florida members are excited to be a part of this project knowing how special it is for the children.
GFWC Marketplace: GFWC Notecards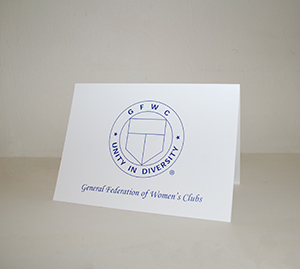 Saying "thank you" makes a difference. These GFWC notecards featuring the Federation's logo on the front and mission statement on the back are the quintessential stationary to show your appreciation to your dedicated volunteers for all their accomplishments. Each pack includes 10 cards and 10 envelopes. Order yours today.
For information on mail service in your area, visit the USPS Service Alerts page. To speed up the processing of your order, we request that you pay for your order at the time of purchase in the Member Portal.
GFWC
www.GFWC.org