January 5, 2023
View our Important Dates page for upcoming events and milestones.
GFWC Signature Program: Domestic and Sexual Violence Awareness and Prevention  
By Trisha Schafer, Chairman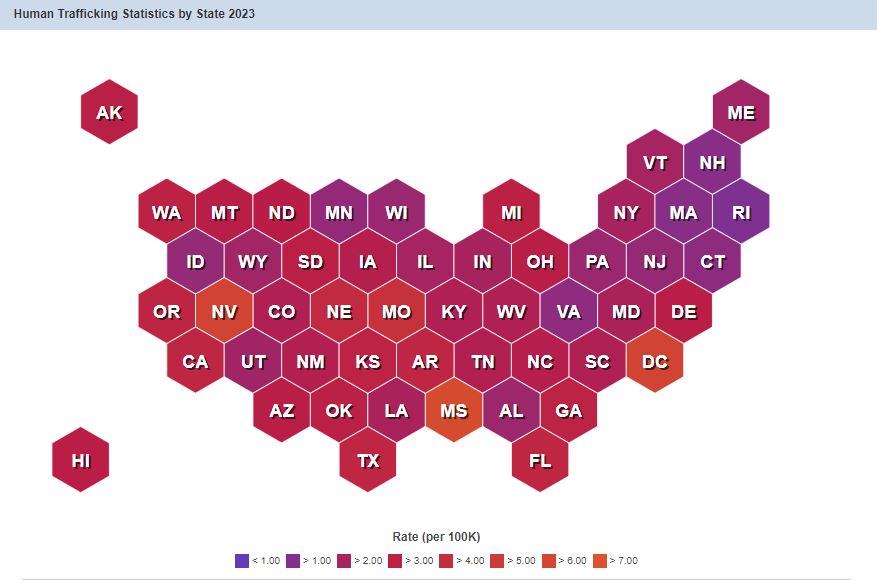 The 2022-2024 Community Connection Initiative under our GFWC Signature Program is about Raising Awareness by creating Hope and Help for victims of Human Trafficking.
January is Human Trafficking Awareness Month, and the perfect time for GFWC members to raise awareness among employees, community and industry partners, and the public.
There are estimated to be more than 24.9 million people — adults and children — subjected to human trafficking around the world, including in the United States. Traffickers often take advantage of the instability caused by natural disasters, conflict, or a pandemic to exploit others. For example, during the COVID-19 pandemic, traffickers continue to commit crimes, finding ways to innovate and capitalize on the chaos.
We encourage clubs to provide the following information cards recognizing signs of human trafficking for all DOT vehicles. These wallet cards include details on what to look for and how to report suspected trafficking, large posters for restaurants, gas stations, and other public areas, restroom stall signs for roadside rest areas, and Travel Information Centers in surrounding communities.
These materials raise public awareness and provide victims of human trafficking with critical information on how to reach out for help. You can partner with DOT, local businesses, and other Human Trafficking Advocacy groups in the community to provide information cards and install bathroom stickers, large signage, and hotline information throughout your community.
January 11 is National Human Trafficking Awareness Day; and is recognized each year. Please share posts on social media and include #WearBlueDay. For more information, visit Homeland Security.
National Human Trafficking Hotline: (888) 373-7888
SMS: 233733 (Text "HELP" or "INFO")
Hours: 24 hours, 7 days a week
Languages: English, Spanish, and 200 more languages
Website: http://humantraffickinghotline.org
State President's Project:  Living the Volunteer Spirit by Feeding Idaho
By Cindy Biesemeyer, GFWC Idaho President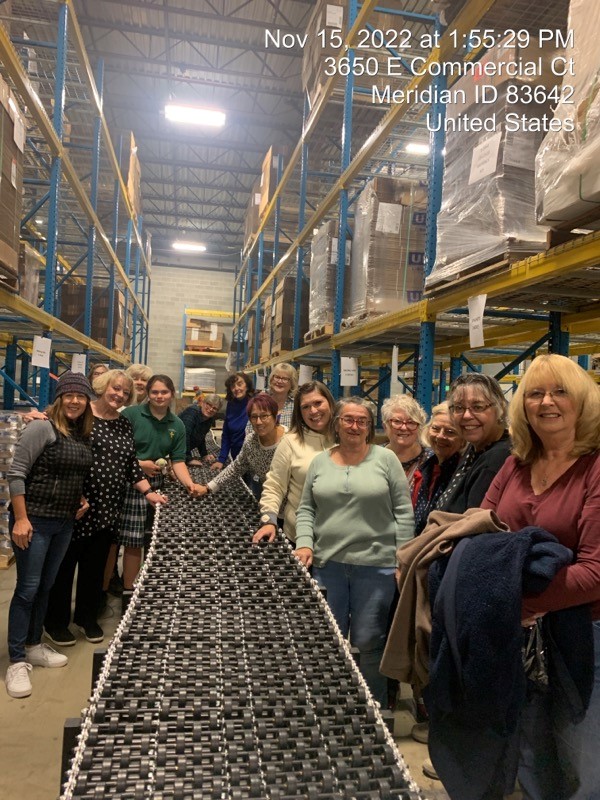 As the president of GFWC Idaho, I am excited to start building membership. With the help of GFWC resources and each clubs' membership ideas, I am sure we can add more women to our roles.
The theme for my administration is "Change, Renewal, Hope," represented by the daisy. The GFWC Idaho State Federation has committed to reactivate our scholarship fund and revamp our Bylaws. These changes will help ensure our state clubs' continued success in attracting new members and gain greater recognition in the communities served.
In addition, a key project for our state is "Living the Volunteer Spirit by Feeding Idaho."  All four of our clubs are being challenged to work in their communities to help solve the hunger problem in Idaho, where 10 percent of our people are food insecure.  The goal is to help not only at food banks and to raise awareness but to do projects where food is collected and delivered.  Already, three clubs have started partnering with other groups to collect, pack, and deliver food.  Pictured is our Boise Columbian Club helping at the Idaho Food Bank to pack food boxes for distribution. GFWC Idaho will recognize these clubs during the 2023 State Convention.
Cares & Concerns 
GFWC extends its deepest condolences to two members of its 2022-2024 Board of Directors on the passing of loved ones that meant so much to them and to their respective communities.
On December 17, 2022, Patty Cato, a Fundraising and Development Committee member, lost her beloved husband, Dr. James Cato (1943–2022).
Sadly, Shannon Bailey, Director-elect of Junior Clubs, lost her dearly loved mother, Louise Annette Bennett (1943–2022), on December 17, 2022, too.
Register Today: GFWC Advocacy Training Series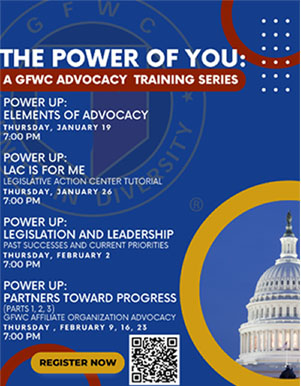 The Power of You: A GFWC Advocacy Training Series, is open! GFWC members will learn civic engagement strategies to influence local, state, and federal government officials. The webinar series starts in January 2023, each Thursday evening at 7 pm ET, with the first on January 19. Each episode will be 45 minutes to one hour in length with Q & A, as time allows. You can register for the entire series or single episodes of your choice. To learn more, contact Darrell Jones, GFWC Programs Manager, at DNJones@GFWC.org. 
Registration for the GFWC webinar series,
2023 Annual Convention, June 10-12, in Louisville Hotel & Airline Information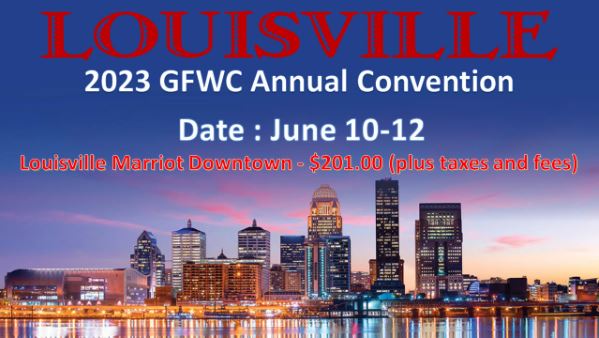 The official event hotel is the Louisville Marriott Downtown in Kentucky. You can book your room here. Or, call the following dedicated group phone numbers: 800-266-9432 or 502-627-5045 (local) to make your reservations.
In addition, GFWC has partnered with United Airlines for air travel. To make flight reservations online, please click on discount code ZMWZ353876. MileagePlus members earn miles for their travel when using the Meetings discount code.
The United Meetings Reservation Desk is open Monday through Friday. For booking assistance, please call 800-426-1122. Booking fees are waived for Meeting reservations. International customers may contact their local United Reservation Desk.
Legislative Corner 

To encourage participation in the democratic process, this monthly column aims to inform members about current legislation and programs that are germane to the GFWC Resolutions. It also highlights important actions of Congress and the White House and provides follow-up information about GFWC Legislative Action Alerts.
The new 118th Congress convened on January 3. This article highlights the status of various bills aligned with GFWC priorities, as set forth in the GFWC resolutions, and considered in the final weeks of 2022. 
Congress Enacts Pregnant Workers Fairness Act 
GFWC joined the March of Dimes to advocate for the passage of the Pregnant Workers Fairness Act, a bipartisan maternal health bill that guarantees pregnant workers have access to reasonable workplace accommodations and aren't forced to choose between a healthy pregnancy and a paycheck. Studies have shown that accommodations as simple as extra bathroom breaks or a reprieve from standing all day can help prevent pre-term birth and low birth weight infants. Congress also approved the Providing Urgent Maternal Protections for Nursing Mothers (PUMP) Act to close loopholes in federal workforce protection laws that denied working mothers reasonable break time and a private place to pump breast milk.FY 2023 Annual Appropriations 
On December 23, 2022, Congress approved the FY 2023 Omnibus Appropriations bill, H.R. 2617, avoiding a government shutdown. GFWC prioritizes federal spending on programs specific to our Signature Program – Domestic and Sexual Violence Awareness and Prevention. GFWC joins the National Task Force to End Sexual and Domestic Violence, the umbrella coalition of all the DV/SA organizations, to celebrate significant funding increases in programs for survivors and education and prevention. Examples include a $24.5 million increase in the Sexual Assault Services Program and a $5 million increase in the Rape Prevention and Education program. The new sexual assault technical assistance initiative at the Department of Health and Human Services received $5 million, and the Family Violence Prevention and Services Act programs received an increase of $37.5 million, for a total of $232.5 million. The Omnibus bill recognizes that women and girls of color are often disproportionally impacted by domestic violence and includes up to $7.5 million for developing or enhancing culturally specific services for survivors of domestic violence and sexual assault. The National Domestic Violence Hotline received a $5 million increase for a total of $20.5 million.  Sexual Assault Survivor's Bill – The Omnibus Appropriations bill provides $10 million to the Department of Justice (DOJ) for a new program mandating the right to receive medical forensic examinations, the preservation of evidence collection kits, and access to information resulting from such kits, prior notification of any destruction or disposal of evidence collection kits, and the right to request further preservation of any such kit. The Department is further directed to submit its plan for administering this program, including the grant solicitation process, as part of the FY 2023 spending plan. Within one year of the date of enactment of this act, DOJ shall provide a report to the Committees on the number of States that have applied for grants, the number of awards made, the respective award amounts, and the level of unmet demand for this program. Sexual Assault Nurse Examiner (SANE) Training Program Grants – The Department of Justice is encouraged to prioritize rural, Tribal, underserved communities, and urban areas without full-time coverage for this program. Within the amount provided for Sexual Assault Forensic Exam Program, $2 million shall be used to establish regional SANE training programs, which are identified as establishing a level of excellence in forensic nursing and are qualified to prepare current and future sexual assault nurse examiners/forensic nurse examiners to be profession-ready and meet the applicable State certification and licensure requirements. These programs shall provide training and supervision to nurses with the purpose of increasing sexual assault forensic nurse capacity in rural areas, and in support of population-specific programs and hospitals, including but not limited to, underserved or historically underfunded communities. Entities receiving these funds shall promote best practices in forensic nursing throughout a region while continuing to research and develop the highest standards of care.   Sexual Assault Kit Initiative – The Department of Justice should maximize the results of investments in sexual assault kit (SAK) testing through continued research to identify best practices for State, local, and Tribal jurisdictions in handling the myriad issues that arise from perpetrator identification, such as victim notification, investigation, prosecution, documentation, forensic advancements, inter-jurisdiction sharing, and tracking. The Department should also fund efforts to support cross-jurisdiction and cross-site data sharing to identify and pursue repeat offenders operating in multiple jurisdictions. Finally, the Department should work further to validate the extensive cost savings that result from the prevention of future offenses because of SAK testing. The Department is directed to support efforts that advance these objectives, and the Bureau of Justice Assistance is directed to issue a report within one year of the date of enactment of this act on the number of partially tested kits. 
Pension Resources for Domestic Violence Survivors
Congress enacted the SAFER Act as a part of the Omnibus Appropriations bill, providing an important change to retirement policy to allow survivors to withdraw up to $10,000 penalty-free from their retirement plans for a year following domestic violence and permit them to replace the funds withdrawn over a period of three years. Financial abuse is a common tactic used by abusers, and the connection between domestic violence and an increased risk of unemployment and homelessness is clear. Being able to access their retirement would allow a small group of survivors to build a bridge to a stable life as they leave their abusive relationship and avoid having to access other social services and seek shelter. GFWC joined YWCA USA, Esperanza United (Formerly Casa de Esperanza National Latin@ Network), Futures Without Violence, Jewish Women International, the National Coalition Against Domestic Violence, the National Domestic Violence Hotline, and the National Network to End Domestic Violence to advocate for the provision. Advocate for Online Safety for Children and Teens
Congress enacted the PROTECT Our Children Act which reauthorizes the Internet Crimes Against Children (ICAC) Task Force Program to combat child exploitation across the country. The ICAC offers guidance on victim support, forensic and investigative components, training and technical assistance, and prevention and community education. GFWC launched a Legislative Action Alert in support of the EARN IT Act which had bipartisan support to remove immunity for social media and technology companies that knowingly facilitate the distribution of child sexual abuse materials on their platforms. Unfortunately, the bill was not enacted. There is a case pending before the United States Supreme Court that deals with similar issues and Congress usually defers to the Court when a case is pending. Working with the National Center on Sexual Exploitation, GFWC also supported the Kids Online Safety Act, but it was not approved.Family Violence Prevention and Services Act Reauthorization
GFWC launched a Legislative Action Alert urging Congress to pass the Family Violence Prevention and Services Improvement Act (FVPSA), which authorizes resources and funding for local domestic violence shelters, state coalitions, hotlines, and prevention programs. While the reauthorization bill was not enacted, significantly increased federal funding was provided for domestic violence programs and the National Domestic Violence Hotline. GFWC will work on FVPSA reauthorization in the 118th Congress.   Congress Approves Anti-Trafficking Bills 
GFWC joined a coalition in support of a package of bills supported by the anti-trafficking and anti-exploitation community reauthorizing essential programs to support survivors and combat human trafficking in all forms, both domestically and internationally. Both the Trafficking Victims Prevention and Protection Reauthorization Act, S. 3949, and the Abolish Human Trafficking Reauthorization Act of 2022, S. 3946, were enacted. These bills reauthorize key Trafficking Victims Protection Act programs that fund restorative services for victims and law enforcement anti-trafficking operations. Additionally, confidentiality protections for victims are established, cybersecurity enforcement is prioritized, and funds are available to states who treat and prevent trafficking within their foster systems. The bills reauthorize critical programs to prevent human trafficking, promote justice for survivors, provide services to victims, and increase federal coordination to enhance the federal government's response to the crisis of exploitation. Programs will assist victims who have had their documentation stolen, improve data collection, support forced labor investigations, and authorize funds for programs at the Department of Health and Human Services and at the Department of Homeland Security.  Congress Approves Sexual Harassment Measures  
Congress enacted the Speak Out Act (S. 4524), a bipartisan, bicameral bill prohibiting pre-dispute non-disclosure agreements (NDAs) in sexual harassment or sexual. These are essential workplace protections. Under previous law, organizations could use NDAs to prevent survivors of sexual harassment or assault from speaking publicly about these incidents. The threat of legal retaliation creates and enables a culture of silence that allows predators to continue their illegal conduct, while their victims are forced out of their careers and denied justice. 
Active-Duty Military
Congress provided full funding of $479 million to implement the recommendations of the Independent Review Commission on Sexual Assault in the Military, including $47 million for the expansion and implementation of the Sexual Assault Special Victims' Counseling Program. The FY 2023 National Defense Authorization Act (NDAA) also removed the crime of sexual harassment from the military chain of command; the crimes of sexual assault, murder, kidnapping, child abuse, and domestic violence were removed from the chain of command in the FY 2022 NDAA. 
The 117th Congress (2021-2022) acted on many legislative priorities of GFWC. As volunteers, clubwomen across the Nation have utilized the GFWC Legislative Action Center to call for action in Congress. To support many initiatives, GFWC leadership joined with other like-minded organizations and co-signed letters of support to multiply the voices of women calling for action.
GFWC has a major role to play in civic engagement, and you can learn more by joining the GFWC Legislation/Public Policy Committee as we present a webinar series, The Power of You: A GFWC Advocacy Training Series, scheduled for each Thursday evening at 7:00 p.m. ET, beginning January 19. New legislative priorities will be set for the 118th Congress. Together We Advocate for Those in Need! 
GFWC1734 N St NW. Washington, DC 20036www.GFWC.org