June 16, 2022
View our Important Dates page for upcoming events and milestones.
Final Countdown to Convention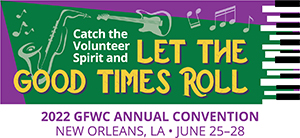 Read the Convention Daily
The 2022 GFWC Annual Convention is only a week away, and we are excited to see everyone attending in New Orleans, Louisiana. Visit our Convention FAQs and travel information online to plan the final details of your trip.
In case you can't make it to The Big Easy this year, GFWC's Communications and Public Relations Committee will offer a peek into some of the action at the Hilton New Orleans Riverside through the Convention Daily. From agenda highlights to impromptu memorable moments, the Daily will capture glimpses into how GFWC is celebrating and sharing the volunteer spirit.
The Convention Daily will be distributed to all members who subscribe to News & Notes.
Check Out the Interactive Agenda Calendar
To stay up to date during Convention about when and where specific events are taking place, view and subscribe to events in the Interactive Convention Agenda. By selecting the specific events you plan to attend, you can subscribe with your email address to receive any changes or updates to events onsite.
For more information about Convention or using the interactive calendar, read the Convention FAQs.
President's Pick
By Marian St.Clair, International President
June is the favored month for weddings, but even more importantly, it is the month that children, tweens, and teens escape from the classroom for a couple of months to just be themselves. In fact, when I saw my grandchildren this past weekend, they were full of ideas for the 10 weeks ahead. A trip to New Orleans, a first for both, is on the calendar, as well as two glorious weeks at the beach. And while David is planning to find the biggest shark's tooth and catch the best fish, Caitlin wants to shop, put puzzles together, and cook dinner with Mimi every night.
As excited as I am about these prospects, I also realize there are many children who do not have a vacation in their future. That's why this month's President's Pick, featuring the Carrizozo Woman's Club (New Mexico), is a project that provides area children with the opportunity to have fun and make memories at the community pool this summer.
Club President Nordis Estrem explained that the pool is typically open for nine weeks and residents pay $1 to swim, but since there are many low-income families in the area that might not be able to participate, club members donated money raised from a community sale, a 50/50 raffle, and food sales at local events, to guarantee summer fun at the pool is available to everyone.
"We feel very strongly that it is important to keep the pool open," she noted. In a small community with few activities for children, the pool provides an opportunity for the physical activity and stimulation that kids need to stay healthy and happy.
Congratulations to President Nordis Estrem and the clubwomen of the Carrizozo Woman's Club for an outstanding and generous project that promises to impact the lives of many local children.
Cares & Concerns 
GFWC extends its sympathy to GFWC Kentucky State Director of Junior Clubs Preshus Howard, whose father, Frankie Carlos Doolin, passed away on June 8. Please keep Preshus and her family in your thoughts.
We are sad to announce that Credentials Committee Member Tric Heepe's husband, Franz Heepe, has passed away on June 11. Please keep Tric and her family in your thoughts.
Volunteers in Action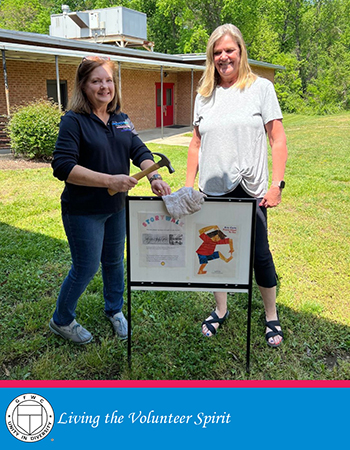 This week's GFWC Blog features GFWC Greensboro Woman's Club (North Carolina) and the Cochran Woman's Club (Georgia). Read how clubwomen created a portable story walk for area children and volunteered at a community clean-up event.
Have a success story to tell? Email PR@GFWC.org to have your club project considered for the GFWC Blog.
News & Notes Convention Announcement 
To focus on the 2022 GFWC Annual Convention, News & Notes will not be issued on June 23 or June 30. Stay tuned for the next News & Notes issue on July 7.
Not attending Convention with us? Log in to your personal profile in the GFWC Member Portal to ensure you're subscribed to "News & Notes," which will ensure you receive the Convention Daily to receive updates about what's happening in New Orleans.
GFWC Boosters to Conduct Meeting at Annual Convention
Join the GFWC Boosters at the 2022 GFWC Annual Convention in New Orleans, Louisiana, for a meeting to conduct general business and elect officers. The meeting will be held at 10:30 a.m. on Sunday, June 26. You can visit with the Boosters at their designated lounge in the Hilton New Orleans Riverside.
The Boosters lounge, located on the second floor in the Cambridge Room, will be open from 2:00 p.m. to 5 p.m. on Friday, June 24, and from 10:00 a.m. to 1:00 p.m. from Saturday, June 25, to Monday, June 27.
The GFWC Boosters Club is a national GFWC club whose members are husbands, partners, or male relatives of clubwomen who are committed to helping GFWC members with their national and local projects and goals. In addition to the Annual Convention, the Boosters attend and support the Region Conferences each year. The Boosters also dues provide monies to support and maintain GFWC Headquarters.
Headquarters Staffing Update 
GFWC would like to thank Carrie deGuzman, Director of Communications, for more than four years of dedication and service. Her last day with us will be tomorrow, June 17. Please join us in wishing her success in her next position!
For communications-related questions during this staffing transition, please contact Taylor Fussman, Publications and Project Manager.
Legislative Corner 
To encourage participation in the democratic process, this monthly column aims to inform members about current legislation and programs that are germane to the GFWC Resolutions. It also highlights important actions of the House, Senate, and White House, and provides follow-up information about GFWC Legislative Action Alerts.
GFWC Advocates for Financial Options for Domestic Violence Survivors
In anticipation of the Senate Finance Committee's consideration of the Savings Access for Escaping and Rebuilding (SAFER) Act in June, GFWC joined YWCA USA, Futures Without Violence, Esperanza United, Jewish Women International, the National Coalition Against Domestic Violence, the National Domestic Violence Hotline, and the National Network to End Domestic Violence to support the bill. The SAFER Act is an important change to retirement policy to allow survivors to withdraw up to $10,000 penalty-free from their retirement plans for a year following domestic violence and would permit them to replace the funds withdrawn over a period of three years.
Senators Catherine Cortez Masto (D-NV) and John Cornyn (R-TX) are championing the bipartisan effort in the Senate. Reps. Lucy McBath (D-GA), Gwen Moore (D-WI), and Lloyd Smucker (R-PA) led the effort in the House of Representatives which passed the provision as part of the Securing a Strong Retirement Act, H.R. 2954, in March by an overwhelmingly strong bipartisan vote of 414-5.
Domestic violence survivors who leave dangerous situations most often face financial instability, especially when their abuser has used money to control them. The connection between domestic violence and an increased risk of unemployment and homelessness is very clear. Survivors need every possible resource, and this will enable access to retirement funds without penalty.
House Passed Gun Safety Bills, But Senate Still Negotiating Compromise
The House of Representatives passed a package of gun safety bills in response to the Uvalde, TX, school and Buffalo, NY, grocery store mass shootings. One bill, H.R. 2377, allows federal courts to grant petitions from family members and law enforcement officers to temporarily remove firearms from individuals who are deemed to pose an extreme risk to themselves or others, known as "red-flag" laws. The expanded bill incorporates a separate measure, H.R. 3480, which would authorize grants to encourage states, American Indian tribes, and other entities to adopt and implement red-flag laws. Nineteen states and the District of Columbia have adopted "red-flag" laws. Another bill, Protecting Our Kids Act, H.R. 7910, would raise the minimum age to purchase many semi-automatic rifles to 21 from 18, restrict sales of large-capacity ammunition magazines and set federal standards for safe storage of firearms, among other provisions.
A bipartisan group of Senators, enough to pass the legislation, reached a tentative deal on new gun safety legislation, announcing their agreement on Sunday, June 12. The Senate framework increases resources for mental health and suicide prevention programs, improves school safety resources, and expands mental health and supportive services for students including early identification, intervention programs, and wrap-around services. The proposal helps ensure dangerous criminals and those who are adjudicated as mentally ill can't purchase weapons. The agreement includes provisions to improve records available for background checks of younger gun buyers under 21 years of age and provides new penalties for criminals who illegally make straw purchases and traffic guns, or who illegally evade licensing requirements. Important to the domestic violence prevention advocates, the agreement would close the so-called "boyfriend loophole" by ensuring that records of domestic violence abuse convictions and domestic violence restraining orders are included in a national system for background checks, including those who have a continuing relationship of a romantic or intimate nature. We had hoped this language was going to be included in the reauthorization of the Violence Against Women Act enacted in March, but advocates did not give up and this is likely the best legislative vehicle for this top priority.
FY 2023 Federal Appropriations Process Begins
Annual federal appropriations bills always begin their process in the House of Representatives and the 12 House Appropriations Subcommittees have announced their schedules to consider their bills in June before the July 4 congressional recess. Many thanks to the White House Gender Policy Council for requesting additional funding for the programs authorized in the Violence Against Women Act Reauthorization Bill enacted in March, because the funding limits are significantly higher that previous years. GFWC strongly supports increased funding for domestic and sexual violence awareness and prevention programs and services.
Club Anniversaries and Gold Pin Recipients
Club Anniversaries
90th
GFWC Rural Woman's Study Club (Iowa)
100th
GFWC Woman's Club of Rock Springs (Wyoming)
125th
GFWC Clover Club of Kaufman (Texas)
Gold Pin Recipients
Rita Brown
GFWC Townsend Women's Club (Delaware)
Sue Brown
GFWC Mayfield Women's Club, Inc. (Ohio)
Juanita Goodrich
GFWC Woman's Club of Aurora (Illinois)
Nan Beth Adams Howell
GFWC Phebe K. Warner (Texas)
Carmen Ingols
GFWC Ceres Woman's Club (California)
Gayle Lacy
GFWC Woman's Club of Oceanside (California)
Maxine McWhorter-Ungerbuehler
GFWC Selbyville Community Club (Delaware)
Marty Nagy
GFWC Mayfield Woman's Club, Inc. (Ohio)
Phyllis Nightlinger
GFWC Danville-Illiana Woman's Club (Illinois)
Marge Rowe
GFWC Collinsville Woman's Club (Illinois)
Connie Spicer
GFWC Woman's Club of Bismark (Illinois)
Sibyl Telfian
GFWC Tri Club Woman's Club (Virginia)
Pam Tice
GFWC Hi-Desert Junior Women's Club (California)
Cathy Weber
GFWC Mayfield Women's Club (Ohio)
Joyce Wolf
GFWC Woman's Club of Media (Pennsylvania)
Jubilee Pin Recipients
Madeline Heggi
GFWC Phebe K. Warner (Texas)
GFWC Marketplace: International Pin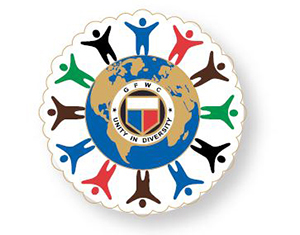 GFWC clubs and clubwomen aren't just working in communities throughout the United States, but around the world! This pin represents the beautiful bonds that have been made with GFWC International Affiliates. Order yours today.
For information on mail service in your area, visit the USPS Service Alerts page. To speed up processing of your order, we request that you pay for your order at time of purchase in the Member Portal.
GFWC
www.GFWC.org