July 7, 2022
View our Important Dates page for upcoming events and milestones.
From GFWC's International President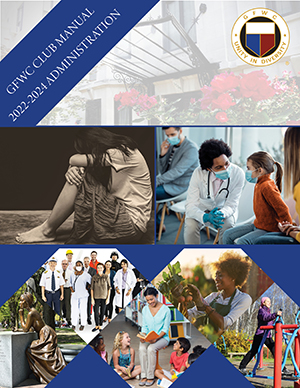 Dear Fellow Members,
Welcome to the 2022-2024 GFWC Administration. I am humbled and honored to serve as your 54th GFWC International President. Please join me in embracing the leadership and service opportunities that will be ours over the next two years. Together, let's serve both GFWC stateside and our communities around the world.
The 2020-2022 Administration brought us outstanding accomplishments, such as celebrating the 100th Anniversary of the purchase of our beloved Headquarters; celebrating the generosity of our GFWC members, clubs, and states on the incredible Campaign for the Future; and recognizing the 20th Anniversary of our amazing Leadership Educational and Development Seminar (LEADS)! And most importantly, over these past two years, we learned nothing stops a GFWC clubwoman!
In preparing for these next two years, my hope for GFWC is to continue strengthening the many facets of leadership necessary to ensure the future and sustainability of this organization. I thank our dedicated GFWC leaders: the GFWC Executive Committee, Chairmen, and Committee Members, for developing this Club Manual, which includes important information on our GFWC Special Programs, GFWC Community Service Programs, and GFWC Advancement Plans. Please share this information with your club leadership and club members!
Always remember every gift you share as a member of GFWC has tremendous value and significance. The common bond of compassion, service, and philanthropy connects us all, no matter how young or old we are and no matter where we live. For it is through the giving and sharing of GFWC that we discover its true reward.
So together, let's Dream Big…Sparkle More…and we will indeed Shine Bright, for the Federation's greatest gifts are certainly YOU, the timeless, priceless members of GFWC. I want to thank each of you for bringing such brilliant Light to the lives of others!
The 2022–2024 Club Manual is now available in the GFWC Member Portal. Once you have logged into your account, select "My Digital Library" after clicking on the profile icon in the upper right corner of your screen. The entire Club Manual and each individual section is available under the "Club Manual" subfolder within the "C" Resources folder. You can also learn more about the updated Club Manual on the GFWC website.
Live the Volunteer Spirit every day! 
Debra A. Strahanoski
GFWC International President
Congratulations to All Awardees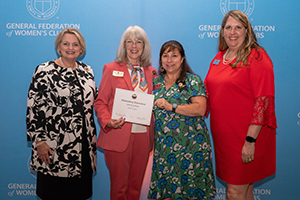 Photo by Official Convention Photographer Laura Bergman
We are so proud of the members recognized at the 2022 GFWC Annual Convention for their exceptional work in the Special Programs and Community Service Programs, Advancement Plans, and areas that support the missions of our Affiliate Organizations.
Join us in congratulating everyone by visiting the 2022 Awards page.
Stay tuned for the Convention recap in next week's News & Notes, which will include a secure link to our photo album.
Cares & Concerns
Valerie Angela Barnes, 2020-2022 Capital Campaign Committee Region Representative and Past GFWC California State President (2012-2014), passed away on June 1. Valerie was a committed clubwoman for more than 50 years.
Evelyn Bachman, Past GFWC Ohio State President (2010-2012), passed away on May 24. Evelyn was an avid supporter of GFWC for several decades.
2020-2022 Nebraska President Mary Jo Jarecke lost her husband, Clifford "Cliff" Jarecke, on Friday, June 24, after a long illness. Condolences can be sent to Mary Jo at 2106 E 34th Street, Kearney, NE 68847.
Volunteers in Action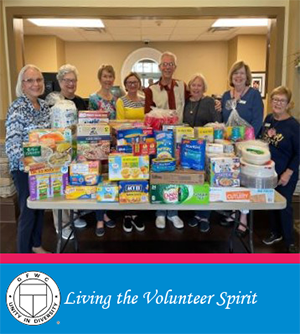 This week's GFWC Blog features the GFWC Brunswick Woman's Club (Georgia) and GFWC Nampa Woman's Century Club (Idaho). Read how clubwomen donated nonperishable food items to a facility for patients receiving treatment for cancer, families of critical care patients, medical students, and staff members and participated in an outdoor event to kick-off the local library's summer reading program.
Have a success story to tell? Email PR@GFWC.org to have your club project considered for the GFWC Blog.
GFWC "Sparkle and Shine" Membership Recruitment Campaign
By Judy Gustafson, Membership Committee Member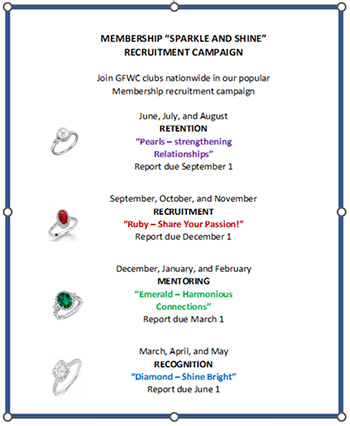 Recruiting new members is vital to GFWC's success, so it is important that we invite and encourage women to join our clubs. Recruiting and welcoming new members is an ongoing process that requires the focus and commitment of everyone. The most important aspect of recruitment is the determination to succeed. Without the dedication and follow through, no recruitment campaign will be as successful as it could be.
Recruitment is a year-round process, and the campaigns and reporting of new members reflect this fact. For example, a club that recruits three new members during each season will end the year with 12 new members! In addition, clubs can plan creative membership campaigns and events around the many national awareness issues and commemoratory days that are aligned with GFWC's Special and Community Service Programs and Advancement Plans. So join GFWC clubs nationwide and start "Digging for Diamonds."
Continue to Support Heifer International's Efforts Around the World 
GFWC Affiliate Organization Heifer International extended their thanks to GFWC clubwomen for welcoming them to the 2022 GFWC Annual Contention in New Orleans, Louisiana. During their workshop, members learned about how investing in women farmers by providing livestock, education, and specialized training leads to better nutrition, access to health care, increased income and assets, clean water, schools, libraries, direct access to markets, roads, transportation, and so much more.
To learn more about how your club can support Heifer International, visit www.heifer.org/GFWC or call 888-548-6437.
Johns Hopkins Webinar July 12 
Johns Hopkins Medicine is offering a webinar at 7:00 p.m. ET on Tuesday, July 12, to discuss a 2019 analysis about whether vitamins, minerals, and other nutritional supplements can be linked to protection from heart diseases or to a longer life. Join Johns Hopkins internist Bimal Ashar, M.D., M.B.A., to learn why people take supplements, when they may be helpful, and their potential to cause harm. Visit the Johns Hopkins website to register for this event.
GFWC Marketplace: GFWC License Plate Frame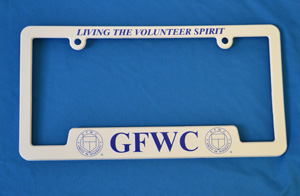 Show off your volunteer pride while driving around with a GFWC License Plate Frame! This white frame with the blue GFWC logo and Living the Volunteer Spirit tagline fits easily around your car's license plate and is the perfect way to spread awareness of GFWC. Order yours today.
For information on mail service in your area, visit the USPS Service Alerts page. To speed up processing of your order, we request that you pay for your order at time of purchase in the Member Portal.
GFWC
www.GFWC.org